Chobits V.1 Manga Review ————————————————–
By: Alpha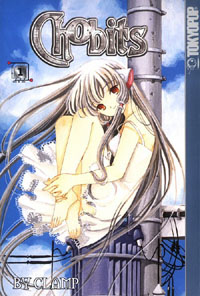 Synopsis:
  Chi isn't your average humanoid computer. She can't do word processing, she can't connect to the net, and she's incapable of interfacing with other persocoms … but when the hapless, technophobic Hideki rescues her from the scrap heap and takes her home, he finds that she may be more advanced than her childlike behavior lets on …

Review:  
  I remember when I was taking an exam, and in the exam came a reading part where it was about a computer named Joe and a dude that programmed Joe.   The programmer wanted to find his one true love, through Joe's advanced pair making program that he created.   As time goes by and the programmer enters his information to Joe, Joe becomes more and more like the programmer.   Sort of being his closes friend.   Then one day, because Joe is a mechanical version of the programmer, he betrays his master and gets him arrested for breaking some law (I forgot).   By the time that happened, Joe found the programmer's soul mate and he takes the place of the programmer and of course Joe takes the girl too.   This story is very interesting and it brings up the issue of if humans should have computers (robots).   Which also brings us to Chobits…      
  Have you ever wonder what it would be like to own a robot?   Better yet, a persocom.   Hideki Motosuwa, 19 years old and a virgin :P.   He introduces us to the setting of Chobits in the first few pages.   Then we find out his desire for a persocom, but because he is poor, there's no way he can afford a persocom that costs more than what he has in his bank.   He wonders what it would be like to have a persocom.   Then it happened, like an angel falling from the sky.   Hideki finds Chi (Chii) in a garbage dump as he is walking home after work.   At first he thought it was a dead body of a girl, then he looked carefully and found out it was a persocom that someone apparently had thrown out.   The whole process of bringing Chi back to his place was hilarious and… I don't know how to explain it ^_^;;  
Anyways, Hideki finally gets Chi to start and all Chi can say is Chi, because her data disk was dropped as he brought her home.   That pretty much sums up volume one ^_^    
  There's comedy everywhere in the manga, so as I was reading I had a lot of good laughs.   The drawings are nicely done and the story is addictive, because of the fact that computers are taking over a lot things in our lives in this day in age.   Who knows when we'll have persocoms.        
Recommend Value - A, Chobits is created by the all female group CLAMP, but that's not the reason why I recommend Chobits.   The main reason is that Chobits has a cool story, a lot of comedy and the drawings are very well done.      
Closing Statement(s) - CLAMP has scored big with Chobits.   Anyone looking for something to get a good laugh out of, a deep story that tackles the issue between humans and robots; it has to be Chobits.   One more thing, I love TokyoPOP for bringing so many hit manga series.   And no I'm not sucking up!   If you have read the news lately you'll know what I'm talking about.