Chemistry - Second to None ——————————————–
By: Alpha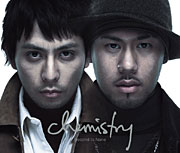 Tracklistings:  
01 - Intro-lude?½?You're My Second to None?½?
02 - It Takes Two
03 - STILL ECHO
04 - My Gift to You  
05 - Running Away
06 - BACK TOGETHER AGAIN
07 - No Color Line
08 - FLOATIN'
09 - SOLID DREAM
10 - Let's Get Together Now?¼?Tokyo Calling?½?
11 - RIPTIDE
12 - Tsukiyo
13 - My Way
14 - Kimi Wo Sagashiteta
  During a boring day of listening to the same music that I own over and over again.   I begin to remember that my friend said he has this music video and the things they do in it was cool.   So, I asked him what's the song title.   He told me "PIECES OF A DREAM."   I thought, "That's a nice name for a song."   I then asked him what's the artist's name.   He told me, "Chemistry."   I laughed and said in a joking manner, "Then there must be a Physics and a Biology? Right?"   Well, after I heard "PIECES OF A DREAM," I was astounded, by the dope beats and lyrics.   I continued to follow this group's music consisting of Kawabata Kaname and Dochin Yoshikuni.   Suddenly I became a fan.   What they sing is soothing, and at times emotional.   In a few days I realized myself, bopping to the beats and then singing their songs.   I would just scream out their lyrics.   That's something I haven't done for a while, due to songs that are no longer interesting.   Only a few artists' songs can make me scream lyrics and Chemistry's is one of them.
  On to the album, "Second to None."   Right when you press play on your CD/DVD/PC/Whatever player you will hear the interlude and then taken to track two, one of the best songs in my opinion in the album, "It Takes Two."   This song just has this nice beat to it, and catchy lyrics to captivate the listener's ears.   I was bopping to this song right from the beginning.   It was like I knew the lyrics before.   I can some how hum out what was coming next.   Man… all the songs are great in this album.   It is time to list the songs that stand out among the rest in my ear's point of hearing:   "It Takes Two," "My Gift to You," and "Floatin'."              
Recommend Value - Chemistry's music gives me this nice feeling.   I would just sit down on my chair and read manga as I'm listening to this album.   Heh, I even play video games with their songs on.   I will give this album an A, as it doesn't disappoint me and finally I'm no longer bored out of my mind when there's nothing to do.    
Closing Statement(s) - If possible try "PIECES OF A DREAM," by Chemistry.   That song is the song that got me interested in Chemistry, so try it out see if you're into their style and make your own decision, to whether you'd want to invest in Chemistry's second album, "Second to None."   Just a note, "PIECES OF A DREAM" is not in this album, but in the older album.   As always, you can make any Japanese music purchases through CDJapan.