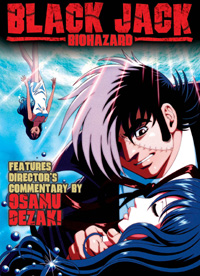 Hello fans! Here I am, introducing you to Animesou.com's newest contest, "Your most memorable experience at the doctor's office." Give us any weird or funny experiences you might have had over the years of not eating enough of your apples. Hehe. The prize will be a copy of Central Park Media's Black Jack Vol. 7: Biohazard. Now is your chance to find out exactly why I rave about this title constantly! Please send your entires to: Animesou Contest.
Entries need not to be long, it will be the content that will ultimately decide the winner. A big thanks goes to Central Park Media for providing this DVD as a prize of the contest and of course, a big thanks goes to you, whether you decide to participate or not. Hehe. I cannot wait to read the entries.

Contest has ended.
Fine Print: All entries will become the property of Animesou.com. Winners are selected by staff votes. Only 1 entry per person. There will only be 1 winner for this DVD. Your entry may be used by Animesou.com in any promotional way. Your email address will not be given out to anyone. Please include your name and address along with your entry or else it will be discarded. GOOD LUCK!