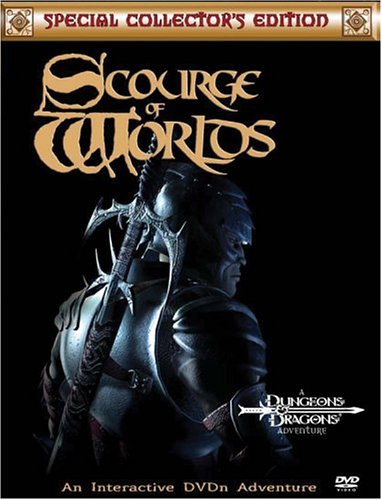 This contest has to be the most simplest of all. Tell us why we should give this to you. That is all! Whether you are poor, rich or whatever, give us your story and the most entertaining entry out of the pack will win this advanced screener Special Collector's Edition of Scourge of Worlds: A Dungeons and Dragons Adventure. It has been opened for me for review, so you can add it as an Animesou.com memorabilia :). Please send all entries to: Animesou Contest

Contest has ended
Fine Print: All entries will become the property of Animesou.com. Winners are selected by staff votes. Only 1 entry per person. There will only be 1 winner for this DVD. Your entry may be used by Animesou.com in any promotional way. Your email address will not be given out to anyone. Please include your name and address along with your entry or else it will be discarded. GOOD LUCK!
Congratulations to Jerry Whitworth for a great story about friendships through a game, here is his entry:
"Hello, my name is Jerry Whitworth. I'm 22 and live in Philadelphia with my mother and have been a fan of the Fantasy genre for as long as I can remember. I didn't get into D&D however until around 1993 when my best friend introduced the game to me out of my love of console Role-Playing Games like Chrono Trigger and Final Fantasy. My only prior experience to the game was through the Saturday morning cartoon I grew up with, and of course the rumors about it being a board game that catered to Devil worshippers. lol But, I had an open enough mind that my friend introduced it to me through my ideal character: the Ninja. My father loved the martial arts and taught them to me, as well as a deep appreciation for the art, philosophy, and culture it encompassed. This was especially true of the Ninja. He studied the art in California while he was in the Army and passed it along to me.
Our first campaign lasted half a night and was pretty much Final Fantasy 6. lol Our second campaign took up the second half of the night. You see, the elected DM liked to have fun with the players and had no problems about throwing his weight around, killing and altering characters at a whim. Absolute power corrupts absolutely. :) Unphased, the next week my best friend acted as DM, as he has been accustomed to remain for 90% of our campaigns. My first campaign with him lasted for 3 years, the second longest campaign I've ever been involved in (the longest being 5 years). This was probably what made my best friend an even better friend to me, we saw each other almost every weekend for many years because of it. It wasn't until life got in the way that this would cease. And as we stopped meeting to play on weekends, we really drifted apart.
It would be a couple years before we really got in touch again because he was busy with work and I was busy with school. It wasn't until one of our mutual best friends went into the army that we started meeting up again whenever we could. It got to the point where we even played D&D on the phone! But in 2001, I moved to California to follow a job in my field of study, and lived there for 6 months. My family accompanied me based on the recommendation of my Father's brother. Only, the jobs we were promised were not there. Broke, I went to work, supporting my Mom and Dad. When we finally got back to Philly, nothing was the same. The financial base my parents had was gone, as was time I had taken away from my education as I pursued work. It was like this for years, but I still had my friends to cheer me up with D&D on the weekends. But, it seems like life gets harder with time.
In June of last year, my father passed away while on the job. It was a tough time of it, but even more so for my mother. But, my friends came over on the weekends. They help around the house, the 3 of us sort of trying to live up to what my father did. From working on the house that always seem to have something wrong with it, to something as simply as shoveling the sidewalk. What started out as meeting to play D&D sort of turned into a brotherhood with my two best friends. They've gone from some cool guys I'm always happy to see to pretty much my brothers. And I appreciate them for it. Although I love D&D, I think I would give this DVD to my best friend. Next to Magic: the Gathering and Anime, it's what he loves most and I think that would be a pretty nice gift for him indeed. Thanks!"