Rant-ON  
Newtype USA Launch Party!!! —————————————-
By: Alpha
      Wooohooo!   The day has came and gone, first issue of Newtype USA has been finally released.   What a way to celebrate this historical event with a party put together by the folks at New York-Tokyo.   I was excited and nervous at the beginning of the event.   That was old news though, after the staff gave Ray and I a warm welcome. (Everyone who attended was treated the same :P)
      Once we got inside, we saw a table for media/press, of course I put Animesou on the list. (Argh!!! I was suppose to get a bag of goodies… I'll get back to that point later.)   As we continue forward we can see the first screen, where the ADV released anime was mixed in by SQUARESQUARE with the music by BETA, SHEROQ, and OSCAR POCHE.   After walking down a few steps; Free issues of Newtype USA were lying everywhere for the people to pick up.   We got ourselves 2 issues and immediately, I went looking for a nice place to sit, … What better place to sit than 10 feet away from the blasting speakers?   On another note, Thank god we arrived early; In just 10-20 minutes after I found a seat, the place was packed.   Anyways, I ripped opened the packaged Newtype USA and compared it with Newtype Japan's September issue.   I'd say approximately 20% of NTUSA was NTJapan, translated, of course.   The cover feature was the same, which was Gundam SEED.   The extras were all different, the most noticeable difference between the two versions was the preview DVD of Bandai Entertainment's newest title Arjuna.   Overall, I'll say both versions are unique in their own ways, currently the best Anime/Manga magazine in America is NTUSA and its safe to say, it's here to stay (Nice rap huh?)
      The people were cool, I met a guy from Subway Cinema who promoted the many cool Hong Kong movies with his ads; Great guy, he hooked Ray and I up with a glass of Vodka. (HEY! its a party, and what's a party without some alcohol?)   While I was in there, I had 2 people ask me if the magazine was good.   I told them, "Yeah, it's the best in the U.S. market now, and it isn't a translated NTJapan, most of the contents are fresh out of the box."   I can really say, I got kind of drunk after that glass of Vodka, because at that time, I had no idea what I said to those people.   Other than what I think I said ^_^;;    
      Oh, how can I forget, let's go back to the bag of goodies issue.   Well, as I was sitting and chilling with my glass of something.   I see people holding these bags.   I told Ray, "Yo! why they got bags and we don't?"   Ray, "I don't know."   Alpha, "Yo dude.   Go get one or two."   So he goes and comes back to me empty handed.   I asked him, "Err…what happened?"   Ray, "The guy won't give me one, cause he said PRESS ONLY."   Alpha, "WHAT?   press only??   You told them you're from Animesou.com?"   Ray, "Yeah."   Alpha, "You sure?   Because I'm about to go there and tell him myself."   Ray, "Dude, I told him I was from Animesou and a press.   The dude sounded like he doesn't understand English.   All he said was Press Only, Press Only….."   Alpha, "Oh my god!   what the *beep*!"  
 >>Fast-Forward to 30 minutes later>>    
      I decided I had enough of partying so we leave, but of course we wouldn't leave until I get a damn bag of goodies!!!   So I went back up to the table, but this time it was a girl, a very kawaii girl.   Ray asked again, "Uhh… Can I have a bag please?"   Kawaii girl, "Do you have a magazine?"   Ray, "Yeah."   Kawaii girl, "Do you have a T-shirt?"   Ray, "Uh… no, can I get 2?"   Kawaii girl, "OK!, let's save the bags for others who don't have the magazine and t-shirt."   Later we found out in the bag was Pocky and chopsticks or something from another attendee, while we took the subway back home.

      Oh wells, in the end, we didn't get ourselves a bag of goodies, but it was still a nice party.   I have provided some unprofessional pictures from the party taken by Ray.
Here goes nothing: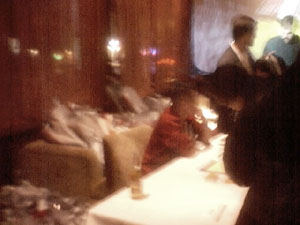 The first screen, right after the entrance, notice all those bags of goodies behind the guy in the red.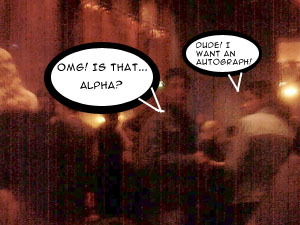 Picture explains everything.   Alpha is famous :P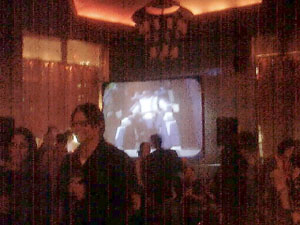 The screen, the crowd, the PARTY!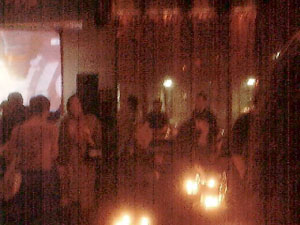 DJ's mixing some pretty hot music!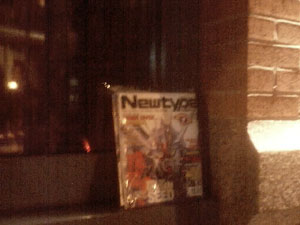 Newtype USA, Premier Issue!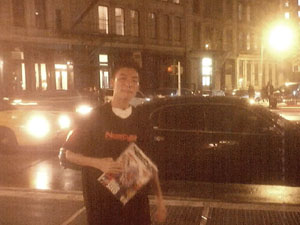 Here we have Da Man Wit Da Planz (Alpha) posing with his Newtype gear!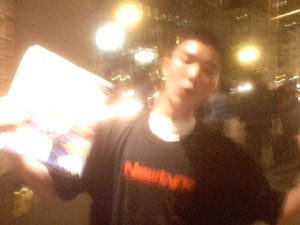 Here we have Da Man Wit Da Planz (Alpha) semi-drunk and way too happy.   Look, he's about to smack some Newtype pride into the camera man (Ray) with the magazine.
More Pictures: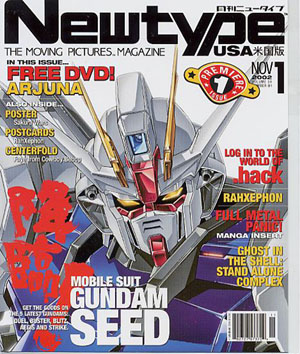 Do I really need to explain?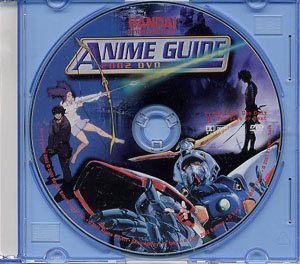 Here's the DVD that came with the premier issue.   It contains of Bandai releases only.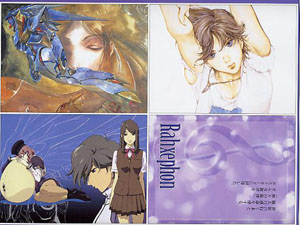 One of ADV's acquisitions in AX2002, Rah Xephon postcards!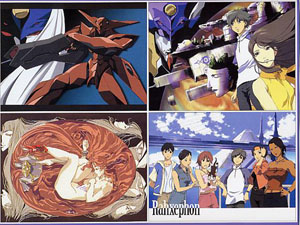 More Rah Xephon postcards!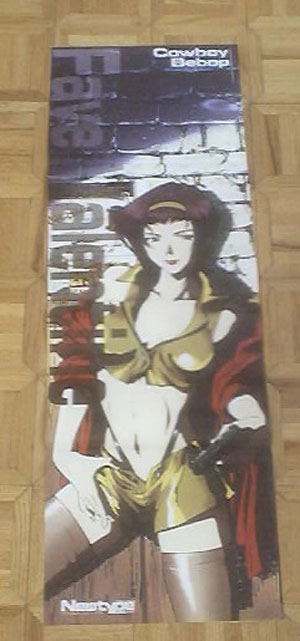 Center fold of Miss. Faye Valentine.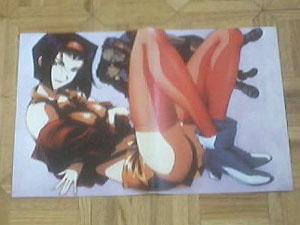 Reverse side of the Faye Valentine center fold.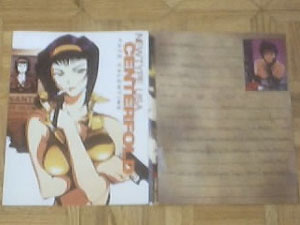 A bios of Faye.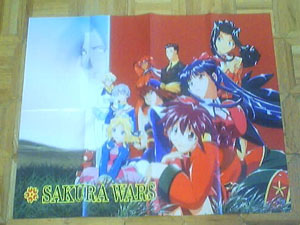 A HUGE poster of Sakura Wars.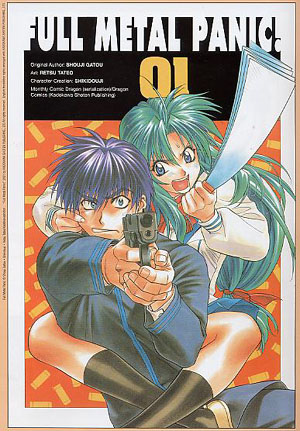 Finally, we have Chapter 01 of Full Metal Panic.   The anime series is also a new acquisition on ADV's list in AX2002.
Main Idea of this Rant?! - Just hooking you people up with what went down at the Newtype USA launch party.    
Closing Statement(s) - w00t!, all fun, wish the Animesou staff was there too!   I truly thank everyone who made this party possible.   New York-Tokyo (I give them a lot of credit), and ADV Films for making Newtype USA available to the American Anime and Manga fans..