Fanime, now in its 19th year, is one of northern California's biggest anime conventions and has served as the traditional Memorial Day weekend trip of choice for many con-goers. It has been held in a variety of locations but for the last nine years has called the McEnery Convention Center in downtown San Jose home.
There were two things very noticeable for this year's convention. The first is the construction happening to the McEnery Convention Center that included removal of the trademark fountains out front. The second were the registration lines. Fanime started inauspiciously with a blackout that consumed most of Thursday's preregistered badge pickup time, meaning Friday's lines were forced to absorb the bulk of pickups. Saturday's onsite registration lines seemed to stretch for more than half of the downstairs lobby and multiple hour wait times were not uncommon going into the late afternoon.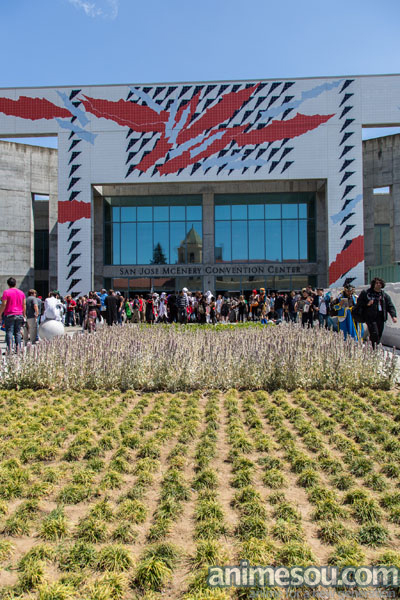 Feels like we're missing something important.
This year marked the return of printed schedules in a pocket format, which was missing last year. Granted I used my smartphone 90% of the time because it was more conveniently sized, but since this isn't an option for a lot of attendees it is very appreciated. 2012 also included a new event hosted by Fanime, the Clockwork Alchemy steampunk convention, in the nearby DoubleTree hotel but in my two days I did not have the opportunity to take a look.
Guests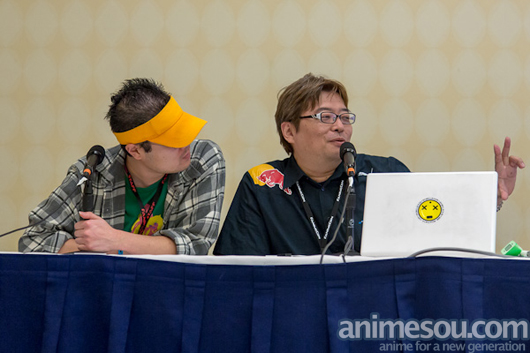 Kia Asamiya
The guest list for 2012 included names like artist Kia Asamiya, the man behind series like Martian Successor Nadesico and Silent Mobius, seiyuu Mai Aizawa, martial arts expert Ric Meyers, and English voice actor David Vincent. Hiroyuki Yamaga, now on his 15th visit, brought along fellow GAINAX employees Shigeto Koyama and Mamoru Yokota. Yamaga's trademark "Yamaga Party" allows Fanime attendees to get up close and personal with the guests and this time around had a tea ceremony theme.
Autographs were a little different this year and were held at the nearby Fairmont Hotel, a 5-10 minute walk from the convention center. This year I elected for only two autographs, one from the lovely Mai Aizawa and the other from the veteran artist Kia Asamiya.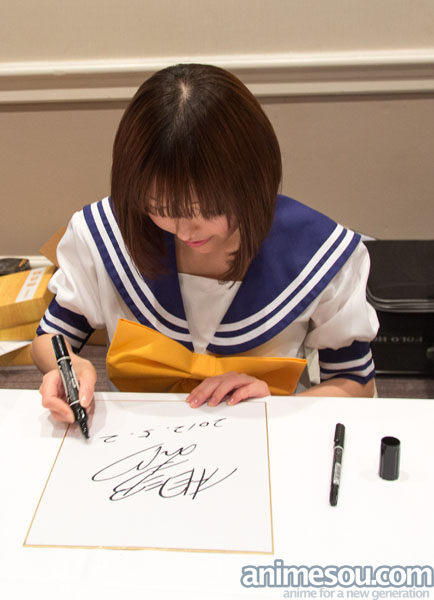 Mai Aizawa
One thing of note is that Kia Asamiya was doing full-blown drawings for attendees, which meant that his turnover rate suffered immensely. Only the first ten or so people in line would be able to walk away with one of his illustrations in their hands. I opted for an autograph only which was still met by a significant wait. For those who were lucky enough (or dedicated enough to show up more than an hour ahead of time) to be part of that small number, it was worth it.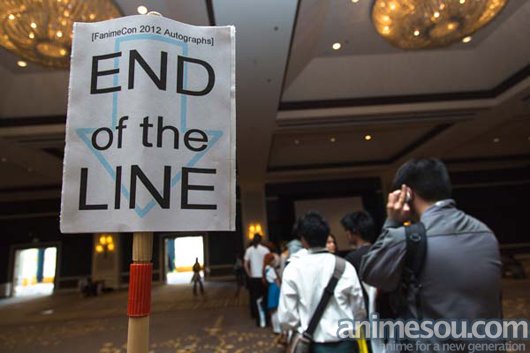 Musicfest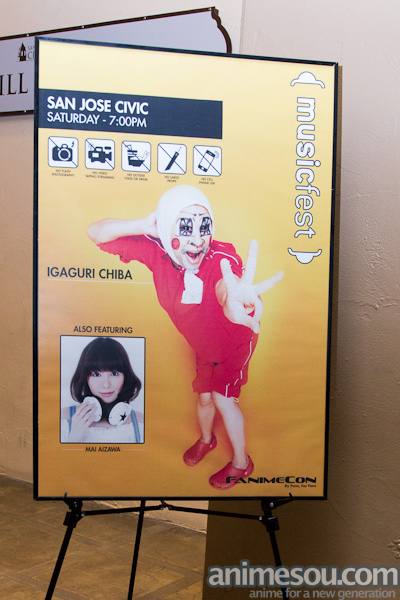 Musicfest is the other name for Fanime's free concert for attendees. Before the show there were video messages from NIGHTMARE, Megumi Nakajima, and Kamiya Hiroshi. Mai Aizawa opened with two songs including her newest release, Kimi ni Todoke. She has had quite the career as a seiyuu, but her singing career is just beginning to take off which explains the short set.
She was followed by Igaguri Chiba, alter-ego of Yomi, vocalist for Japanese visual kei band NIGHTMARE. Compared to NIGHTMARE, Chiba's music is much more upbeat and regardless of the occasional intrusion of heavy metal riffs and bass drumming, the music always felt fun. It can be summed up best by a comment I heard directly behind me: "What am I watching?" You didn't know what was going on half the time but you were having an infectious sort of fun. I'm not sure it is possible to have anything but fun watching someone sing and dance as a half-naked Pikachu accompanied by two large muscular men in speedos.
The night was rounded out by recorded footage from the Niconico Cho-kaigi concert from the end of April. The segment was titled "Vocaloid Allstars" and included fan-favorites like Luka Luka Night Fever, Popipo, and Alice in Musicland. While we're on the topic of music and concerts, May'n has an upcoming pair of events later this month on the 21st in LA and 23rd in San Francisco. Check out more info here.
Stage Zero
Centrally positioned in the second-floor lobby right at the top of the central stairs, Stage Zero had an eclectic array of events for the con-goer to observe or participate in. There were Jeopardy-style game shows, dance contests among attendees, showings of popular internet videos, and live singing and dancing performances by the Fanimaids. Sunday's Fanimaid performance ended with their own informal dance-off. If you had some extra time with nothing to do, Stage Zero was there to help you. For the night owls among us this includes round the clock, 24 hour entertainment.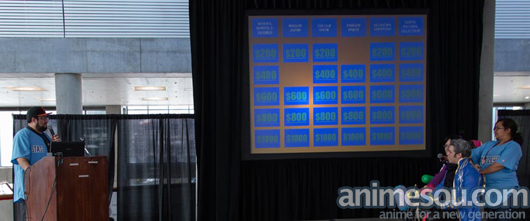 Fanimaid Maid Cafe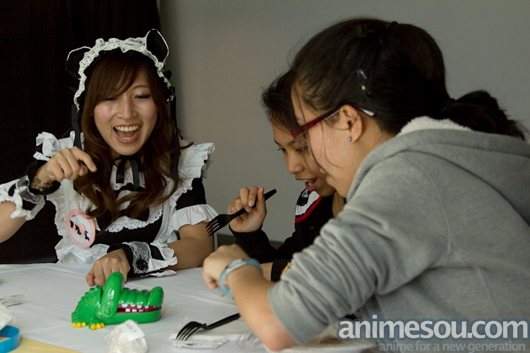 Fanime's maid cafe is a place for con-goers to take a load off and have a little fun by being doted on by their very own maid. Food and drinks are served and attendees have the chance to play a few lighthearted games with their maids. Photo opportunities are a given and all smiles were had by guests. If you've ever wanted to be called "Goshujin-sama" or "Ojou-sama," this is where you go.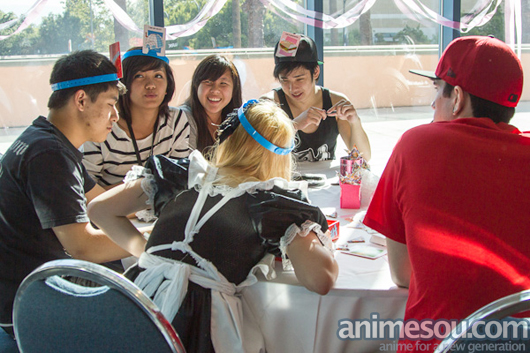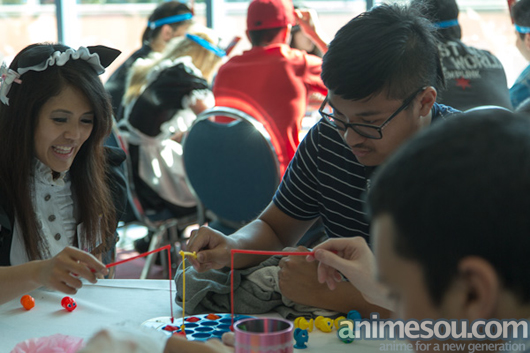 Cosplay
One of the mainstays of the anime convention is cosplay and compared to other types of conventions where attendees dress up, it seems that anime conventions have the highest attendee to costume ratio. Dressing up as your favorite characters is an extension of your love for them or for a series. With this in mind you can use the number of people cosplaying a certain series to judge the popularity of a series.
It is also interesting in that trends rise and fall very quickly in cosplay; a series with many cosplayers one year can have few the next as another series takes its place. Others just continue to grow like some sort of unstoppable juggernaut. One thing I did notice was the growing popularity of Tiger and Bunny. About a year ago it was largely unknown in America, but this quickly changed.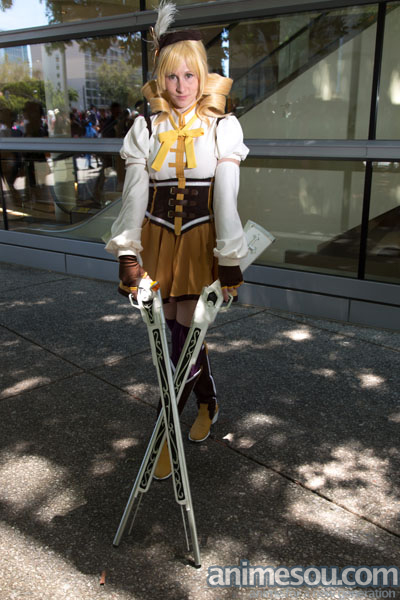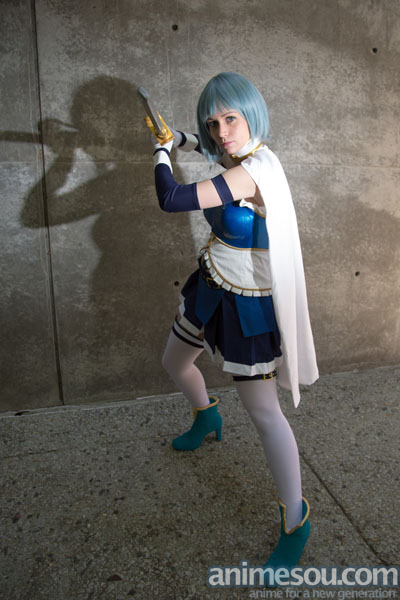 Mami and Sayaka from Madoka, still going strong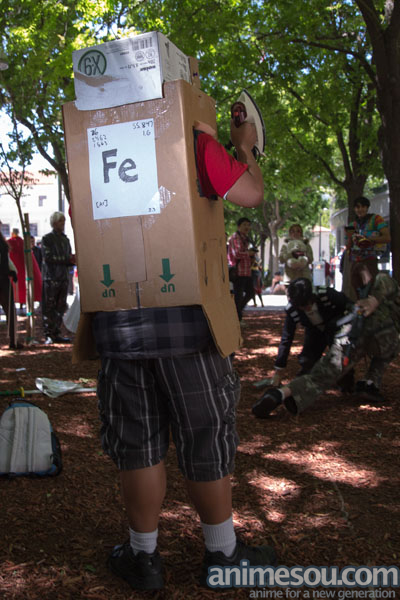 Iron man.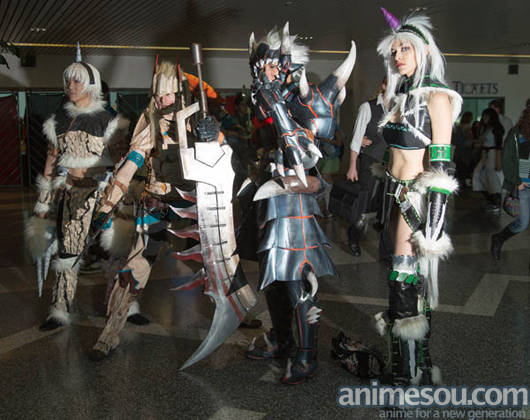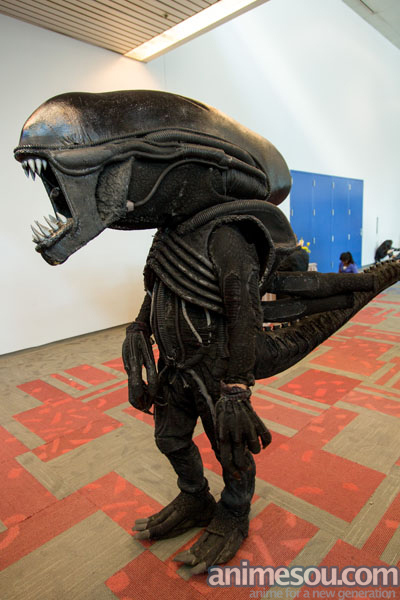 Alien with working tongue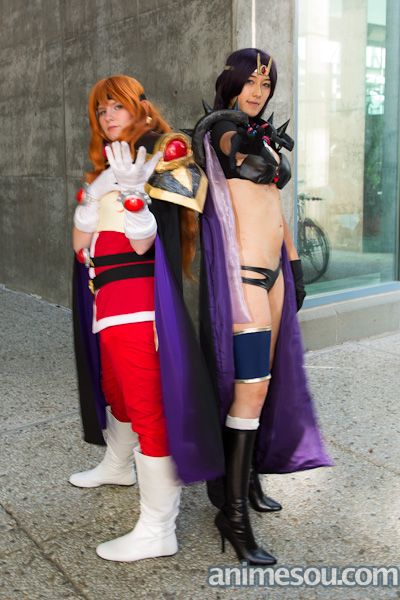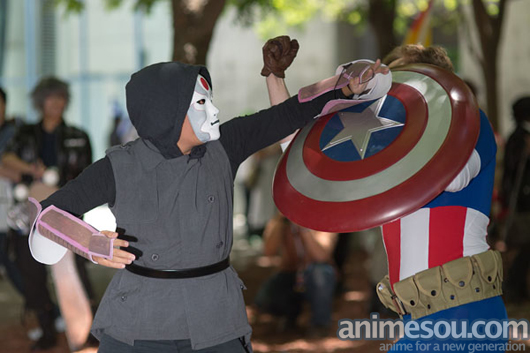 A shot from cosplay battles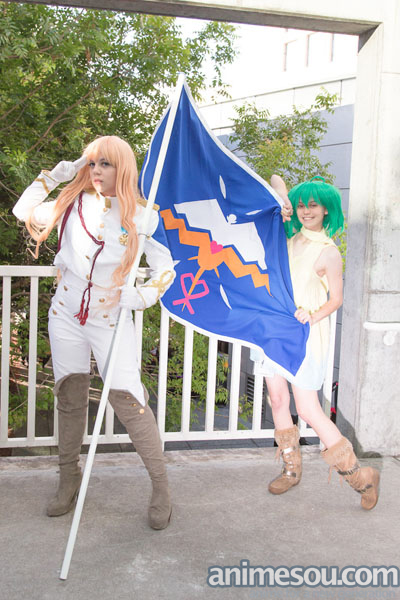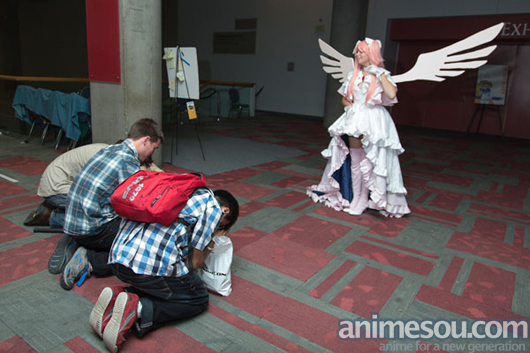 Godoka
Abe Lincoln takes a break next to Jin.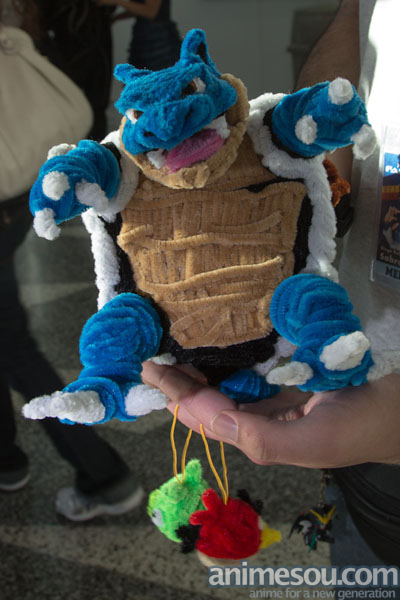 Not cosplay, but it's a Blastoise made out of pipe cleaners.
Usually held on Sunday evenings, Fanime's Masquerade is where enterprising groups can take their cosplay a little further. With a little help from the black-clad stage ninjas, you will see dancing and comedic skits. Free for attendees, the Masquerade never fails to attract a huge crowd and the San Jose Civic Auditorium was packed to the rafters to watch fans dressed as characters from Puella Magi Madoka Magica, Sailor Moon, Code Geass, and others perform onstage.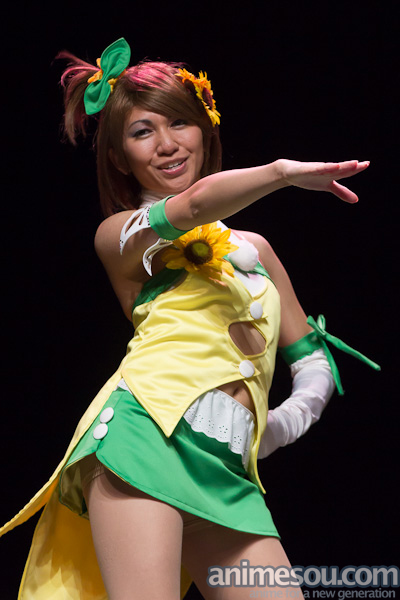 Cherry from the Angel Hearts Idolm@ster group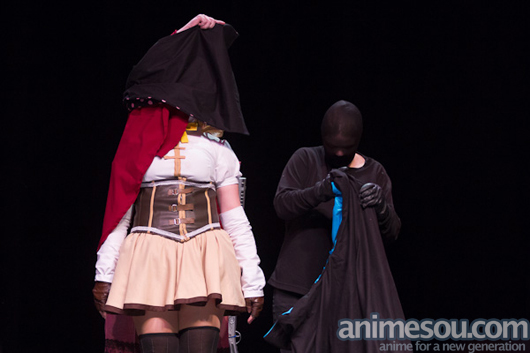 Not even in the masquerade can Mami get a break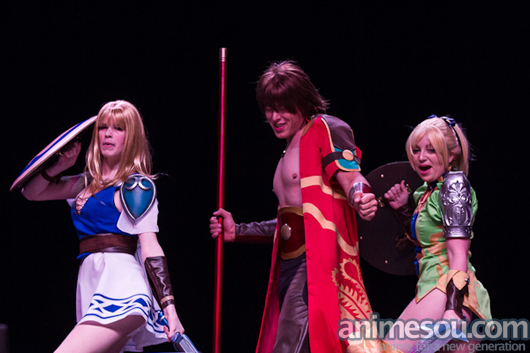 Our dear departed Soul Calibur characters sing Hakuna Matata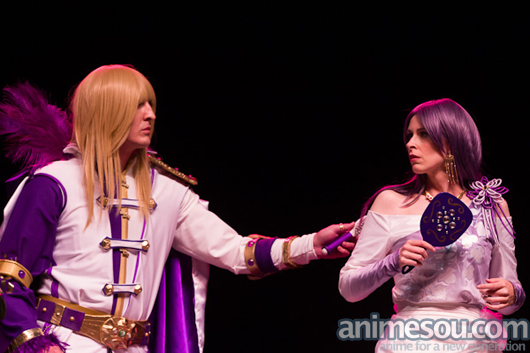 Dealer's Hall / Artist Alley

Fanime's Dealer's Hall is where you go to pick up some official goods. Be it a doujinshi, a bottle of Ramune, the newest anime on Blu-ray, or maybe a PVC figure to display in your room, this hall had it all. Longtime vendors like Hobby Fan and Offworld Designs were joined by new groups like Necomimi. Fellow conventions like Sac Anime up in Sacramento and Yaoi-con (formerly of the bay area, now moved to southern California) also had booths. Of note was the chance to purchase tickets for
May'n's upcoming California concert in San Francisco later this month
. Attendees who opted to buy their tickets at-con were given the special gift of a poster normally not available to the public.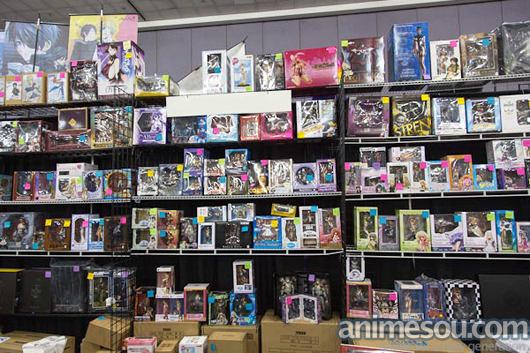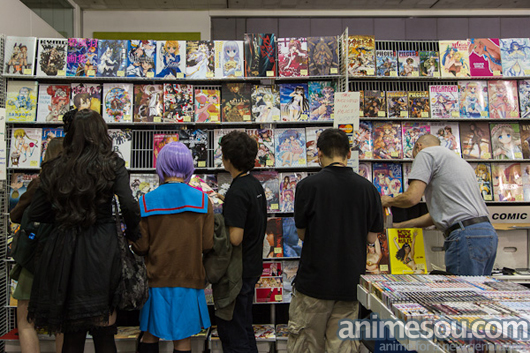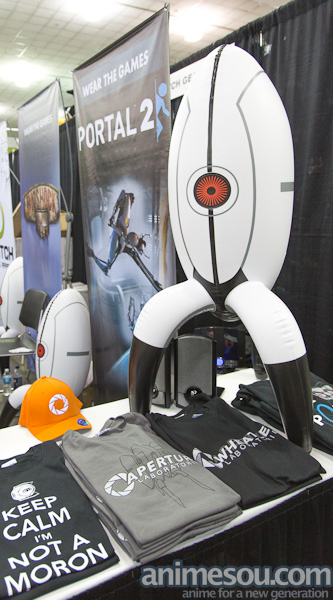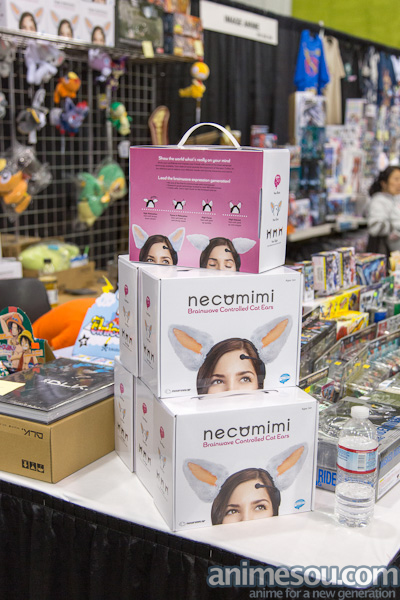 Cat ears that move via brain waves
Artist Alley has your usual array of prints and craft goods. Booths here have a more personal touch to them and you can go as far as commissioning many of the artists here for a unique piece of art. You can find some more esoteric items like handmade lolita headbands and dry-erase board speech bubbles. I'm always impressed by the quality of some of the booths here. A lot of these artists have really put the time into perfecting their craft and you can't go wrong with a purchase here.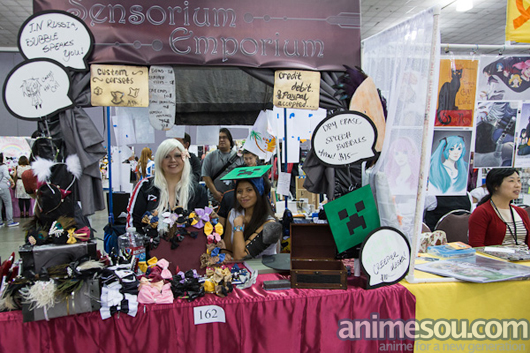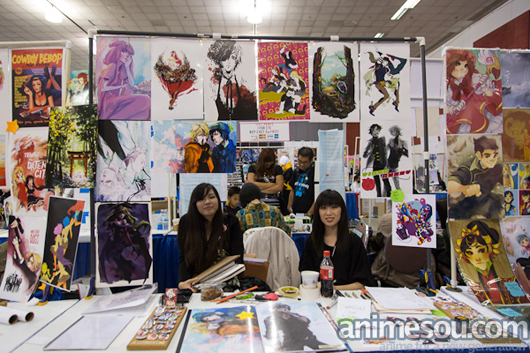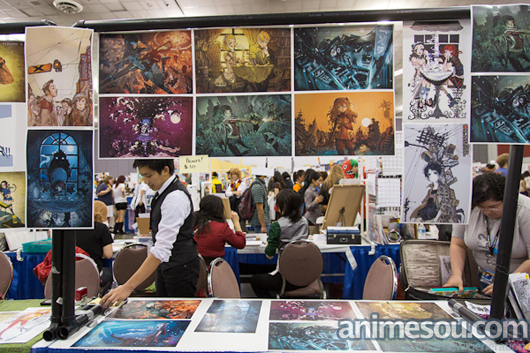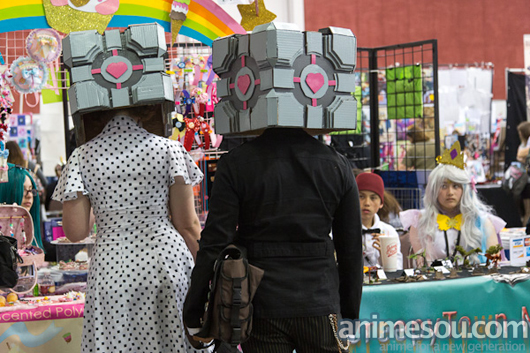 No, they are not for sale.
Gaming

Gaming at Fanime is an around the clock affair open 24 hours a day. No matter what time it might be, if you're looking to play a game or two, you've found the right place. There are a variety of arcade games ranging from Para Para Max to Time Crisis to Initial D. Console games include modern fighters like Skullgirls on PS3 to old classics like Tetris on the NES. Practically every generation and system from 8-bit onward is represented here. A few computers were also available to play games like Melty Blood and Touhou. The late-night DDR freestyle sessions were quite popular and had a crowd ringing the area.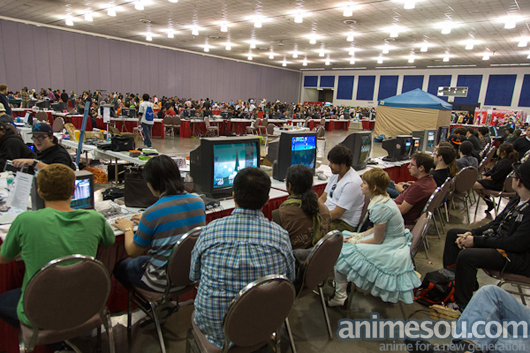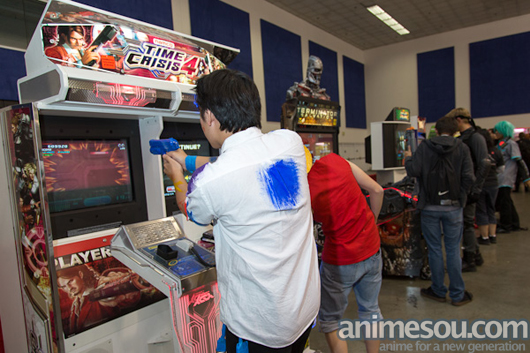 Those favoring a non-electronic format will be happy to know that tabletop games are in abundance and even a few 3D puzzles. There were even a few purikura booths to take photos with your friends in.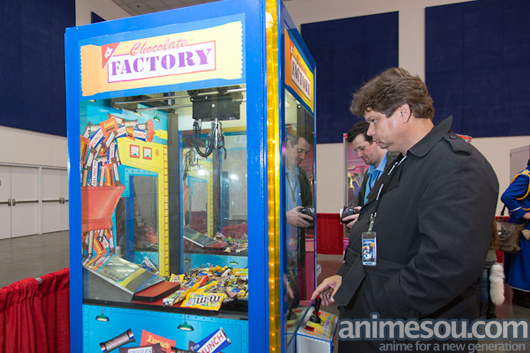 The face of a man on a mission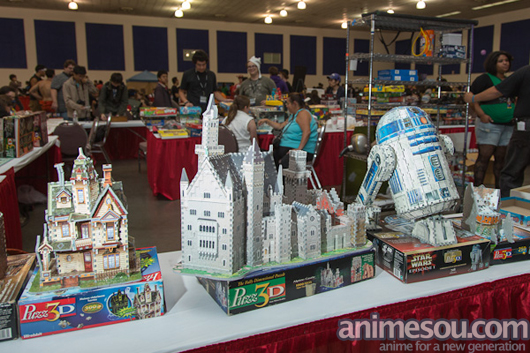 On a side note I don't think I've seen so many CRT TVs in one place in quite a while.
Parting shots
This year I was only able to attend Saturday and Sunday, but it was still a good time. I met up with friends I hadn't seen in a while and caught up with some of the faces I see at almost every California convention. In a way that's what Fanime is about. It is not just the convention and its guests of honor that make up Fanime. It's your friends, the acquaintances you know, and having a good time together.
The one thing I can ask is "Please get more computers for onsite registration." Fanime has been growing year after year and with its spot as the lone major northern California convention this year (as Wondercon had moved to Anaheim, hopefully just for 2012) it was inevitable that attendance would grow. Things definitely felt more crowded this year. Last year I was able to waltz up to the onsite registration on Friday with about a ten minute wait but this year was definitely brutal for new attendees, especially on Saturday. I counted a dozen or less computers available to handle hundreds of attendees. It feels remiss to mention another convention but San Diego Comic Con, while many magnitudes bigger and better funded, know they have to field a veritable army of computers to handle the huge line of preregistered attendees.
May 24-27 are the dates for Fanime 2013. We'll see you there.