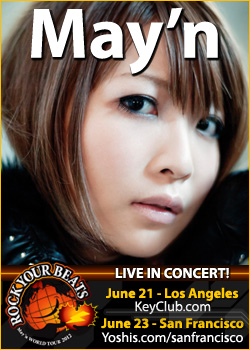 In a few weeks California will be lucky enough to have one of HoriPro's hottest singers, May'n, live in concert for her ROCK YOUR BEATS World Tour. If you're a fan of anime you should know her as Sheryl Nome's singing voice from Macross Frontier and for her OP and ED songs for series like Aria the Scarlet Ammo, Phi Brain, and most recently, Accel World. Her last American appearance was at Anime Expo 2010 in Los Angeles. This is your chance to see her again and this time, up close and personal.
First up, the dates:
June 21 (Thursday) 7:30pm (doors 6:30pm), at Key Club in West Hollywood [link]
June 23 (Saturday) 2:30pm (doors 1:30pm), at Yoshi's in San Francisco [link]
Tickets are $40 presale, $50 at the door, and $100 for a special VIP ticket that includes early entry and meet and greet. The VIP tickets are limited in number and as of writing at least a few are still available for both San Francisco and Los Angeles.
May'n, born Mei Nakabayashi, started her career after being scouted by HoriPro's Talent Scout Caravan. In 2008 she changed her artist name to May'n as an expression of her desire for her music to be the main theme to everyone's lives. Her first breakout role was the singing voice of Macross Frontier's Sheryl Nome. Since then she has done numerous sold-out concerts in Japan and the rest of Asia and has provided songs for numerous anime series, films, and games. In March of this year she released her third solo studio album, HEAT.
Fanime this past Memorial Day weekend was lucky enough to have Nobu Yamamoto, executive VP of HoriPro's US offices and David Cirone of Resonance Media in attendance to give fans more information and answer any questions. A special video message from May'n herself was included and can be seen here:
If I had to guess a few songs what we hear… Diamond Crevasse (Macross Frontier, stated to be her favorite of the series), Brain Diver (Phi Brain), Chase the world (Accel World), and HEAT of the moment. I'm going to hold out for Universal Bunny, which happens to be my favorite.
In addition we have a couple more slightly hidden messages for Los Angeles and San Francisco fans:
No subtitles but the gist of things is that after receiving so many warm feelings from her fans she wants to share hot-blooded rock with everyone around the world. As it is her first time traveling to San Francisco, May'n is incredibly excited! The only rules are to listen to her songs a lot so you can dance and sing together with her at the concert!
To get a head start on things you may want to check out iTunes [link] where all of her solo albums as well as the May'n Street EP and Chase the World single are available (although HEAT is missing a couple of songs). You're also on your own for the Macross Frontier songs but let's just say where there's a will there's a way.
HoriPro is putting these two concerts as their foray into the hard-to-crack American market. Success here opens the door for future tours and other talent from HoriPro (and possibly other artists from Victor Entertainment who currently act as May'n's record label) coming over from Japan.
We're looking at an approximately two hour show with full band accompaniment. The size of these venues means you'll be in close quarters, something that a lot of previous concerts have not been able to replicate so these two shows are very special. Even at AX in 2010 you could only get so close and that's only if you were press or very fortunate in your ticket placement. After the show is a one hour meet and greet where you can say a few words of appreciation, give gifts if you have any, and have one item of your choice autographed.
A short exchange between Nobu and David:
"You'll be able to see and touch her."
"You might want to be more specific."
"Uh… shake hands."
A video detailing the tour goods that would be available was recently released on youtube. Items range from a photo-filled pamphlet, a long towel for those times you get really pumped, or a suitcase belt to help keep your stuff secure because you bought too much.
Here's a full(?) list with the yen prices (availability and price subject to change; some items may not appear on the American tour stops) as well as the poster that is behind May'n: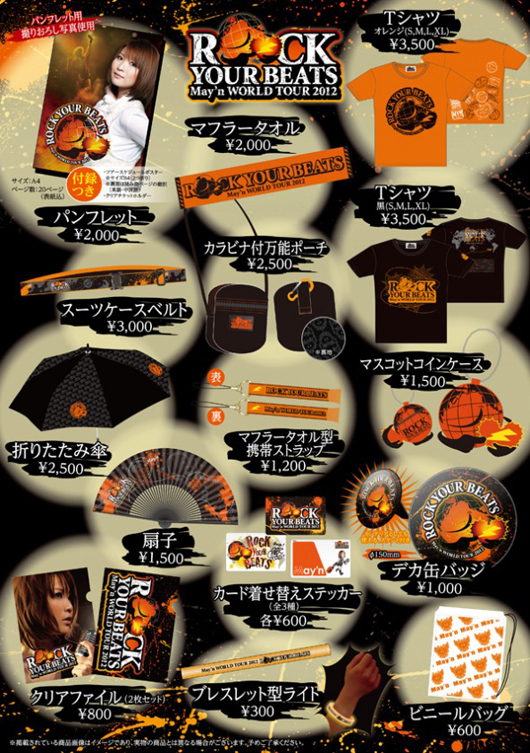 Photo pamphlet (2000 yen)
Long towel ("muffler towel") (2000)
T-shirt (2 designs, 3500 each)
Suitcase belt (3000)
Umbrella (2500)
Folding fan (1500)
Mascot Coin Case ("Chikyuu-kun") (Earth-kun) (1500)
Giant badge (1000)
Clear file (800)
Cover stickers for ID cards (600 for the set)
Vinyl Bag (800)
Bracelet light (like a glowstick) (300)
Tray (for things like chocolate, coins, etc) (price unavailable)
Not presented:
Carabiner Pouch (2500)
Cellphone strap (1200)
Tote bag (1500)
My personal staple and proof of existence has always been the ubiquitous tour shirt. There are two colors, black and orange, and each has its own unique front and back design. I have to admit, I'm kind of tempted to buy both. Hopefully at a price point like $30 more in line with American tours (hint, hint).
For more information please visit the official tour site [link] and check out May'n's twitter feed at @Mayn_USA.
The current list of overseas (non-Japan) tour stops for the ROCK YOUR BEATS tour include:
June 21 - Key Club (Los Angeles)
June 23 - Yoshi's (San Francisco)
July 6 - Huamei Zixin International Theater Chengdu (China)
July 8 - Hangzhou Redstar Theater (China)
July 27 - Beijing MasterCard Center (China)
July 29 - Shanghai Luwan Stadium (China)
September 7 - Zeche Bochum (Germany)
September 8 - Le Divan du Monde Paris (France)
September 16 - Mapo Art Center Seoul (South Korea)
September 23 - Kowloon International Exhibition Center (Hong Kong)
I'll see you in San Francisco. Make sure to bring a glowstick or two (perhaps a couple of superbright Ultra Orange glowsticks to go with the rest of your glowsticks as it's one of the tour's primary colors) and study up on the songs!