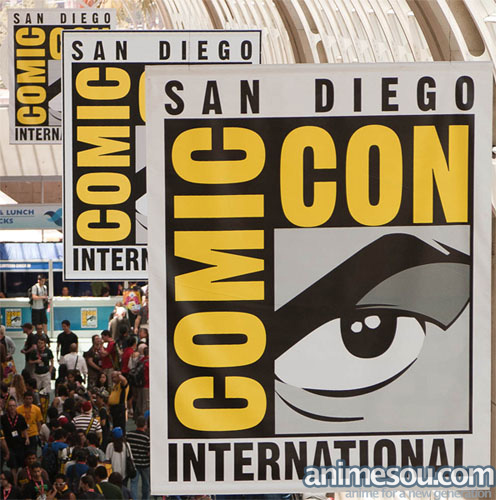 San Diego Comic Con International, shorthand known as "SDCC" or simply "Comic Con," is one of the biggest pop culture conventions in the United States. Currently in its 41st year and bringing in another 125,000+ attendees over its four official days, Comic Con hit like a storm on July 21-24 and we were in attendance.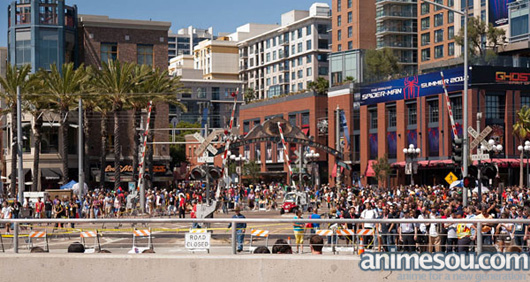 Yep, it's that time of year once more
Comic Con is held in the massive San Diego Convention Center next to the heart of downtown San Diego, the Gaslamp District. It's different from other pop culture conventions in that it covers a broad spectrum of genres. Originally it was true to its namesake, comics, but has increasingly added anime, manga, video games, movies, and television to its repertoire over the course of the last decade.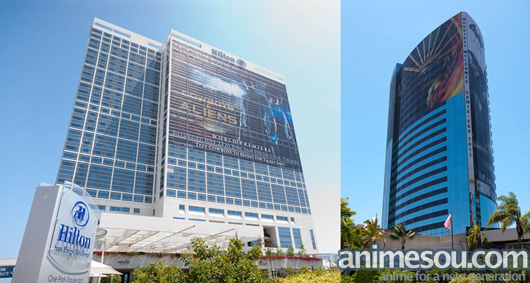 Even the hotels get into the act
This year's tickets were, for people who had not registered at the 2010 convention, very elusive. The combination of an unreliable online sales system plus the subsequent panicked rush on tickets meant that many would-be hopefuls were turned away empty-handed months before the convention. This is the first time there has ever been a problem like this. 2010's convention had its four day passes sold out in late 2009 but there was never a real feeling like it was impossible to get in. For the benefit of those of you unable to attend I'll be writing this as a primer and explanation on how SDCC differs from other conventions you may have gone to. This also marks the first SDCC report on Animesou.
The $105 ticket for 2011 included preview night, a three hour block on Wednesday where the main draw is the exhibit hall. This is the first chance for attendees to see the massive 500,000 square feet of the exhibit hall that has been setup solely for booths and artists. Some attendees will make a beeline to stores like Hasbro and Mattel in order to purchase convention exclusive goods while others will run around the hall just for the thrill of being there and experiencing the booths or to scope out what free items they can acquire. This is one of the best times to visit the hall because you may not have enough time to explore all of it during the rest of the convention because of panels, signings, or other events.
SDCC, JAPAN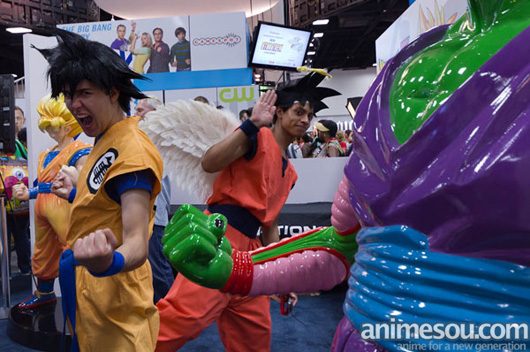 Something you might be used to at other conventions are reseller stores taking up the majority of the exhibit hall. This is not the case at Comic Con where industry and official companies are very well represented. Some of the Japanese culture related companies with booths include Bandai/Blue Fin and all their gunpla, Square Enix's store and display of goods, Viz Media, Funimation, Nintendo (who actually took over a ballroom in the Marriott hotel in addition to their much smaller booth in the convention center), Kotobukiya, and more. The more Western companies like Marvel, DC, WB, Fox, and others have even bigger and more elaborate booths. Television network G4 had a two tier structure that doubled as both exhibit and studio for some of their on-site programs being streamed live from the convention center. While all of these companies are outnumbered by smaller booths they equal the amount of floor space taken up with massive displays full of props, special displays, and masses of people wanting to take a look.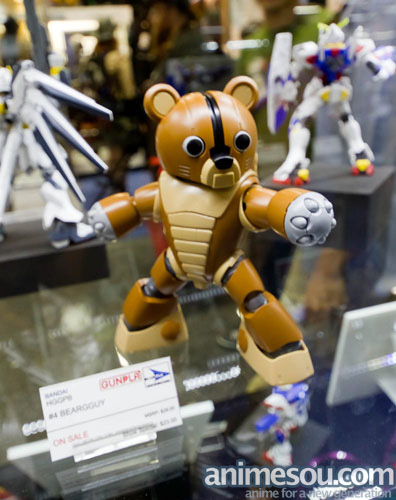 This is the best official Gunpla ever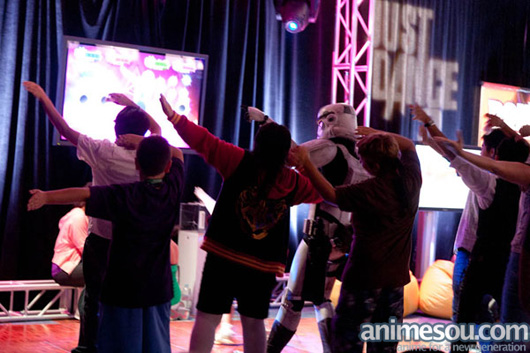 Even stormtroopers like to dance

Zelda and Link playing the upcoming Skyward Sword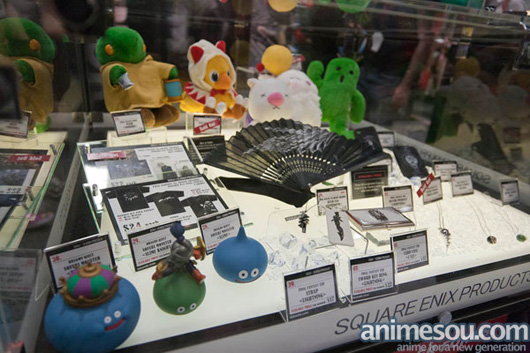 As an example of the above I'll be taking a look at the Square-Enix booth. It's a huge setup with one side being dedicated to the store and Square-Enix's online manga effort and the other being dedicated to some upcoming games. Square-Enix has grown over the past decade to be a multi-industry company handling manga, anime, and merchandise in addition to the video games we all knew them for. One of their big lines are the Play Arts figures which span a number of series including Final Fantasy, Metal Gear Solid, and Halo. Displays also housed classic Final Fantasy plushes like the Tonberry and Cactuar and there was even a listening station setup for some of their soundtracks.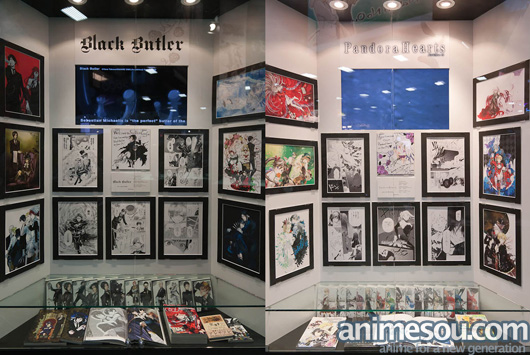 Two of the manga displays
As stated earlier, Square-Enix does handle some manga series. Their most popular is no doubt Full Metal Alchemist. Soul Eater and Kuroshitsuji are also high on the list. For the past few years a part of the booth I have come to enjoy are the displays of color shikishi with a short message from each of the mangaka and this year they include Nabari no Ou, Pandora Hearts, and the above mentioned Kuroshitsuji and Soul Eater. As part of the ongoing transition to digital format Square-Enix has begun making their series available online in English and demoed the system at the convention. Currently (as of writing) sixteen series are available for purchase at the reasonable price of $5.99 per volume and you own them forever (but must use their software to view manga). As a bonus they were giving away a small Full Metal Alchemist clear file originally included with Monthly Gangan's May issue if you watched the short demo.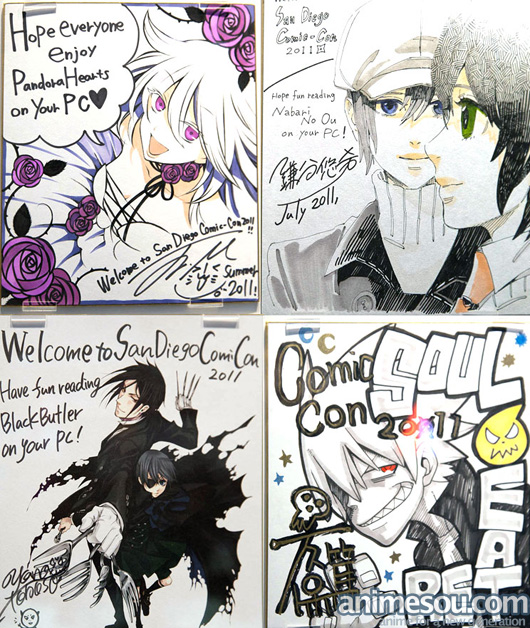 Closeups of this year's four shikishi from Soul Eater, Pandora Hearts, Nabari no Ou, and Kuroshitsuji
The other side of the booth was host to a number of flat panel televisions hooked up to game consoles playing Final Fantasy XIII-2 and Deus Ex: Human Revolution, one of the franchises acquired during the purchase of Eidos as their English video game arm. Another set let attendees play the Wakfu game currently in beta testing and if you played for about ten minutes you got to spin a wheel and get a prize.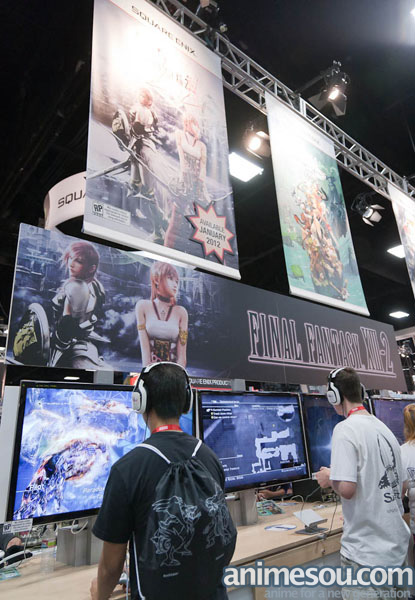 In stark contrast to the booths are the panels. Naturally being "Comic Con" and having so many more genres to deal with means that the anime and manga panels are much less in number. Industry panels for anime and manga companies are fairly boring and consist mainly of series pickup announcements. Further adding to the weirdness is that Comic Con is sandwiched right between Anime Expo and Otakon so the bigger announcements have either already been made or are being held in reserve for the week after. You do have a few panels like "Manga: Lost in Translation" which allows you to poke questions at the unsung heroes of the industry, the translators, and others like "The Best and Worst Manga of the Year" which is fairly self-explanatory and a good way to learn of new titles to read but if you're going to Comic Con solely for anime and manga you're going to be disappointed.
Much like the panels, the guest-list when it comes to Japanese culture is lacking. There will be a few big names but nowhere near the scale you might see at Anime Expo. It's somewhat tied into the way the American anime and manga industry has been on the decline, partly because they want to save the money for the actual anime conventions, and partly because they know that people at Comic Con come from all sorts of backgrounds and interests so there's a much greater chance they won't know Japanese guests. Viz Media, English publishers of Shonen Jump and a multitude of manga, used to bring huge names in like Arina Tanemura (Full Moon wo Sagashite, Kamikaze Kaitou Jeanne), Nobuhiro Watsuki (Rurouni Kenshin, Busou Renkin), and Tite Kubo (Bleach) but in recent years have scaled down. This year they actually did not have a headliner manga guest. And something you're definitely not getting at Comic Con? Japanese music concerts. This is a huge plus to anime conventions and one of my favorite bits.

The biggest Japanese name at this year's convention was Yoshiki, better known to some as X Japan's drummer. At the beginning of the panel a news montage about Yoshiki and X Japan was played on the projectors, a good choice because while X Japan is huge in Japan and popular enough elsewhere, I would not be surprised if people here did not have a clue. He teamed up with the ever prolific Stan Lee (this isn't Stan's first Japanese collaboration as he's worked to create Ultimo with Hiroyuki Takei of Shaman King fame) and Todd McFarlane (Spawn) to create the comic book Blood Red Dragon. It will be published under Image Comics and they were even nice enough to pass out a preview issue to everyone in the audience. It actually plays music much like some Hallmark greeting cards do, an idea thought up by Yoshiki himself. According to Stan he has a great amount of input on the project and isn't just lending his name to the project but really wants to get involved.
SDCC, EVERYONE
Now if you're going to Comic Con for the whole experience then you're in good hands. There are educational panels on topics like how to break into the industry, tips on composition and perspective, live demonstrations of painting and figure sculpting, and even a few where you can watch famous professionals like Jim Lee draw and ask questions in order to learn how they work. Video game fans will be able to attend panels by Capcom, Bioware, and Microsoft for updates about future titles and giveaways. If you're looking to meet fellow fans and enthusiasts then meetups like Firefly/Serenity's Browncoats, ball joint doll collectors, or the Star Wars 501st Legion might be of interest to you. If you've got some time to burn a fun panel like the improv art of the Quick Draw panel with MAD magazine's Sergio Aragonés or a screening of a musical episode of Buffy the Vampire Slayer will help you out. Anyone looking to get sneak peaks of upcoming big name movies and the new seasons of TV shows will also be well provided for. If you're lucky you'll even be able to attend prescreenings of movies yet to be released. Captain America and Cowboys vs. Aliens were two of the bigger names that showed this year.
My personal favorite is Ric Meyer's Kung Fu Extravaganza. Anyone who has been to FanimeCon lately will recognize Ric for his panel of the same name or for his duty as masquerade MC. Three hours of fight scenes from martial arts movies is the name of the game at this panel and if you even remotely like the genre you should take a look. This is the one panel I've attended every year I've gone to Comic Con without fail.
Guestwise you've got representatives from TV, movies, video games, comics, novels, and more. With Hollywood only a few hours away there is a constant stream of celebrities big and small. Expect to see them in panels answering questions and talking about their experiences on set and in the studio. English anime voice actors are also present like Stephanie Sheh, Yuri Lowenthal, and Tara Platt. George R.R. Martin, L.L. Cool J, Peter Mayhew, Grant Morrison, J Michael Straczynski, and countless others were in attendance. You may or may not know who any of those names are but let's just say they've done some pretty big things in their time.
LINES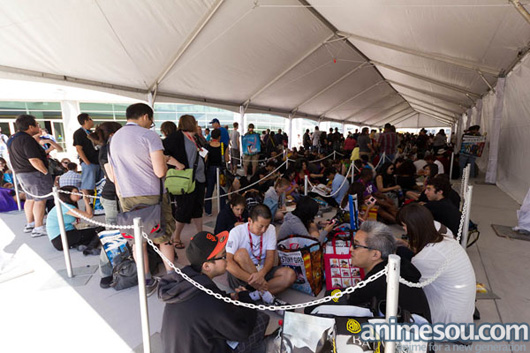 Ballroom 20's outside line. It doesn't seem that bad til you realize it's a quarter mile long and that inside is another line just as long
Lines. This is something you've probably run into at other conventions. Comic Con takes it to a whole new level. The most popular panels are held in Hall H, a 70,000 square foot room that holds 6500, and Ballroom 20, which holds 4000. These numbers seem like a lot til you realize that the total attendees are many times that number. If you want to get into a panel held in one of these, expect to be in there for at least an hour. Two to three hours is more reasonable. Comic Con as a policy does not clear panel rooms so if you want to you can camp out a room all day. In fact, you're often forced to get in at least one panel ahead if the next is the actual one you want to see. In the smaller panel rooms things get even worse as the capacity is much smaller than the bigger rooms. You will have to gauge the popularity of the panel and whether or not it is one you will have to go early for. Some panels I thought would be unpopular turned out to be and I had to find other ways to occupy my time be it hunting for photos or taking another trip around the exhibit hall.
COSTUMES
This section is titled costumes because Japanese cosplay is a little hard to come by at Comic Con and not just because of the varied interests of attendees. Some cosplayers actually take this as an opportunity to specifically wear costumes from western series and take a break from the anime and manga they usually cosplay. And while cosplay meetups are common and run throughout the day at anime conventions, Comic Con had barely a handful in comparison and they were limited mainly to the very popular mainstay items like Vocaloid and Naruto. Even characters from this year's breakout hit Puella Magi Madoka Magica went largely unseen.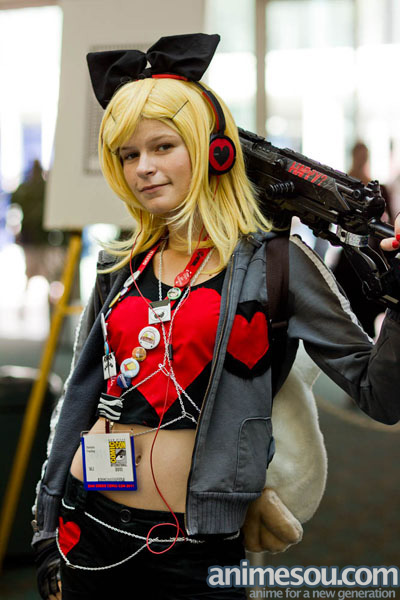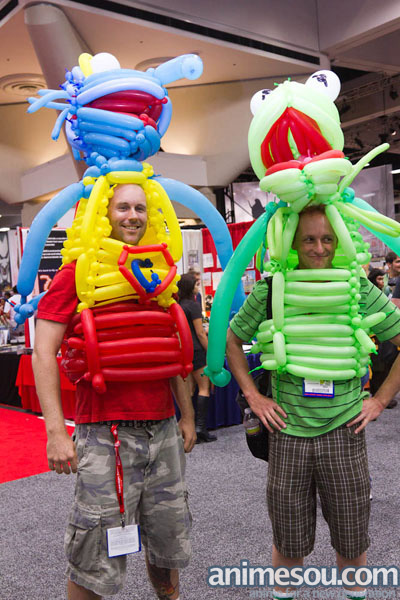 They were up for most of the night making these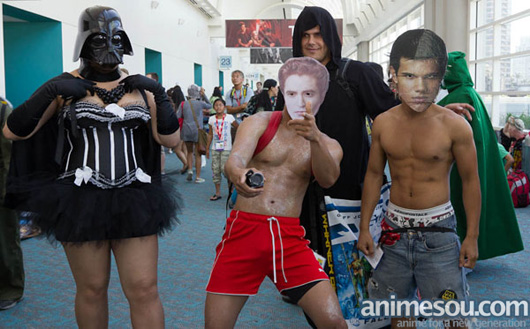 How can you resist taking photos of strange things like this?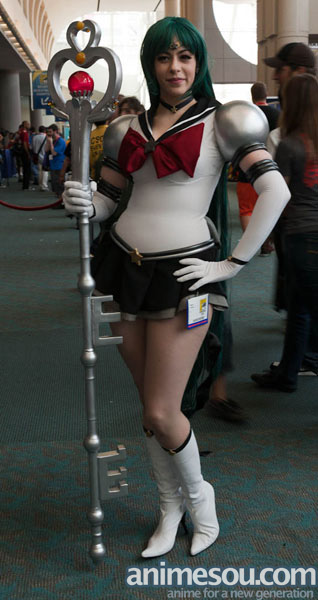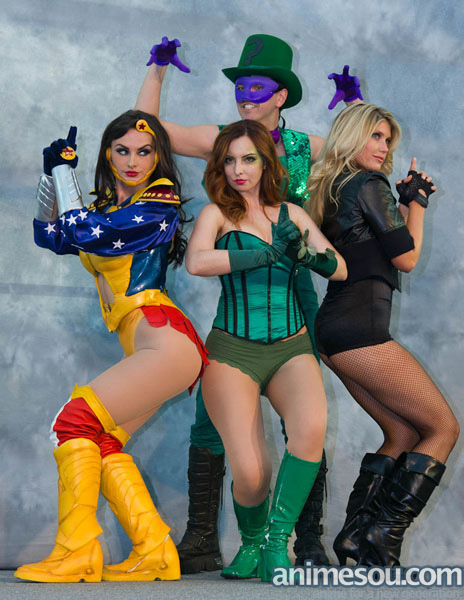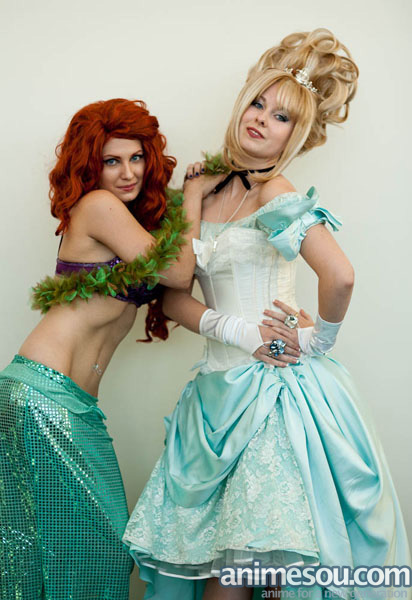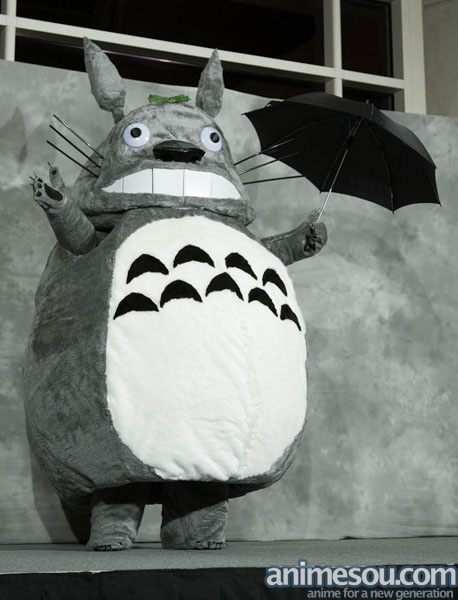 A very, very big Totoro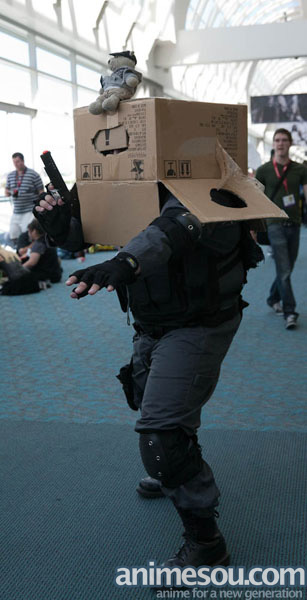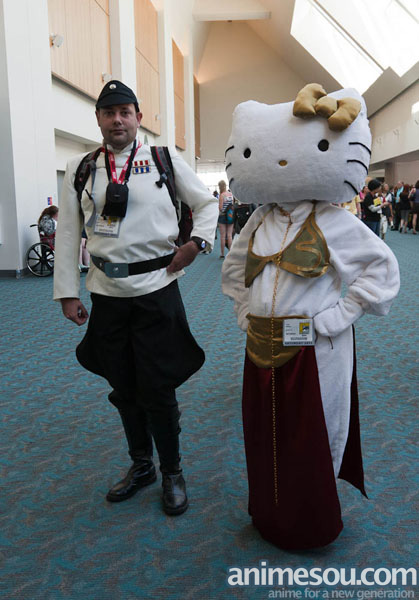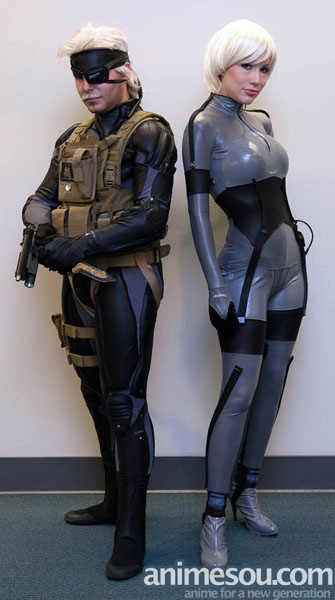 Vernedead and Precious
2011 AND 2012
We're many months away from 2012 and yet you must plan ahead if you want to attend Comic Con. Hotel rooms fill up fast, especially close to the convention center. Ticketwise things changed and tickets for 2012 were only available from 8-11am Thursday through Sunday. Only a limited number of tickets would be sold during the three hours and completely depended on the capacity of the Grand Hyatt hotel's Douglas Pavilion. The room held an estimated 2500 people and each person was allowed to buy a maximum of two tickets worth (either two four-day tickets or eight single-day tickets). Assuming every person bought their maximum allotment, approximately 20,000 tickets would be pre-sold at convention with the remaining 100,000+ to be available online at a later date still to be determined. SDCC has been developing a new ticket system they hope will prove effective but if it doesn't, good luck. If it's anything like the sales held this year it's going to take alot of it or taking the day off in order to maximize the time you have available to buy (many still went empty handed at the end of the day).
Something very unwelcome is the price increase with four-day tickets with preview night now costing $175 and four-day without preview night costing $150. The reason given for this price hike is that they want to prevent people from buying four day badges and only going for a couple of those days. The convention sells out regardless of whether or not there is a discount so you can read between the lines to get another idea why prices have gone up. More inexplicable is the fact that preview night, something that's been free for many years, now costs $25 for its three hours. This makes zero sense when you think about their official reason for price increases. A Sunday ticket is $23 and gives you more hours and more to do for your money. Speaking of single day tickets, it's actually cheaper to buy four single day tickets (totalling $143) than it is to buy one four day ticket ($150).
Some veterans I spoke to who have been attending Comic Con for decades (I'm on my seventh year myself) are having questions of whether or not they want to attend when they think of how the convention has developed over the last few years and now about this price hike. It's something that's been a long time coming. First the lines across the convention got a whole lot longer. Then they stopped offering mail-in registration and the discount you got for registering early at convention (early registration for 2009's convention - $50. Early registration for 2010's convention - $100). Then they removed at-convention registration for those who hadn't preregistered. Then badges sold out online months in advance. Then we had this February's online panic. Some veterans of them really resent Hollywood for coming into their convention and being one of the causes for overcrowding.
Word through the wire is that 2013's tickets are going to be sold entirely online. Another big change is the rumor that Wondercon, a longtime San Francisco convention and little brother to Comic Con, is going to be moved to Anaheim for at least a year. It has not been confirmed as being true or if it will return to San Francisco at all. Speculation has it as a test run for an off-shoot of Comic Con to possibly alleviate congestion.
So, do you want to go to Comic Con? This is a question you have to ask for yourself. Do you want to contend with the giant lines? Are you able to handle wall to wall crowds and all the sights and smells within? Do you go to conventions just for the Japanese culture aspect or are you open to everything? Do you want the opportunity to be within eye-shot of some of the biggest celebrities and possibly get their autographs or converse with them? Maybe even get a photo taken with them? After reading this report and answering the above questions, you might have your answer.
For the record, I bought my 2012 badge on Thursday. I was in line by 5:30AM and out the door, registration in hand, right after 9AM.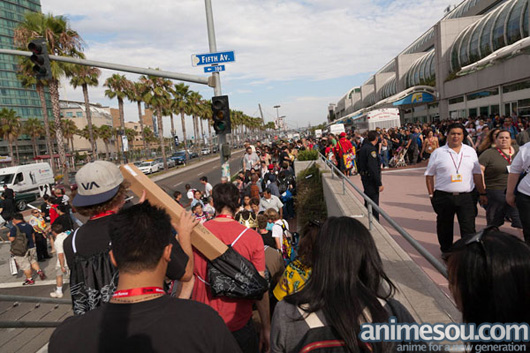 Sunday, 5:30PM