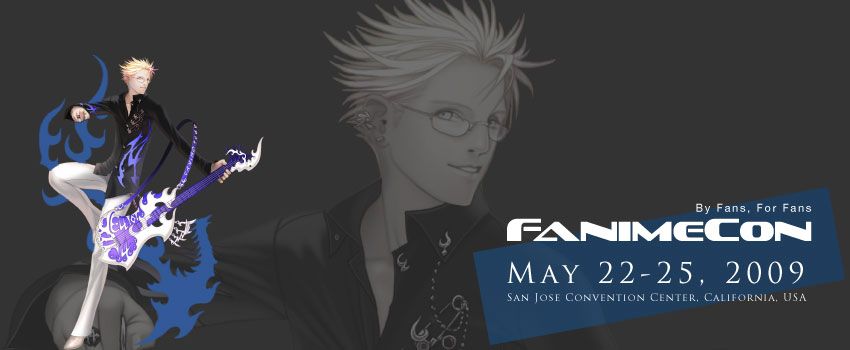 Final Destination: Fanimecon
Yep, you know it! It's that time of the year again when thousands of eager anime fans line up in front of registration at the McEnergy Convention, waiting for the moment to proudly swing those badges around their necks. But first however, I would like to start off by thanking each and everyone of the staffers and volunteers for contributing their time to make a convention as great as Fanime happen once again. The legacy of this convention lies in the root of that famous saying " By Fans, For Fans" and as a result, leads to the dedication and sacrifices we see every year. So without any further delay, I give you Fanimecon 2009!
Swap Meet
Ever since I started attending swap meet a few years back, it has always been one of my more favorite events due to the fact it was an opportunity to not only pick up merchandise for cheap but also a chance to meet new people and see the diversity in anime fans through what they sold. Equally, I think fans who set up a spot enjoy taking part in this activity and counting up the bills after a night of hard work. Not to go through with a lecture in economics but especially this year, money was one of those things that was hard to obtain so swap meet offered a glimmer of joy for many individuals who struggled just so they were able attend the convention and make ends meet. I was thoroughly impressed with the turn out this year in comparison with the previous years and of course I picked up a few neat things in the process myself. Also, most of the people who sold at swap meet this year had very fair prices with of course a few exceptions such as a person who tried to sell me a magazine cut out for $5. And as hectic as swap meets usually were, I really have to give the staffs in charge a big hand. On Friday's swap meet, the area of e-gaming closest to the wall met some heavy jam in the line as people who set up against the wall had around only a meter at most in width for movement between the e-gaming equipments and sellers. About half an hour later however, staff members gained some ground to set up the movement of the line in one direction, making sure that the line was moving efficiently. All in all, swap meet continues to be a great part of Fanime and I hope next years turn out will be even better.
I see Type-Moon stuff. Win.
Do I see something rare in front of me? I think I do.
Dealer's Room
With the dealer's room this year, I fully enjoyed it and appreciated their presence. I had a chance to get to know about half a dozen dealers and spoke with them while thanking them for coming despite the harsh economy on top of the set up charge. Certain dealer's were happy with the outcome in the end while many others were grieving their losses due to the lack of buyers. Either way though, they were there for us in these hard times and I hope people who I hear whining about how "crappy" this year's dealers were can see how much it hurts them just as much with the current weak global market. It's natural to not have everything to cater to all 14,000+ fans and they do have to select what to bring wisely. Certain dealers have even told me they were forced to close shop recently so yes folks, it was just that bad for some. In the end, we should be thankful that many even came. Keep in mind that most are fans and a part of this fandom just as much as we are if not more so we should support them as much as we can. Next year will be a better year for everyone so keep that hope strong.
On a side note going back to talking about my fun adventures in the dealer's room for anime PVCs and the likes, I found the selection of a few dealers such as Toyslogic and Toylet pretty decent (especially Toylet). Honestly if I had a few extra hundred to blow, I would have bought about 5-6 more figures just from them. Monday when the convention was winding down, many dealer's had fair price drops but again, Toylet made me 'wow' with some of the mark downs which was down 40%+ from retail on top of some of them being fairly rare and hard to find. So yes to rephrase again, I personally enjoyed the dealer's room this year.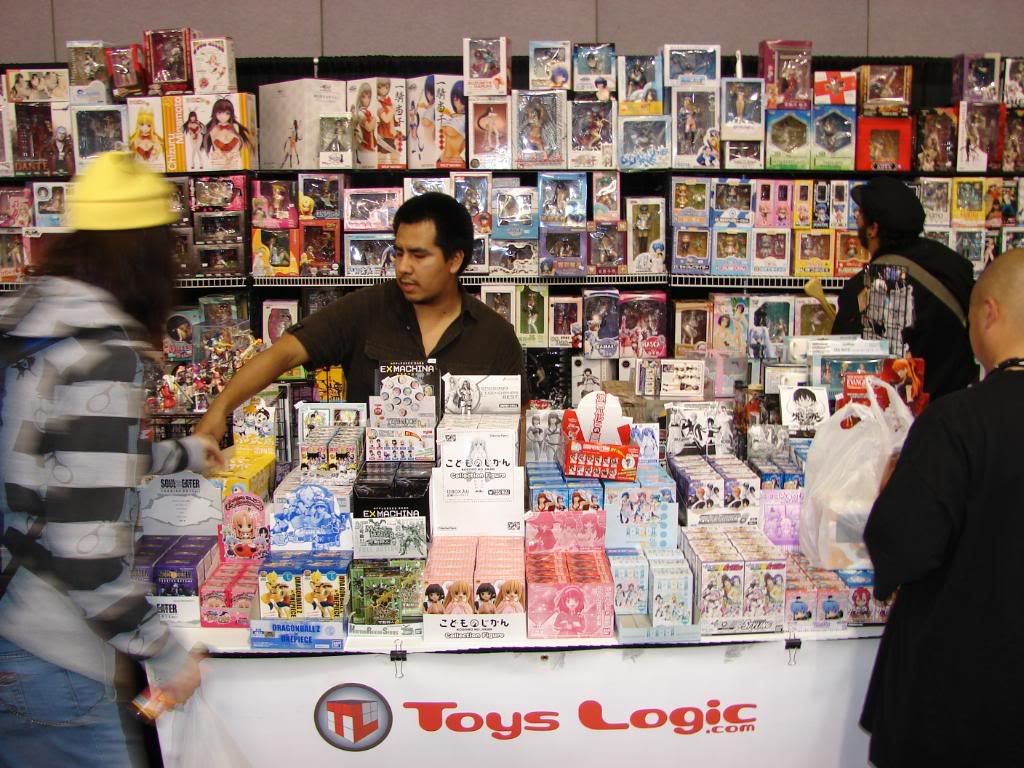 People enjoying a little Toyslogic action.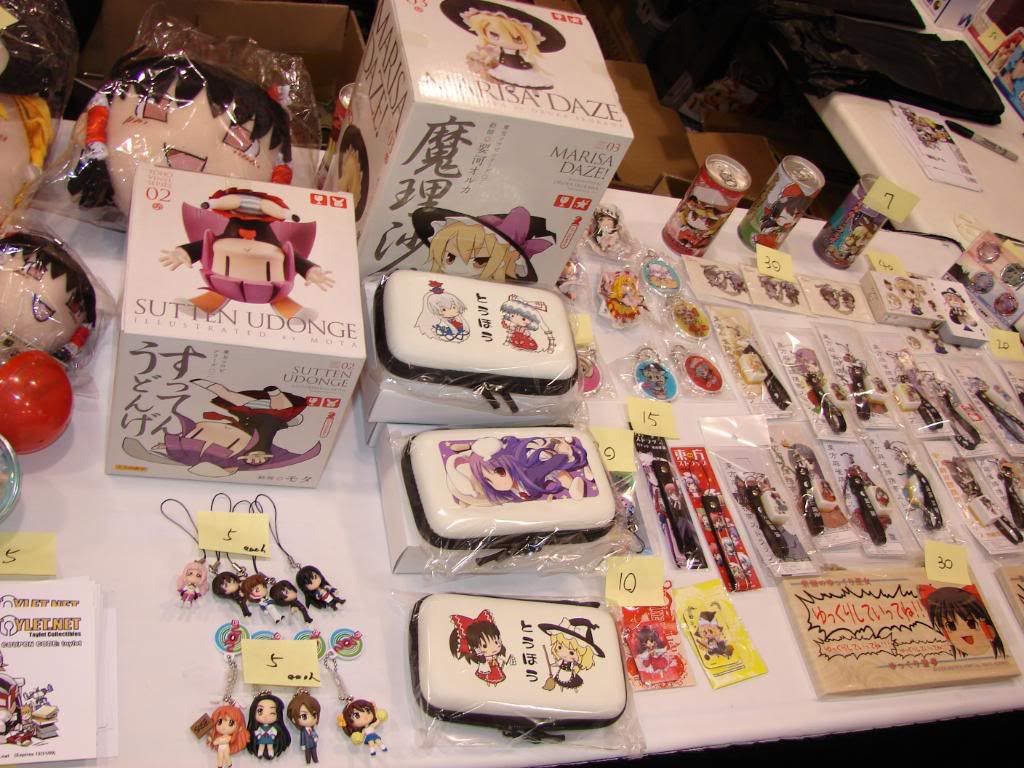 Toylet showing off their Touhou merchandise.
Anime art books? Check.
Artist Alley
Every year, hundreds of inspiring and hot-blooded artist take this opportunity to show off some of their passionate works in artist alley. Surprisingly in the past 6 years of attending Fanime, this was the first that I actually bought stuff here because it was just that impressive and tempting. One of best part of the artist alley for me this time around was the huge diversity in what I saw. Even anime like K-On that came out as recently as two months ago saw light in the form of prints at a few tables. Adding to that was the Type Moon / Touhou table where my money went into buying a "few" buttons ( more like 15..). Gurren Lagann, Code Geass, Lucky Star and you name it made it to the artist tables in one form or another. I hope next year will be even more diverse with many old and new talents coming back. Nothing much more to say but great job.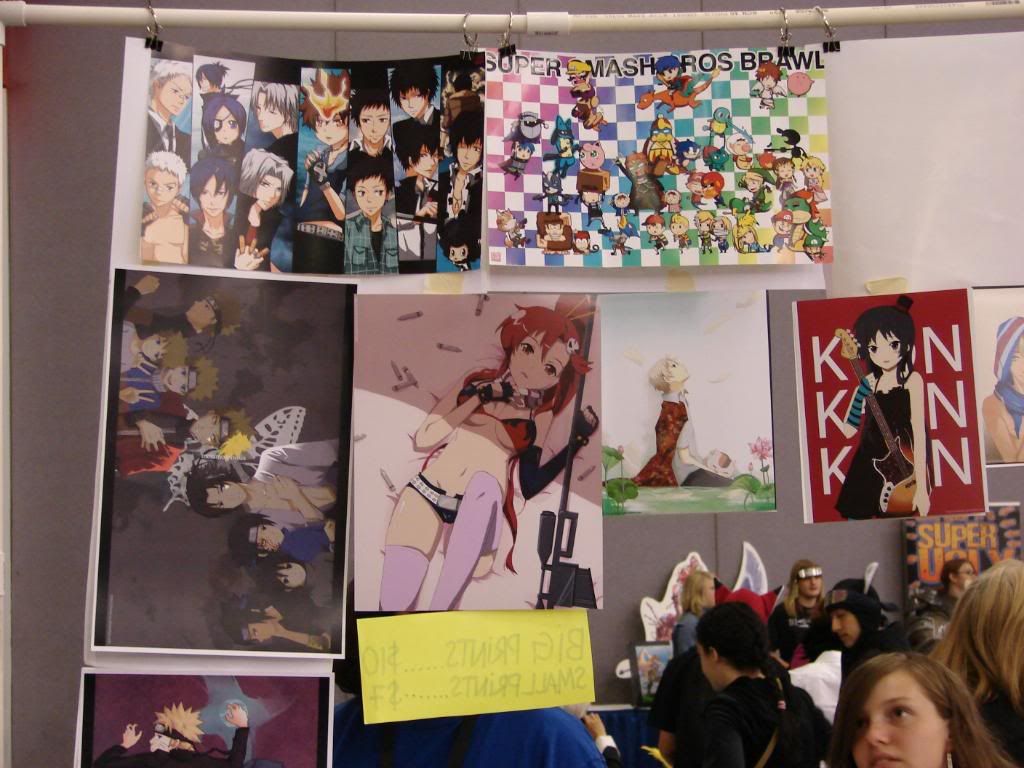 Do want.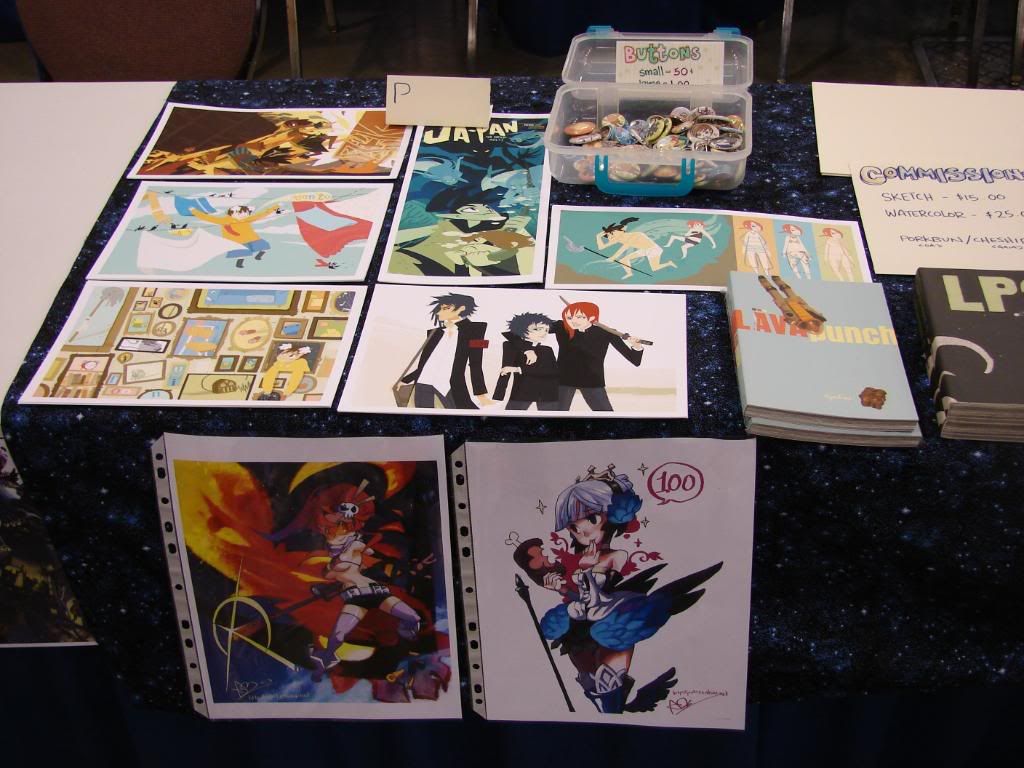 Very nice. Makes me want to start drawing again.
Aksys Games and BlazBlue - Calamity Trigger
This year in the dealer's room, Aksys Games (also well known for it's work with Guilty Gear) brought forth a new game for people to try called BlazBlue - Calamity Trigger. The set up was perfect for the occasion: three LCD TVs hooked up to 2 Xbox 360s and a PS3, all of which had Hori fight sticks for people to use. A table was left on the side of the TV area to sell other import games and goods. It was a simple set up but it did the trick as people who walked past it were immediately drawn in. Not to go much into details of the game itself, the pleasure of just having Aksys and allowing people to play the game freely a month before the release date was a privilege. It was a chance to introduce people to things other than just Street Fighter or Soul Caliber. I was surprised to see at one point a person, who has never heard of Guilty Gear, made his first purchase with the guarantee that he will mostly likely enjoy the game. I really hope others will follow behind Aksys Games and take the time to make an appearance in a future Fanimecon to help diversify the gaming community that is also closely linked to this fandom. Thanks again for coming Aksys.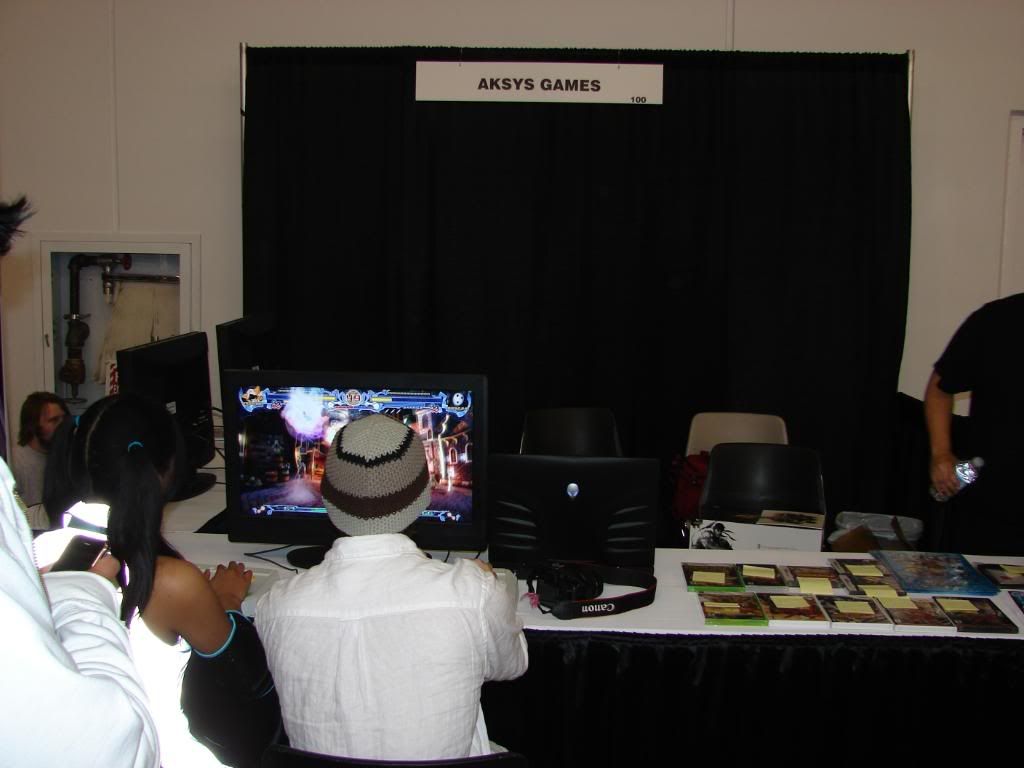 Aksys showing off BlazBlue - Calamity Trigger. It's fun, I know. I was addicted at one point.
E-Gaming and Arcades
When I first heard that e-gaming was going to have Rock Band 2 for staffs to play on day zero, I thought to myself that it would eventually be opened to people to play in the following days of the convention. Too bad I was completely off the mark Friday when I tried to look for any group of individuals slapping drum sticks on a drum set or rocking out with a guitar. Apparently this year one of the most popular social video games that is currently out failed to make its appearance for whatever reason. Though Guitar Hero: World Tour was there, it however lacked the drum set and microphone. From last year's experience, I guess the way that some of the equipments were abused would turn away anyone from even thinking about lending out his own stuff. Many other popular games were there such as Super Smash Bros Brawl, Halo 3, and Left 4 Dead as well as the appearance of Fate Stay/Night: Unlimited Codes, Touhou, Melty Blood and so forth. Finally, I want to acknowledge the fact that e-gaming staffs have a very stressful job as it's one of the only activities opened 24 hours throughout the 5 day long convention (not including before and after set up and clean up). They put many hours on the line to please the crowd of people. I hope to see improvements from next year along with more social games and better equipments.
Fate Stay/Night: Unlimited Codes tournament. Looks pretty heated.
The selection of arcades this year were pretty good overall. There was BlazBlue, Marvel vs Capcom 2, Initial D and so forth including four Street Fighter IV arcades for people to challenge each other on at separate machines. One thing I noticed was that certain games such as BlazBlue and Street Fighter IV required 75 cents when it should only really require 50 cents to play. It was probably hard getting those machines and while it didn't bother me, I could see why some would be upset with the price. But for me, an extra 25 cents was worth it to play some of the games I loved playing. Either way though, I really enjoyed the arcades and I hope it will be as good as this year.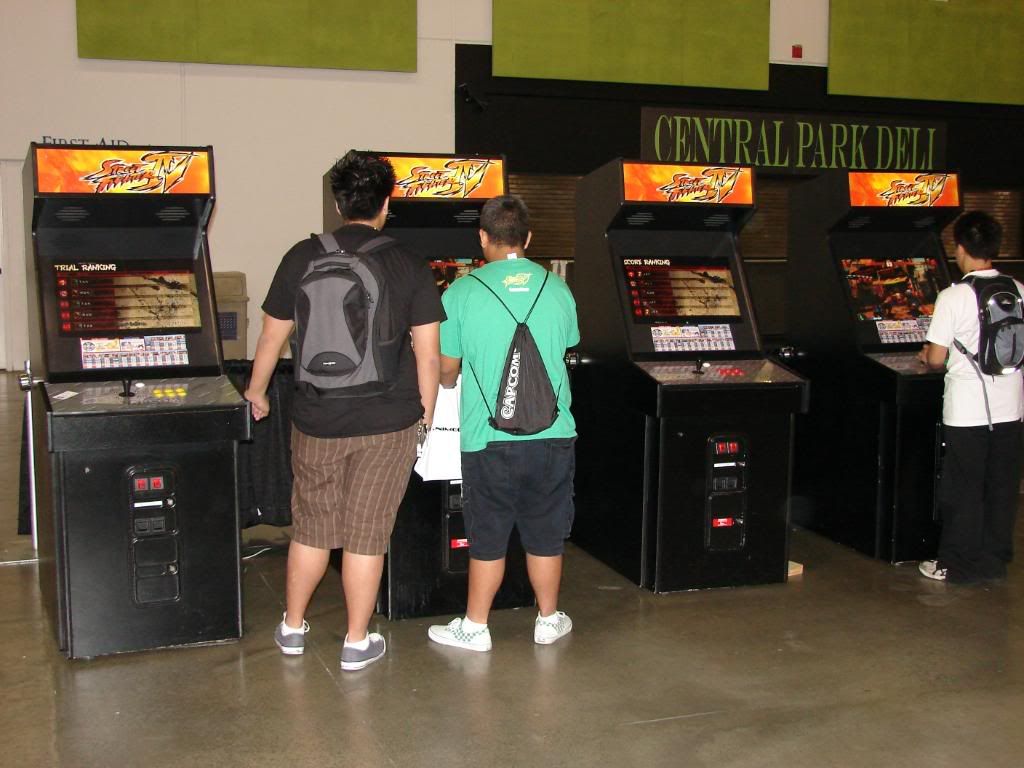 The new Street Fighter IV machines. Too bad I'm too bad at it to play =P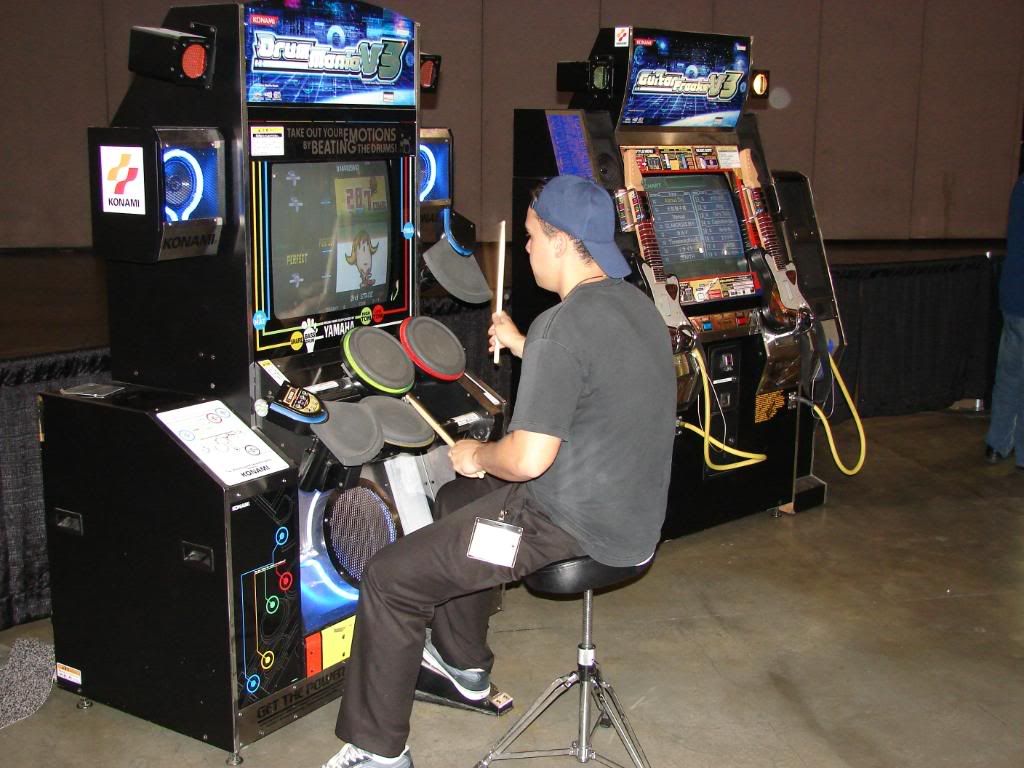 This guy was on fire when I took his picture. No joke.
Masquerade
Unfortunately for me this year, I was only able to attend the last half of this event. From the remaining of what I saw, most were fairly good. With Masquerade, anyone who had the courage to stand in front of a crowd of thousands of people were winners in the end. Among those, the ones that I enjoyed the most were the Zero no Tsukaima skit along with the skit of Final Fantasy II where the party re-inacted a boss fight scene like one would see in the game. There were many other good ones but again, it was a shame I wasn't able to make it for the first half of the event. Ric Meyers has also been a great host for Masquerade so far and I hope he continues to be a part of Fanime. I look foward to next year with more unique acts from those passionate and brave people.
Louise, take it easy on Hiraga now. =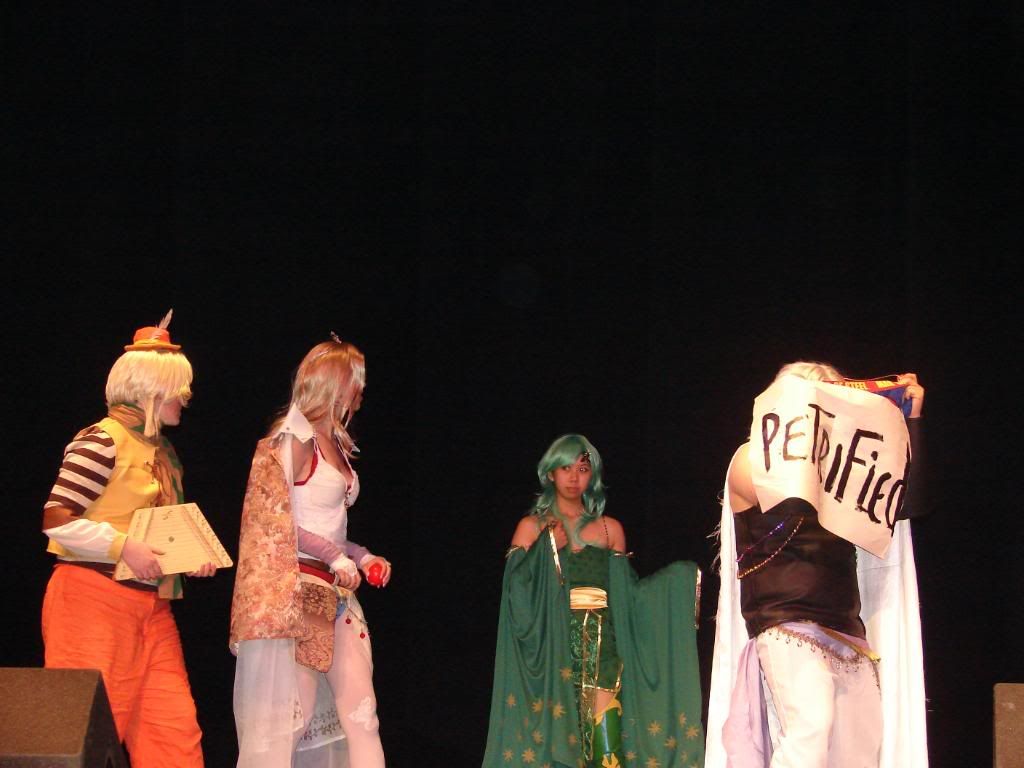 Being petrified has never looked so funny until now.
Stage Zero
Of the many events that took place on Stage Zero this year, two major events that I stuck around for really brought life to the crowd and continued to give reasons for Stage Zero as being a major part of Fanime. First, I really enjoyed the Street Fighter IV event where random people in the audience went up to play against Reuben Langdon. People were 'awwing…' and 'oohhhhing!' the whole way through one special move after another as Reuben got handed about 90% of the time. I found it strange why Ken would be picked all the time, but it's ok Reuben, we still loved you. Start practicing for next year! Another event was the maid performance by none other than the maid cafe squad. One song after another, one or a team of maids would go up to sing a song that ranged from the good old days of Urusei Yatsura to newer things like Maria Holic and such. Even Halko Momoi couldn't help herself as she cheered on the side lines and even jumped on stage to sing along. Go Stage Zero, become the life of the party again for us next year!
Don't lose now Reuben!…err… I mean, don't lose to Reuben!!!
Seiyuu power!!! GO!
Maid Cafe
Wow.. how can I start this off other than saying that it was one of the most enjoyable and improved events this year! Since 2007 when Fanime first had its maid cafe near the Marriott, I've watched it slowly grow and change into a mirror image of what an authentic maid cafe should be like as it was this year. Under the new leadership of Jun, currently the head of the maid cafe, she had done a tremendous job training the maids, both physically and mentally preparing them for this event. I could only imagine the amount of confidence and hard work was needed in order for those maids to carry out the tasks given to them. I also did take part in this year's maid cafe as a guest so after I ordered my food at the counter, I waited patiently to be seated…
After a few friends and I finished ordering our food and chatted while we waited to be seated, a lovely maid came to us with a bow while she fetched us our food and led us to the correct table. When we arrived, the maid placed a napkin down in front of each us followed by the food on top, bowed again, ask if everything was 'ok' and walked away to let us have at it. As I sat there eating, I really noticed first how friendly the atmosphere was around me. People were laughing and smiling and interacting with the maids with various games. They weren't rushed but instead, allowed to take their time and feel right at home. I also noticed that there were a lot more maids to accommodate for practically every table so no one was left waiting had service been requested. After we ate, our plates were taken and we had a chat with a few maids. We then took a few pictures and left very feeling very satisfied.
I can say I am very proud of everyone who has taken part in the maid cafe this year and again, I applaud everyone for their hard work to make this happen. In just a short 3 years, it has evolved into what it is today and I can only imagine it getting better. Keep it up maids! *thumbs up*
What a nice welcome sign.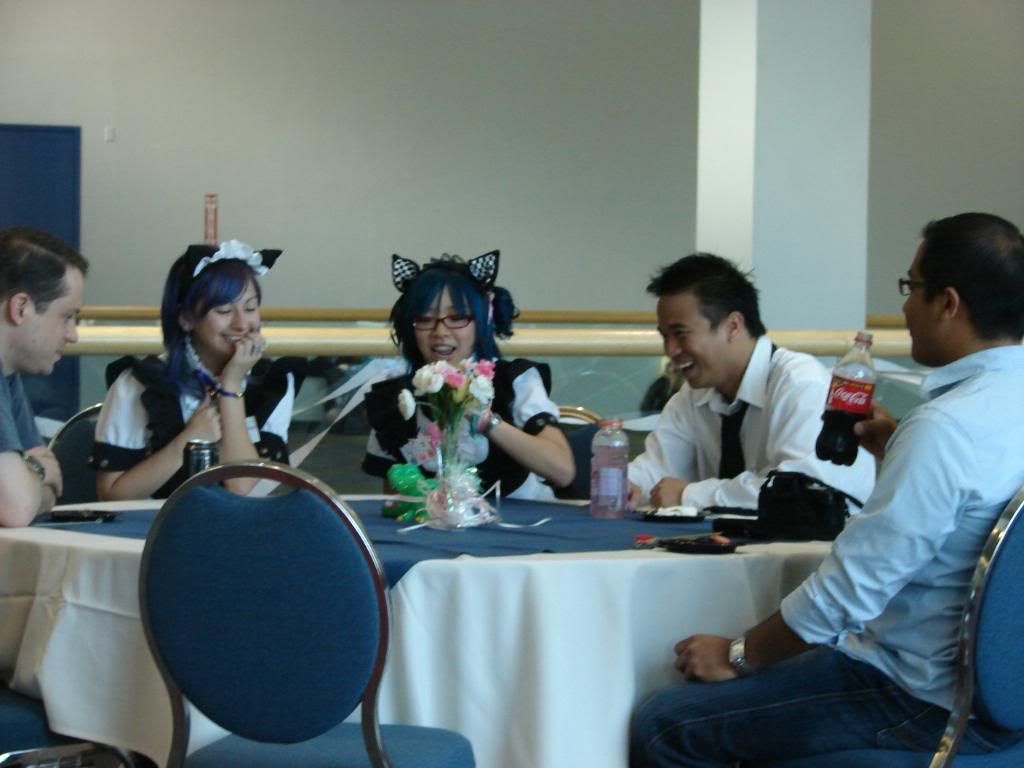 Hey wait… why do they get to have two maids at once..*is jealous*
Halko Momoi: Panels, Autograph session and MusicFest
For Fanime this year, we had an additional special guest of honor who is a seiyuu (Japanese voice actress) in anime such as Popotan as the character Mii and Seto no Hanayomi as the character Seto San as well as a singer for various anime opening and closing themes from Prism Ark and Kujibiki Unbalanced. She is also known for being a die-hard and a proud, self-proclaimed otaku who brings life and fun where ever goes. At Fanime, she proved just that.
In total, I went to both of her panels, her autograph session and her MusicFest concert. For both panels, most of the questions asked were very appropriate with the exception of a few sensitive and uncalled for ones. People needed to realize and think before asking such questions like " who do you think is the better seiyuu" between 'x'" and so forth since it was not only rude but offensive. Naturally of course, the reaction of the audience paralleled accordingly when those questions were asked. But Momoi-san answered them in a humble way as she kept the line going smoothly. Other than that, the panels were fun and interesting. Momoi-san was very enthusiastic in answering pretty much all of her questions and both panels had a great turn out with questions and people lined up until the very end.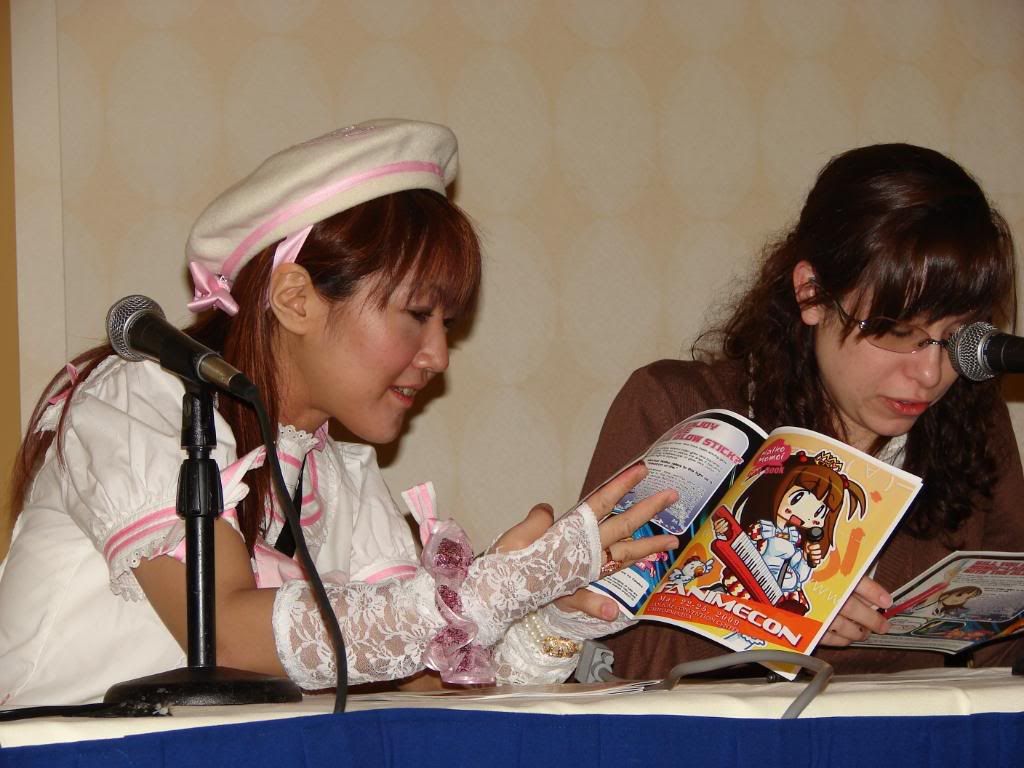 Momoi looking through the Fanime guide book during her panel as a fan refers to something about her in there. I wonder what it could be.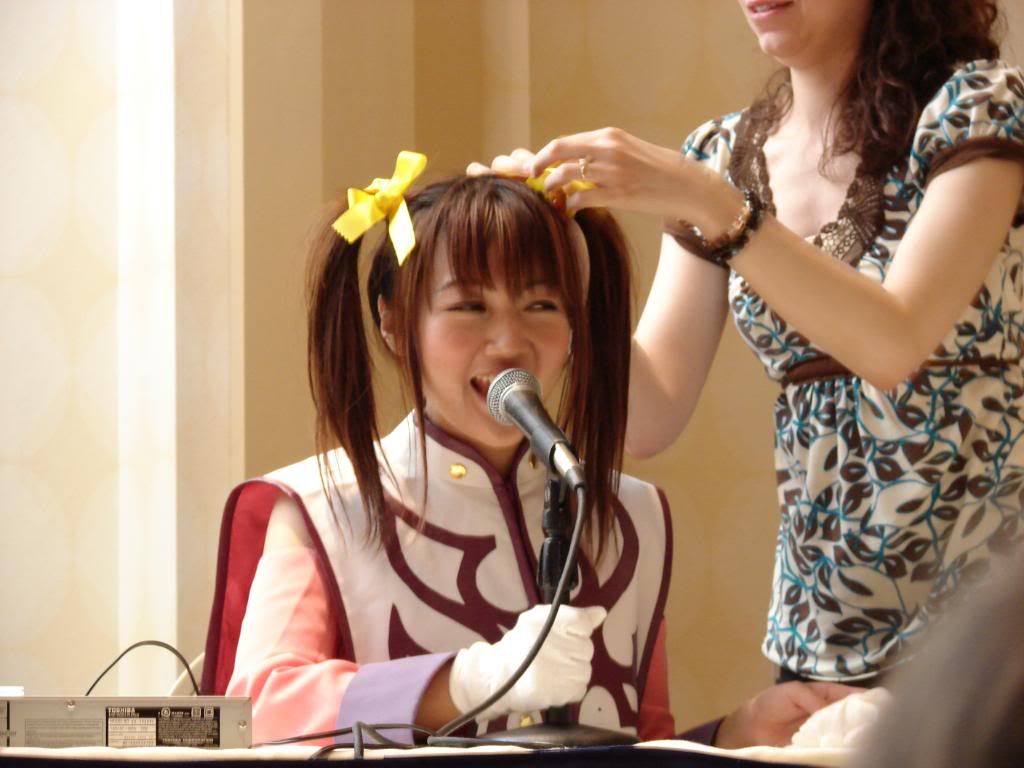 One of Momoi's ribbon fell off during her panel. Someone stop her from being so cute already..>_<
There were two separate times for Momoi's autograph session: one on Saturday and one on Monday. The one that I went to was on Saturday and people were lined up well before she arrived. Inside the room, Momoi's fans greeted her, thanked her for coming, and left with something that was priceless. Beyond what words were able to describe, it was easy to see just how happy Momoi was in the presence of her dedicated fans coming up one after another.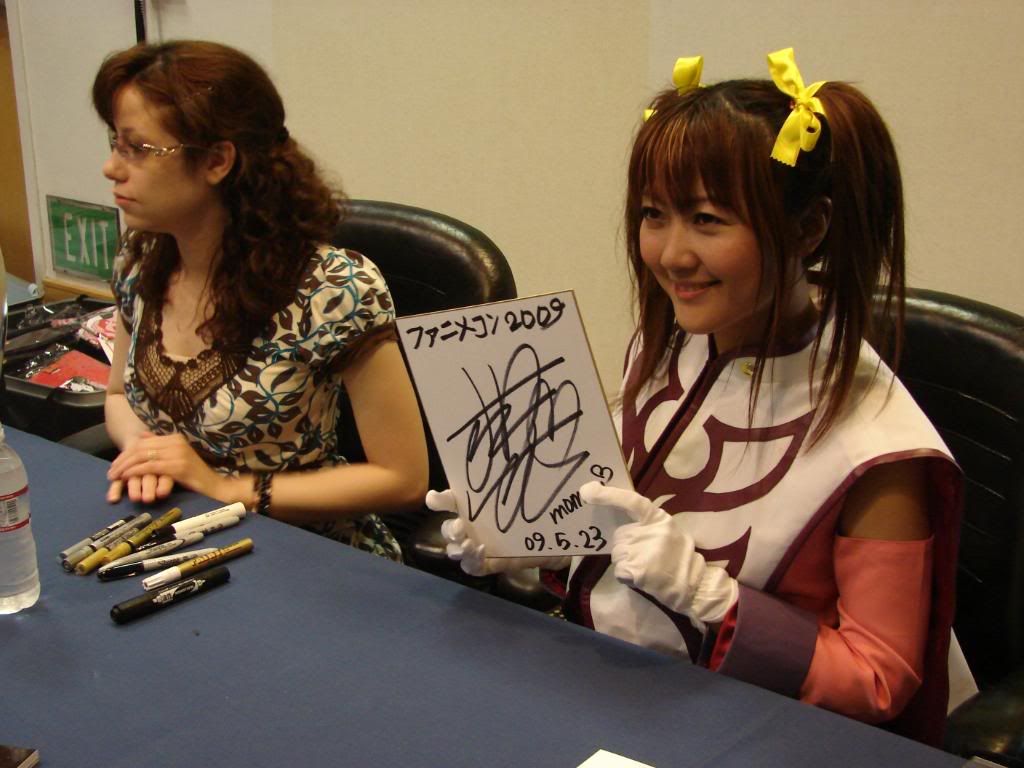 Momoi signing a fellow otaku's board.
When my friend and I arrived to line up for MusicFest on Sunday at around 7PM, there was already a long line with the most hardcore Momoist as the very first few people to have arrived long before. Looking down the line, I saw many eager, bright faces waiting to finally enter the concert hall. For some, it was a simple curiosity but for others after days of anticipation and energy exhaustion it was an exuberant event. At around around 7:30PM, the lines began to move and we were off! When we arrived at the entrance, glow sticks were handed out to us since it wasn't a Momoi concert without them. Armed with 3 glow sticks now ( one around my neck and one in each hand), I quickly snagged a seat as close to the front as possible. A few moments later, we welcomed Makenai who was our first band for the event. Even though it wasn't Momoi, we snapped our glow sticks to show our appreciation. After a couple of songs, a short preparation was made with the stage. The lights dimmed and Momoi appeared with the biggest smile as hundreds of glow sticks flew wildly in the air to welcome her to Fanime. Song after song, the crowd moved their glow sticks in unison through the conduction of both Momoi and the front most Momoists. Near the end, Momoi invited her very own fans to jump on stage to sing and dance with her as the crowd continued to clap and cheer. It was truly a sight to be seen. After the concert ended, I realized that the hairs on my arms were standing up and the only thing that came to my mind was ' awesome'.
When I say glow sticks are important for her concerts… I…mean…business.
Momoi <3! =3
Momoi's appearance and the utmost respect guest relations staffers and fans treated her with proved that the people of Fanime was more than able to properly treating their guests of honor. Even though Japan and Fanime are half way around the world from each other, both Momoi-san and the fans at Fanime felt the connection that was inseparable regardless of distance. I truly believe that Fanime has made a big impact this year and I know Fanime won't disappoint us next year.
Karaoke, Video Rooms and beyond
Although I didn't spend much time in certain other places such as karaoke or the video rooms, I was glad to see such a big turn out with these events as I passed by. The video selections this year were decent and really took into consideration what the fans suggested on the forums ranging from things that were both new and old. With the karaoke contest, I'm sure this year was no exception to any previous years with brave individuals who put up a good show for the audience because they simply love singing. Though certain events may not be for everyone, they are nevertheless important for the integrity of the entire convention. For example, a friend of mine loves the video room and has told me most of his past conventions were spent enjoying the excellent selection of Asian films. All in all good job, keep up the hard work.
Cosplay
Every year, thousands of people spend their precious time to create costumes and cosplay as their favorite characters. Be it one or many, some spend hours, days, weeks and even months working endlessly to make the right adjustments. Your hard work and contributions every year make Fanime even more fun, diverse, and lively. Thank you for being an integrated part of the fandom and I look forward to seeing even more diverse cosplayers next year.
I will now dedicate 5 picture slots for a few cosplayers I think deserve a spot light this year. Keep in mind it was very difficult as every cosplayer is special and deserves a round of applause in the end.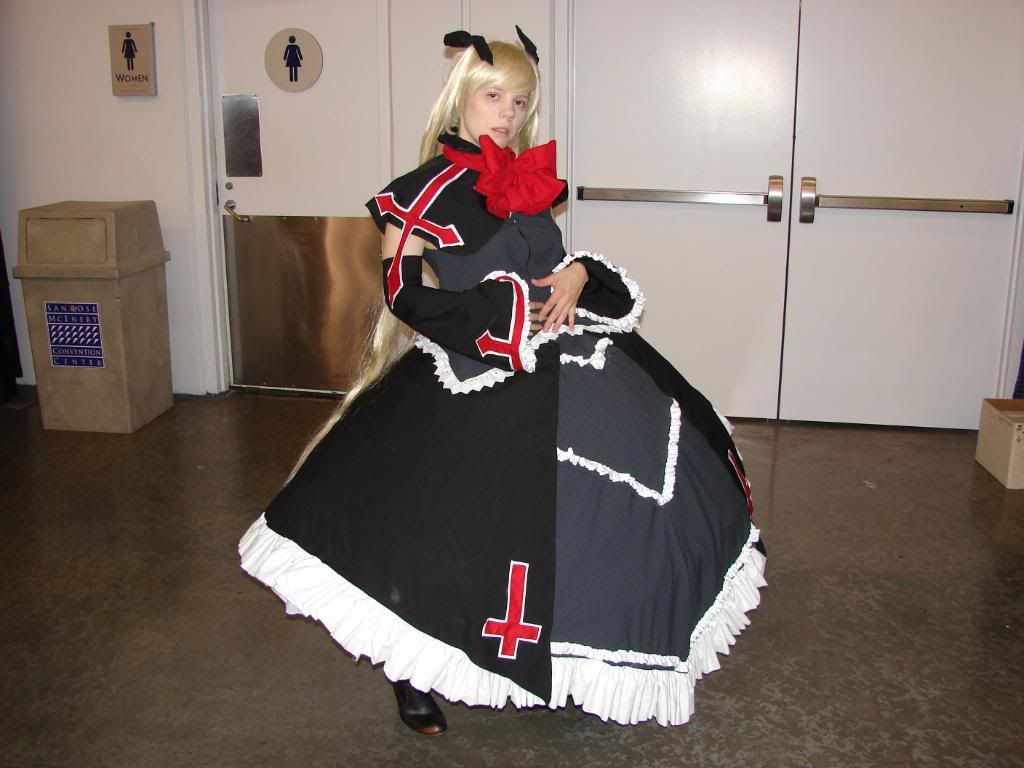 Rachel from BlazBlue - Calamity Trigger. Hey look! Ragna is over there!…*runs away*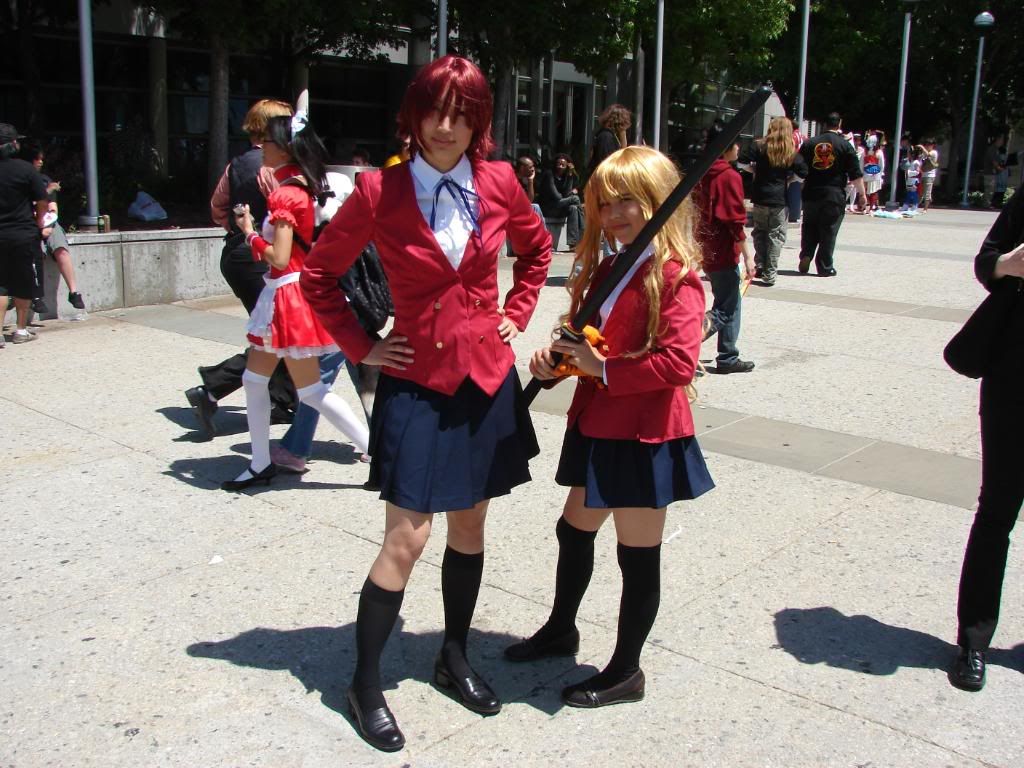 What is the Palmtop Tiger and Minorin up to this time…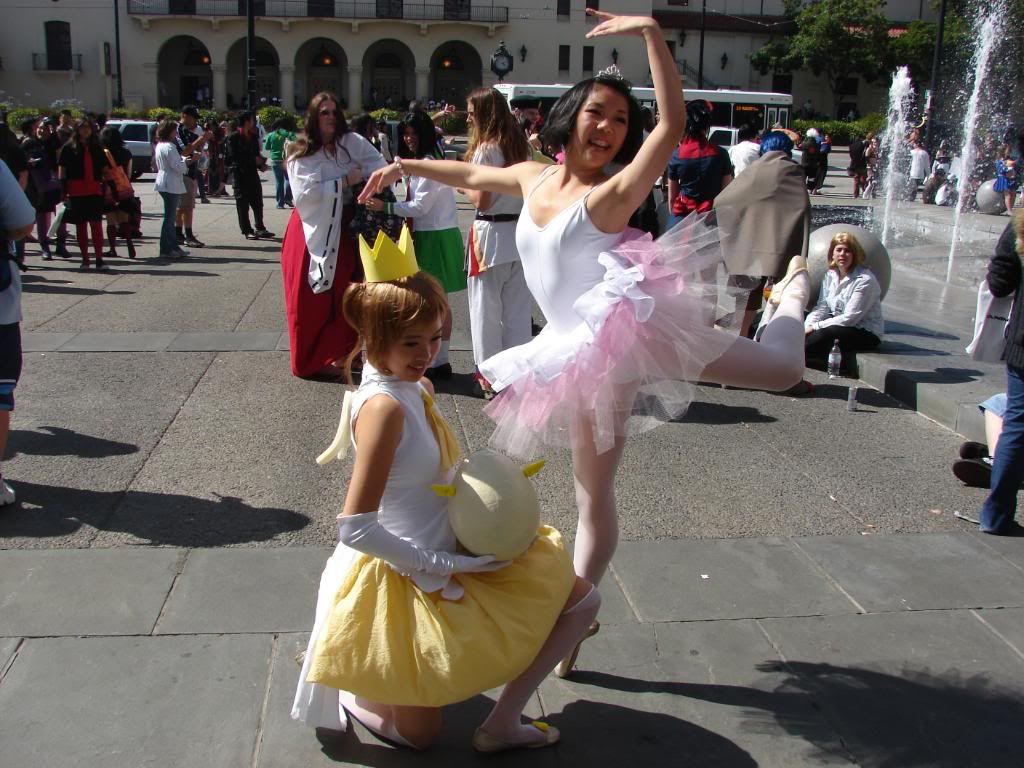 Just… beautiful.

Hey Mio :3

I bet you locked Kanako-chan up… didn't you…>_>
Afterthoughts
Well, it has been 6 years since I've attended Fanimecon and there is only one thing I can say: from what I have experienced, this year has been excellent and most memorable for me so far. First off, I want add that whoever came up with the idea to include a mini pocket guide, kudos to you. It was easy to carry and very organized so people were able to keep in touch with certain events so I hope to see that around again next year. Secondly, the boards near Stage Zero with directions and times when certain events were going to take place was also a smart idea. There was also a help desk on the second floor in front of the Hilton and a help desk near Ballroom B (probably even more elsewhere). Overall, I experienced much less confusion this time around. Finally, the guide book provided to me when I picked up my badge looked greatly improved. With registration, I actually stayed in line with a friend on Thursday to realize it took only half an hour to receive his badge. Good job with the registration staff as they are one of the hardest working teams.
Fans this year also seemed to be more mellow and less "hyper" than previous. No, there weren't people jumping up and down the elevator nor did I see many people screaming and running towards someone else so that was a very good thing. Glomping signs were still being worn but I saw many instances where someone actually ASKED before tackling the living air out of the other. Now there was one thing I do want to focus on known as the so called Wall of Hugs. Personally, I thought it was both annoying and creepy even for me as I walked across it. There were times when people screamed out to me " HEY YOU WITH THE GLASSES LET ME GIVE YOU A HUG!!!!" with an additional aftertaste of…'blah' in my mouth as I looked away. Don't get me wrong like I'm shooting down something just because it was new. It was really about the fact that there was practically no control of the behaviors of some of the people. Some did just stand there with the sign and didn't make much noise until asked to give a hug. Overall though, one needed to really empathize with more conservative con-goers and act accordingly. Just because it seemed fine for you didn't mean others will feel comfortable just walking through it. Irrelevant of whether someone in the Wall of Hugs thought people should be less " stuck up", it was really more about setting up the appropriate atmosphere that should be as comfortable for as many as possible. For now and the way the Wall of Hugs was conducted this year, I feel it was completely inappropriate and needs to be change should it even happen again.
As people may or may not know Tony Figueroa, the former webmaster of Fanime forums and head of MusicFest, bravely stepped up to become Fanimecon chair for this year and the following years to come. I think it's only fair for fans who attend Fanime new and old to acknowledge his time in shouldering the legacy of Fanime along with his team of staffers. It's a great task and I have faith that he and everyone else will propel this fandom to a new level. Oh and by the way, Ric Meyers will most likely have Tony's back again for next year's closing ceremony. Can't mess with that =)
With everything said and done, we once again go back to our every day life of working or studying…or neither. The uneventful mornings and nights when we come back home and ponder what to do next will exist as well. But keep in mind though as each day passes, we have something to look forward to as Fanime 2010 quickly approaches again like a bullet train. Though time can be one's enemy when realizing there is almost another year, it can also be one's closest friend when Summer passes and Fall closes in, when Winter is over and then reach Spring, and when the day those doors open for excited fans to pick up those badges with many new people to meet to tie unique interests together once again. As you wait until that time to come, stay in touch with what you enjoy and keep this fandom as close to you as you cherish it. Make Fanime new and exciting once again and stay true to the saying " By Fans, For Fans". Until Fanime 2010, adios amigos!