Anime Expo 2008 website
http://www.anime-expo.org/
Los Angeles Convention Center
http://www.lacclink.com/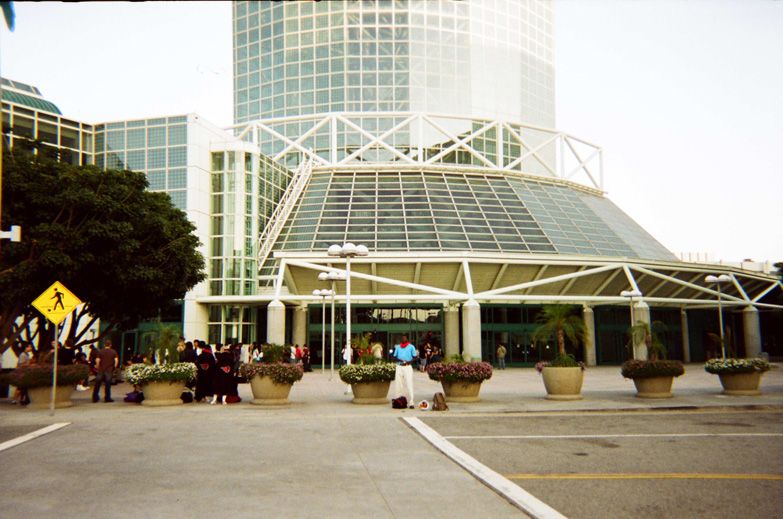 Feelings, nothing more than feelings… not enthusiastic this year. Maybe I'm AX'ed out and need to take the next year off. With the announcement that it would be held in Los Angeles instead of Long Beach or Anaheim, there were many who swore that they were not going to attend. Still seemed packed.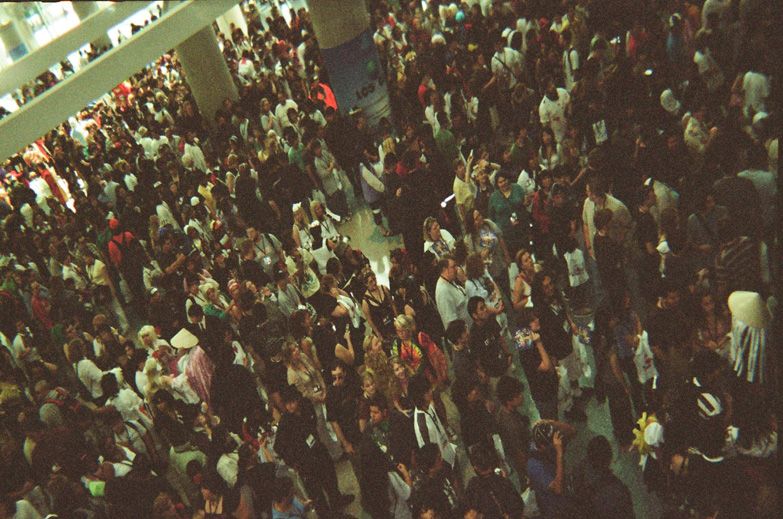 Can't forget the movie references of 300 and Pirates of Caribbean. This year's hits were Iron Man, Speed Racer, and Indiana Jones. Of course you'll still find Star Wars. Last year had a spectacular Transformers showing. This year I guess the closest thing was a Batman: Gotham Knight premiere in Video Room 1 but you needed a ticket to enter. http://www.warnervideo.com/batmangothamknight/ Limited engagement Saturday 4:00-5:15 PM followed by an hour of Q/A. But the website says DVDs are available 07/08/08. Not to be confused with The Dark Knight movie July 18 which I did.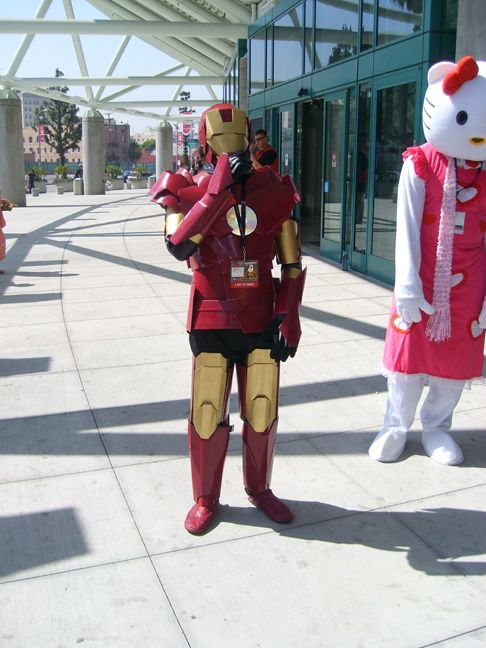 Speed Racer done right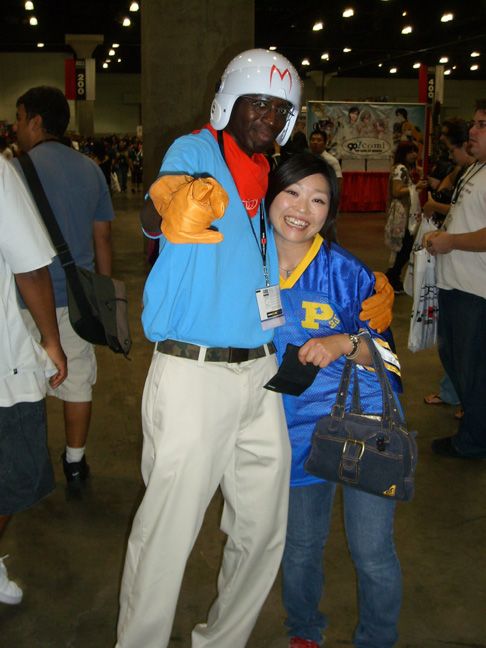 Didn't know who any of the Guests of Honor were. I looked at the schedule of events a week before and didn't see anything that picked my interest. I did The Art of Glowsticking last year and wasn't all that wow'ed by the Montecito art school. Origami? I was happy that Gravity was having a booth. Heavy advertising with every attendee receiving a paper fan and an Official Program Guide with the backpage featuring Gravity's latest free to play game Requiem (www.playrequiem.com).
Cosplay.com AX forum
http://www.cosplay.com/forumdisplay.php?f=11
Cosplay.com Gathering List. Be there or be square. Eyeshield 21 didn't get enough of a following this year :(
Oh yes. Beware of the Caramel Dance parade.
http://lostcontemplations.com/Auax/Caramel/Caramel.html
Thursday July 3rd
11:00 AM Prince of Tennis (LACC Stairs Site #2)
12:00 PM Lucky Star (West Hall Lobby - Downstairs)
1:00 PM Inu Yasha (Outside West Hall Flag Area)
2:30 PM The World Ends With You (West Hall Lobby - Downstairs)
4:00 PM D.Gray-man (LACC Stairs Site #3)
4:00 PM Disgaea/Nippon Ichi (NIS booth #311 South Hall)
4:30 PM Resident Evil (LACC Site Stairs #1)
4:45 PM Higurashi (LACC Stairs Site #2)
5:00 PM Indiana Jones/Star Wars (Outside West Hall)
6:00 PM .hack// (LACC Stairs Site #2)
Friday July 4th
9:00 AM Fruits Basket (LACC Stairs Site #1)
10:00 AM Rurouni Kenshin (LACC Stairs Site #3)
11:00 AM Cosplay Chess (West Hall Lobby - Downstairs)
11:30 AM Metal Gear Solid (Outside West Hall B)
12:00 PM Kingdom Hearts (LACC Stairs Site #3)
1:00 PM CLAMP (LACC Stairs Site #2)
1:00 PM Code Geass (Outside West Hall)
2:00 PM Fire Emblem (LACC Stairs Site #2)
2:00 PM Gundam (LACC Stairs Site #2)
2:00 PM Tales of Gathering (LACC Stairs Site #3)
3:00 PM Air Gear (LACC Stairs Site #2)
3:00 PM The Melancholy of Haruhi Suzumiya (Outside West Hall)
4:00 PM Magical Girls and Boys (LACC Stairs Site #2)
4:30 PM Ouran Host High School Club (LACC Stairs Site #3)
5:00 PM Capcom vs. SNK (LACC Stairs Site #3)
5:00 PM JRock (Lindsey Plaza)
5:30 PM Hellsing (Outside South Hall)
6:00 PM Katekyo Hitman REBORN! (Outside West Hall Flag Area)
6:00 PM Super Smash Bros Brawl (Outside West Hall)
6:00 PM Vampire Knight (West Hall)
6:30 PM Fate/Stay Night & Type-Moon (LACC Stairs Site #2)
7:00 PM Evangelion (Outside West Hall)
Saturday July 5th
10:00 AM Guilty Gear (Concourse Hall by Rm.411)
10:00 AM Pokemon (Outside West Hall)
10:00 AM Pokemon Gijinka (Outside West Hall)
10:30 AM Dead or Alive (LACC Stairs Site #1)
10:30 AM Final Fantasy Tactics (LACC Stairs Site #2)
11:00 AM Hollow/Arrancar (LACC Stairs Site #2)
12:00 PM Bleach (LACC Stairs Site #2)
12:00 PM Touhou Project (Outside West Hall)
12:30 PM Trinity Blood (LACC Lobby)
1:00 PM Final Fantasy VIII (LACC Stairs Site #2)
1:00 PM Yugioh Generations (LACC Stairs Site #2)
1:30 PM Phoenix Wright (LACC Stairs Site #3)
2:00 PM Naruto (LACC Stairs Site #3)**
2:00 PM Persona 3 (LACC Stairs Site #2)
2:30 PM Vocaloid (LACC Site Stairs #3)
3:00 PM Full Metal Alchemist (Outside West Hall)
3:00 PM Legend of Zelda (LACC Stairs Site #1)
3:30 PM One Piece (LACC Stairs Site #2)
4:00 PM Ragnarok Online (LACC Stairs Site #2)
4:00 PM Soul Eater (LACC Stairs Site #3)
Sunday July 6th
10:00 AM Sailormoon (Outside West Hall)
11:00 AM Dragonball Z & GT (LACC Stairs Site #2)
12:00 PM Crossplay (Inside West Hall)
12:00 PM Final Fantasy (LACC Stairs Site #3)
12:00 PM Lolita Tea Party (Concourse Hall F Stairs)
12:30 PM GINTAMA (Outside West Hall Entrance)
1:00 PM Avatar (LACC Stairs Site #2)
3:00 PM Beyblade (West Hall)
3:00 PM Death Note (Outside West Hall)
Oddest cosplay
* Free sample man. Guy going throughout the Exhibition Hall pasting stickers and what not on himself and cardboard boxes.
* Krispy Kreme Doughnuts employee?
* Man Princess Peach
* Someone in an HP Printer box
* Captain Planet
* Tetris L Block (winner of GameFAQs character battle). Was actually cool to see all the multicolored Tetris blocks together.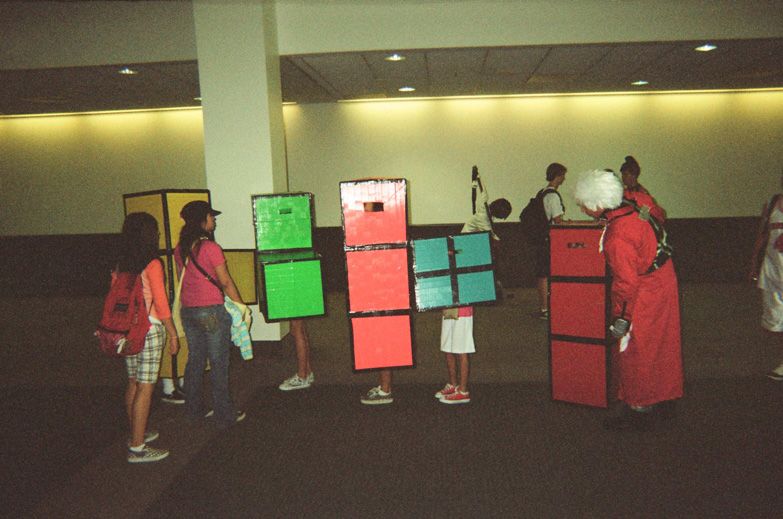 * Jesus in front of the Yaoi booth. Also a Pimp Jesus carrying a cross.
* Transformers Hot Rod who proceeded to the girl's restroom. WTF!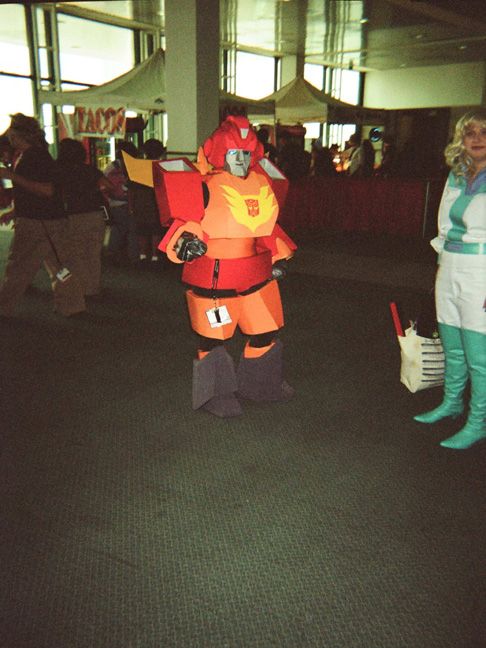 Survival Checklist
* Bag/Backpack
* Bottled Water
* $$$
* Digital Camera/Disposable Camera
* PSP/DS with AC adaptor, deck of cards, or a book to read for those moments when you are waiting in line or sitting down not doing anything in particular.
* Pens to write with
* Pre-registration e-mail confirmation with bar code
Day 1 Thursday July 3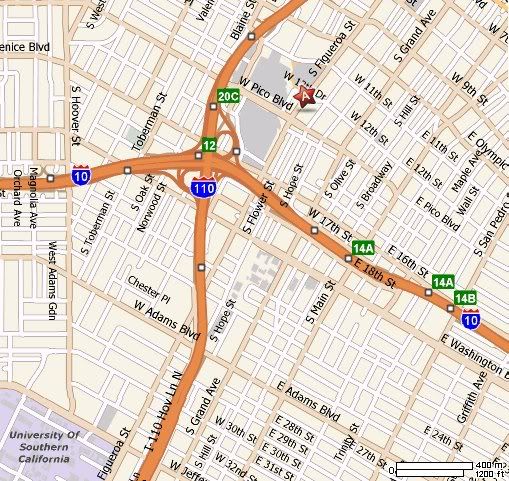 Woke up at 5:00 AM and left the house at 6:00 AM. Took the carpool lane of 110 Freeway North. Got off at Adams then went down Figueroa. Parking fee: $12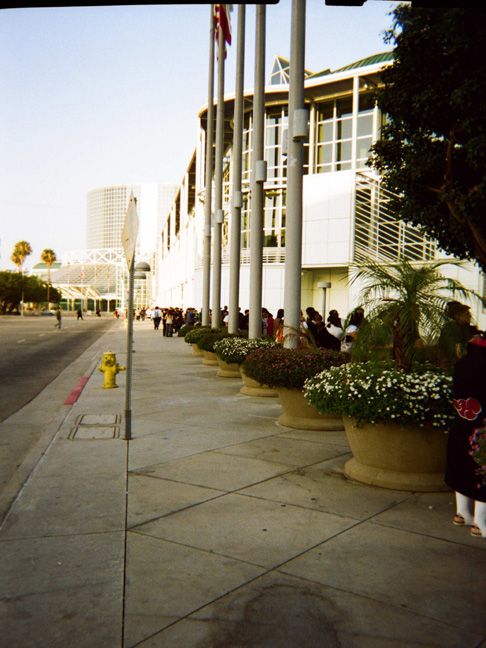 Registration was fast once it started moving. Glare outside was bad. Couldn't play PSP well.
Guilty Gear. Running joke of Dr. Doom.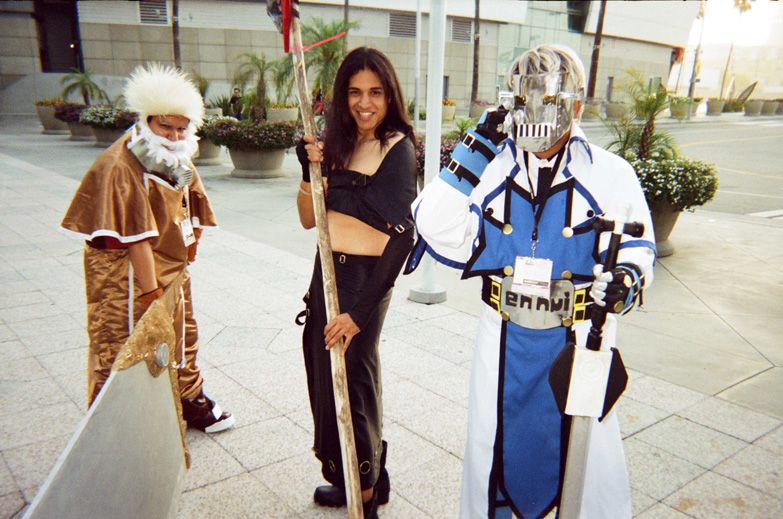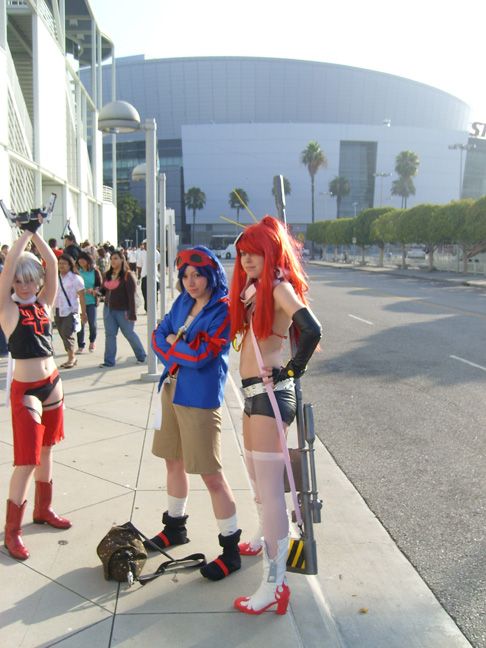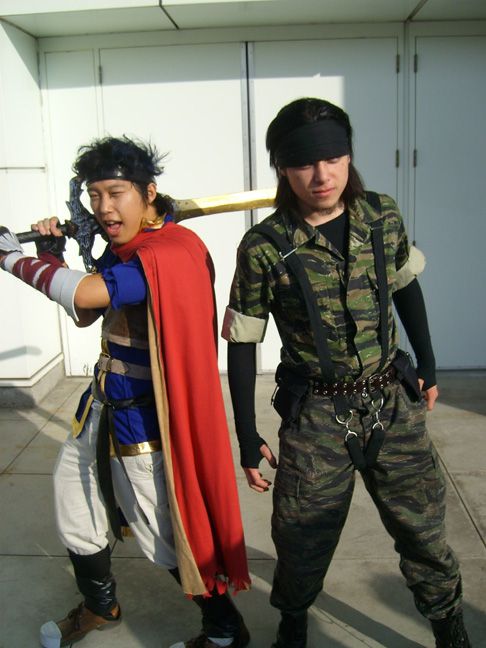 8:00 inside air conditioned hall. Picked up my badge at 8:30. At Con registration opened at 9:00.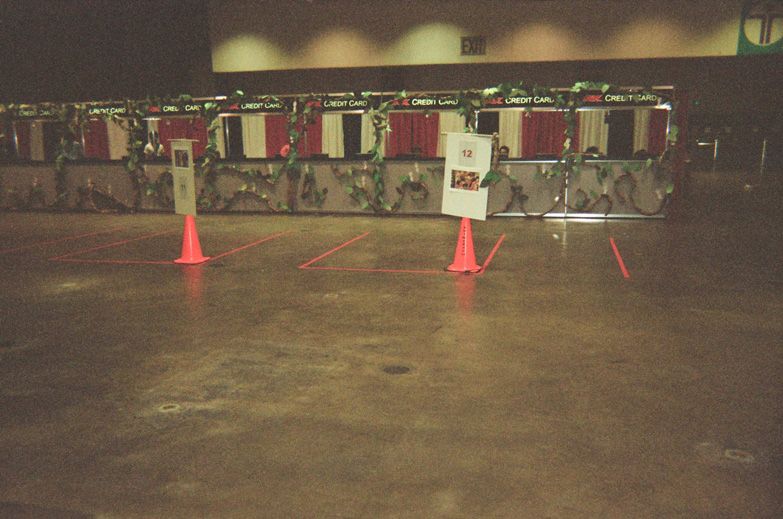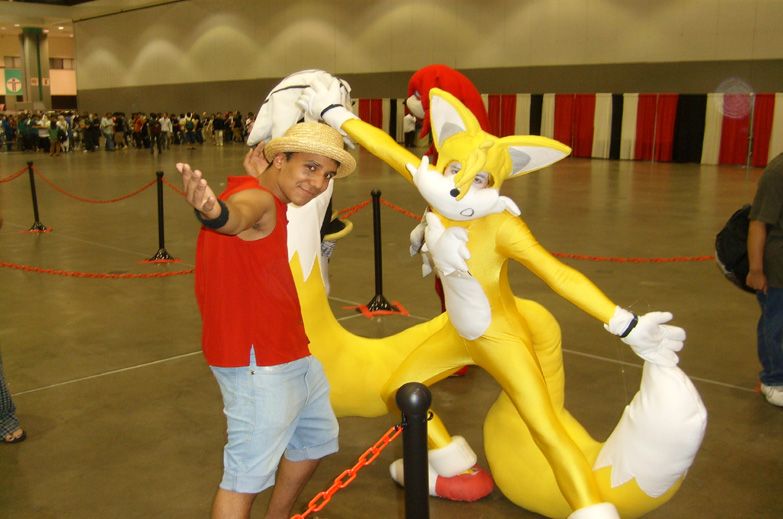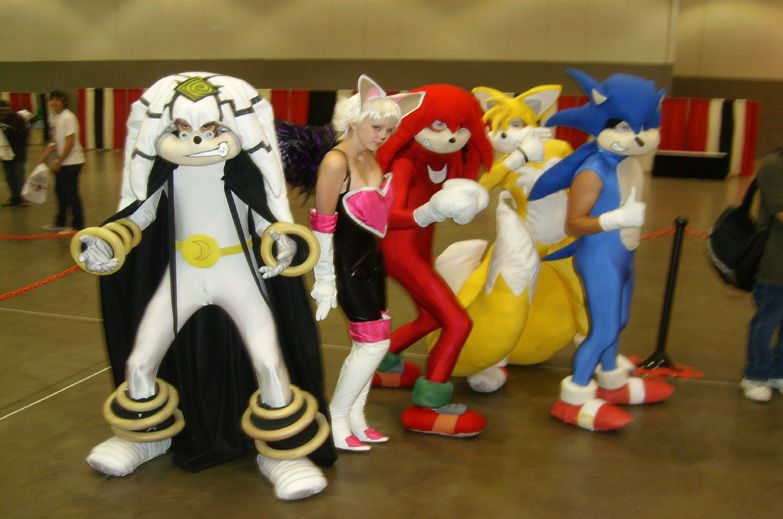 Headed upstairs to the console gaming room. They had Super Smash Bros Brawl, Rock Band (please if you're going to perform, get into the groove!), Guitar Hero, Naruto, and Arc System Work's BlazBlue (http://blazblue.jp/us/).
For lunch I had a smoked ham and swiss sandwich on ciabatta bread for $7.50. It tasted so dry. Wasn't even worth it. I wish I had waited until they served hamburgers.
Exhibition Hall opened at noon. Following days it opens at 10:00 AM. I think some asian guy tried to pick pocket my bag. Watch your stuff at all times.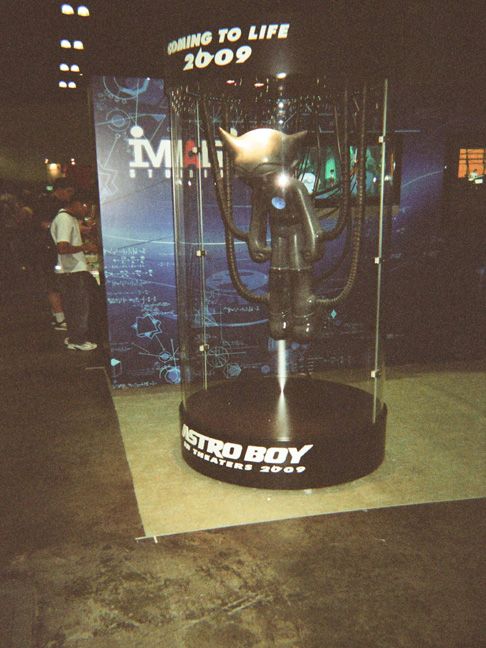 Bandai and Namco. Bandai had Haruhi and Lucky Star dance-offs.
http://www.youtube.com/watch?v=JXO0Baqzme4
http://www.youtube.com/watch?v=qQUhCUWTrr8
Could try out the Naruto games and Soul Calibur IV.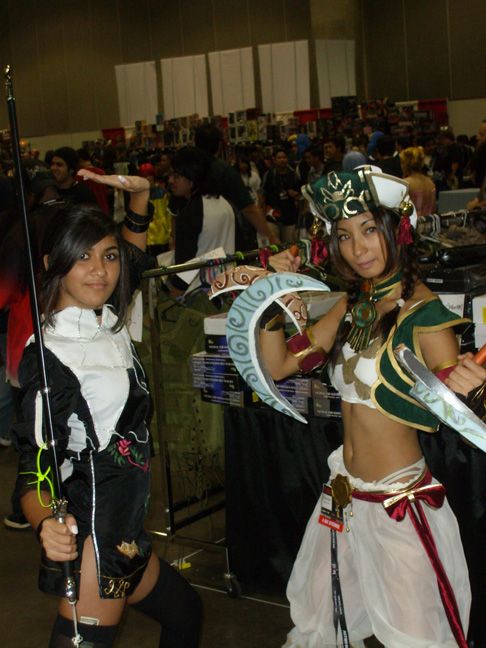 Capcom Booth with artists Omar Dogan and Alvin Lee (below).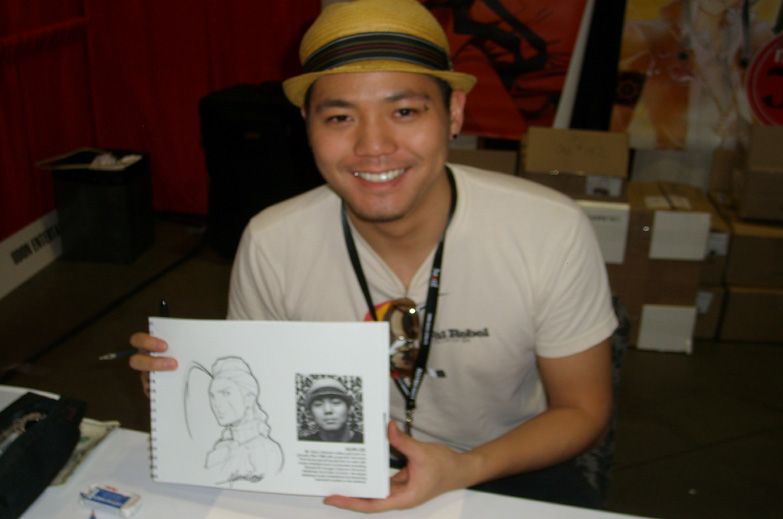 Gravity Booth (http://www.gravity.co.kr/eng/index.asp) where you can sign up for their cosplay contest to be held Saturday at 1:00. They gave out a free game DVD and raffle tickets for their drawing at 4:00. Each hour they did Spin the Wheel for prizes.
Community manager Hastur, because he's cool and Heimdallr's mean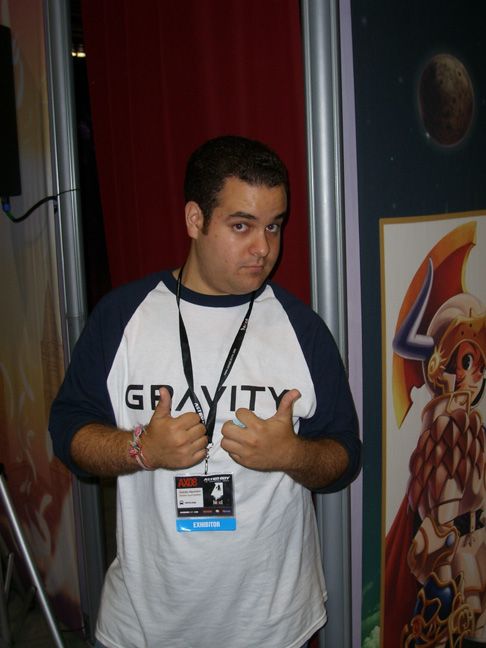 Next door to Exhibition Hall is Artist Alley. What are the secrets to selling your artwork? Location? Signs? Popular series? There were tons of Bleach, Naruto, and Final Fantasy. Girl showing booty? Right price? Colored works seem to be better than sketches. Unfortunate that the artists were not able to use the power outlets.
After that I went home. Forgot about AMVs.
Day 2 Friday July 4
8:00 left house. Arrived at 8:15 with no traffic.
First place of interest, the Arcade. Open 24/7. Games: Metal Slug 6, Puzzle Fighter ($0.50 per game), Pile Up, Fancy Lifter, Dance Dance Revolution, Para Para 2nd Mix, Street Fighter 3rd Strike, Melty Blood, Tekken, Strikers 1945, Mushihime Sama, Time Crisis 4, Marvel versus Capcom 2, Initial D 4, Wangan Midnight 3, Derby Owner's Club horse racing, Capcom versus SnK 2, and air hockey.
Next an interview with a person working behind the scenes that makes Anime Expo run smoothly - Mr. Cardenas who has been doing Electrical maintenance for 20+ years. It's a good job, 6 figure income easily. And they won't outsource you. He didn't quite get Anime Expo. Equated it to collecting rookie baseball cards. Back in the day when 50 cents got you popcorn, soda pop, and a movie. At E3 last year he said that the power went out. Department of Water and Power (DWP) brought in mobile transformers. Doors unfortunately closed on the thick cabling and blew a hole in it. Had to reset the circuit breaker. The ground rumbled. Bad sign. 200 pound manhole cover even flew out of the streets.
Lunch exiting the Exhibition Hall was a Taco stand. $7 for three soft tacos, your choice of beef, pork, or chicken. A++!!!
Back in Exhibition Hall went to NIS booth and bought some pencil boards for Takehito Harada chief character designer for Disgaea to sign.Ms. Taniel character designer for A Witch's Tale was also autographing.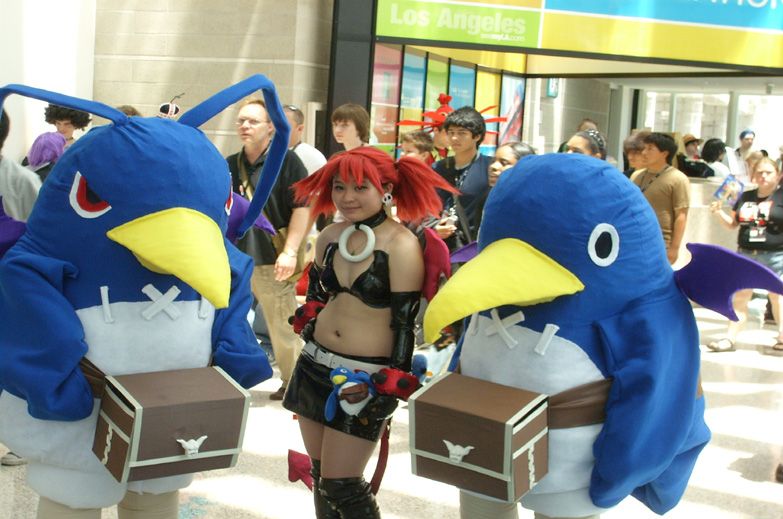 More Cosplay.
All hail Cobra Commander.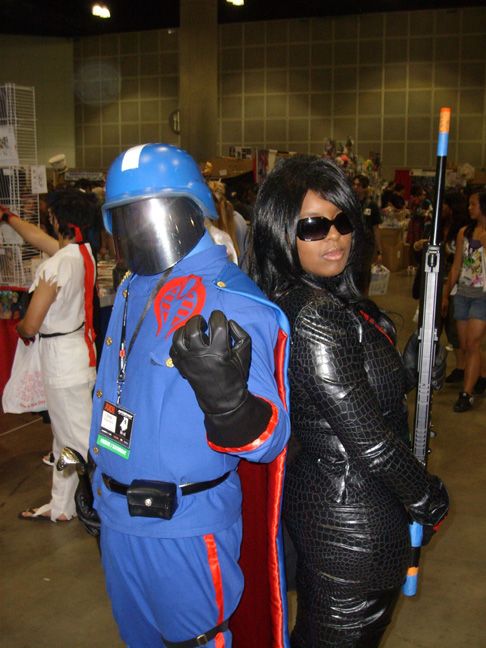 Kanti from FLCL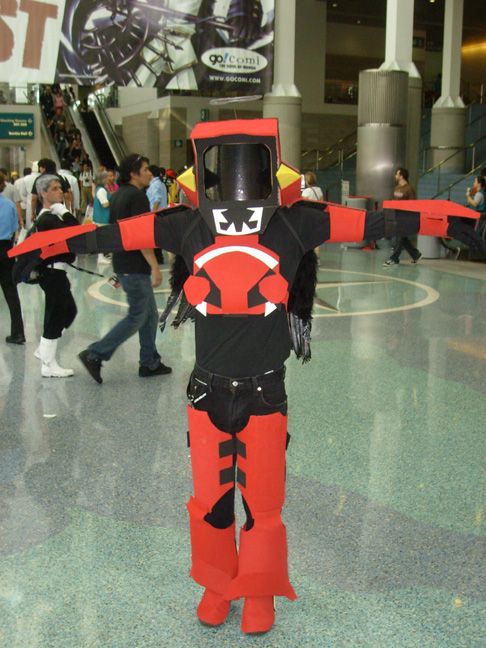 Captain Commando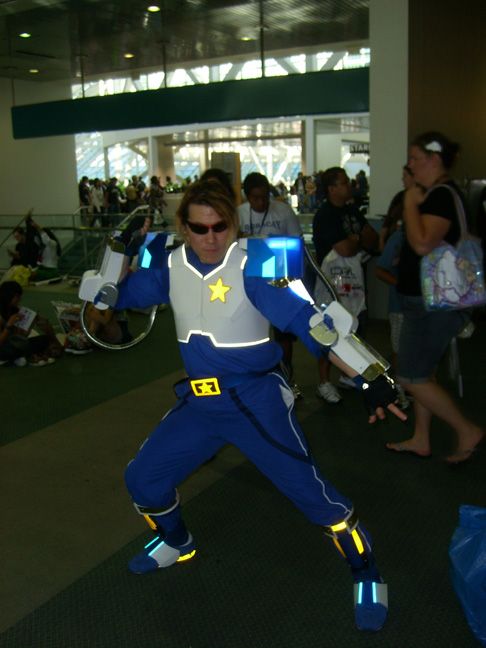 I spied on Gaia Online Panel in Hall B at 5:30. I don't even play Gaia. Pictures and videotaping allowed.
http://www.gaiaonline.com/
On stage, in the black coat Chris, the ever so popular Lancer, Quickster the developer, and artist Charles Park. First a thank you for coming and causing chaos. Then a Stride spoof (http://www.stridegum.com/). Do NOT fire at the screens! …or we'll find you… and do bad things…
as if we'd be allowed to bring in nerf guns to AX.
Whenever a pink gift box appeared during the presentation, Chris would sprint around the seats and toss free plushies, T-shirts, etc.
Started with sketches of radiant prism: disco ball, prism crystal, prism tattoo. MCs (Monthly Collectibles) used to be called donation items. Before they got sponsors, they were one of the methods to keep the site running. Every month the artist team of 20+ people would get together. Concepts reflected how big of a fan they were to that particular idea such as Metal Gear Solid 4. ICBM Nukes R Bad. Seemed to love drawing cardboard boxes. <- this is very important.
Webpage updates. New landing pages for art arena, avatar arena, housing arena (which was broken), writing arena for fanfics, and contest arena. More merchandise like omnomnom and WTF hat. More games - Electric Love Factory: help Buildo the robot NPC build robot friends. It's a puzzle game where you align blocks according to color. There are power ups within the game to achieve bonuses.
Gaia mischief makers. Placing Gaia stickers around Chuck Norris Hollywood Star, yearbook cover with Gaia mentioned, and someone with a Gaia poster caught on WWE ECW.
Showed Gaia MMO game. On Bill's Ranch is his daughter Rubella. Zen Gardens Katsumi. House on a Hill, continuing from Dead Man's Pass. Null Chamber to release your life force after you die. New store Nicolae's Backalley Bargaining. Jacques's dog still needs a name. On to the monsters. The fluffs, OMG's mama, garlic. Undine, lawn ornament creatures: gnome (For the Empire!), flamingos. A Sand Castle Golem which in the end looks like a knight with a sand bucket on his head. Minimap with Fog of War feature. Able to customize the screen layout, drag/drop windows. More recipes. Make a surf board, ninja outfit, atomi armor, guard armor, alien armor.
Q/A
Mentioned that the color of the website is blinding. They are experimenting with different designs.
Gaia is looking into letting other vendors sell their merchandise like Yesanime.com because they can't attend every single convention.
Can you fight NPCs in MMO? In the beginning just monsters. Later PvP.
A manga compilation in paper format? Not at this time. Seriously considering it.
More flash games like Tetris.
MMO will allow you to customize controls, mouse click and WASD.
I just lost the game.
http://losethegame.com/default4.htm
Can you date Lancer? He had the exact same thought. It's a floating idea. It's another way to make fun of themselves.
Christmas Mistle Toe this year? Sure why not.
Is there a save your hairstyle option (referring to Halloween event)? Virtual bobby pins are hard to come by.
A real banking system with interest? Set and forget it. Well safe deposit box is a possibility.
Merchandise for children? They will definitely pass that idea on.
6:30 went home and saw the fireworks.
Day 3 Saturday July 5
Arcade again.
Lunch inside the Exhibition Hall. $8 BBQ ribs, steamed rice, and lettuce.
RO Cosplay Contest. Got pushed back to 2:00 PM.
Winners:
Runner-up #1 Leaf Cat (Prisilla) - was nervous to participate at first, Meow! Meow! Meow! Received an RO2 keychain collection.
Runner-up #2 Minstrel (Andy)
Grand Prize: Orc Hero (cupcake) - was there ever a doubt. Received an RO2 box, artwork, and full DVD set of Ragnarok the Animation courtesy of Funimation.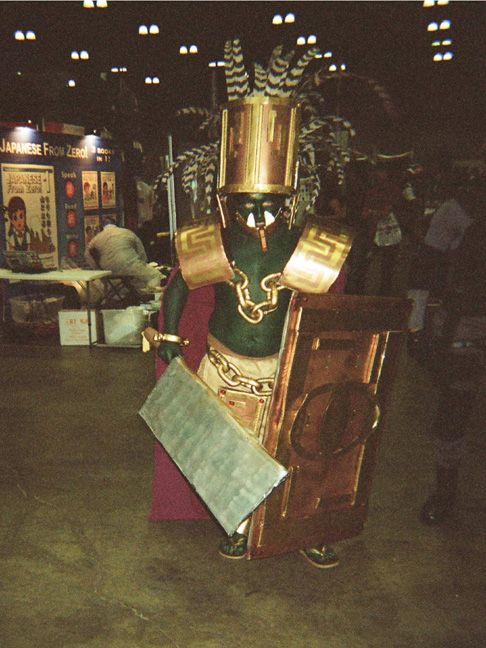 GM picks - winners received a certificate and 2 headgears
Hastur: Lord Knight (Pelori), loved the sword
Heimdallr: Monk
iroHeadGM: Gypsie (Neko)
4:00 PM. Mega64 Panel of Doom. Seriously. Shown on Public Access and soon on TV in the United Kingdom on Sky Network.
http://www.mega64.com/
Rocco Botte, Derrick Acosta, Shawn Chatfield, Josh Jones, and Garrett A. Hunter also in cosplay - Assassin's Greed, Beowulf in 3D, Time Child, Future Brad Pitt, and Biggest Boss from Metal Slug.
Street Fighter 2 destroying the car bonus stage
http://www.mega64.com/car.htm
Assassin's Creed video, at a swamp meet. He's very touchy.
http://www.mega64.com/assassinscreed.htm
Rainbow 6 Vegas
http://www.mega64.com/rsv01.htm
Other videos - Wizard, Cosplayerz Strike a Poze (where the crew invaded a Naruto gathering), Wizard sighting, The Bookstore, rejected Nintendo DS commercial for the game Jam Session because Nintendo wanted it aimed at homeowners not homeless guy. They called it 'unsavory.' They did a recut version with larger than life fonts.
Q/A
For the hard of hearing, can they add subtitles. Now that they know how, yea. Half the time they don't understand what Marcus is saying.
Will they be doing this forever? No girl will get in between them. Don't grow up. Be stupid. Annoy people.
Open call for casting? There was for Wizard video. Could be another one.
While shooting a video do they ever recognize who they are? Once as mega64. Lots of Hey that's Assassin's Creed. Popular game.
Episode 4 is going to be Mega64! a musical.
Next stop for them is Comic Con in San Diego and East Coast Fan Expo in Toronto, Canada. They plan on giving away Con Exclusive DVDs featuring scratch and sniff technology. Umm…Cinnamon Rolls.
http://www.hobbystar.com/fanexpo2008/index.html
Snuck out at 6:00. Hosts of mega64 made fun of anyone leaving their panel. Masquerade $20 for ticket outside Registration. Otherwise have to wait outside in the sun in standby for 4+ hours. Just didn't want to wait. Went home.
Day 4 Sunday July 6
Slept in. Decided not to go.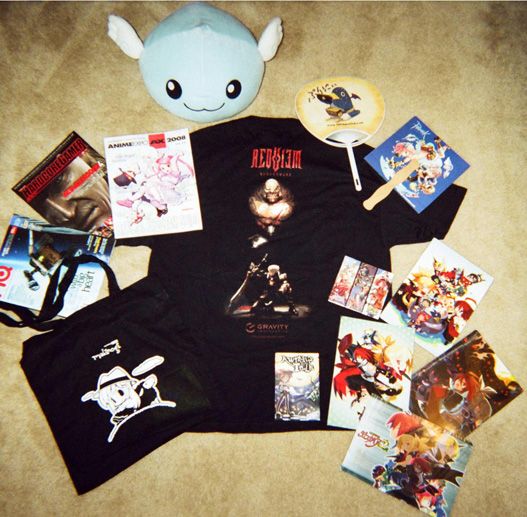 Short report this time. If I will be attending next year, I'm sure as hell going to make an outstanding cosplay. And I do mean that. On the same scale as that Optimus Prime costume.