VIZ Media, LLC (VIZ Media), one of the entertainment industry's most innovative and comprehensive publishing, animation and licensing companies, is making available exclusively at the 2007 New York Comic-Con cell phone downloads of promotional trailers for the popular DEATH NOTE anime series. The 2007 New York Comic-Con show takes place from February 23-25 at the Jacob K. Javits Convention Center in New York City.
Two DEATH NOTE trailers will be available on a one-time-only basis for cell phone downloads exclusively during the New York Comic-Con show. The first trailer will be available Saturday, February 24th, and the second on Sunday, February 25th. Visitors should come to VIZ Media's booth #619 to download the content to their Bluetooth-enabled cell phone or to get a code to enter through their cellular service provider. Standard text message and other phone charges will apply.
VIZ Media's announcement marks the first time this well-known Japanese anime property is being made legally available to U.S. audiences for download. According to VIZ Media executives, new and authorized download-to-own technology will facilitate the delivery of anime content legally, securely and with vivid clarity. A DVD release of DEATH NOTE is also planned for US release and will include an English dub as well as subtitles, special packaging and possibly collectible premiums. DEATH NOTE, a Japanese graphic novel rated for older teens, is based on the Shueisha manga series of the same name and is currently one of the hottest anime titles in Japan. Published in North America by VIZ Media, it depicts the adventures of Light Yagami, an ace student with great prospects but who is bored out of his mind. All of that changes when he finds the Death Note, a notebook dropped by a rogue Shinigami death god. Any human whose name is written in the notebook dies, and Light vows to use the power of the Death Note to rid the world of evil. But when criminals begin dropping dead, the authorities send the legendary detective L to investigate, and he is soon hot on the trail of Light, who must now reevaluate his once noble goal.
'DEATH NOTE is one of the most popular and unique anime series currently airing in Japan and VIZ Media is excited to utilize the latest technology to bring it to domestic audiences,' states Liza Coppola, Sr. Vice President, Marketing, VIZ Media. 'Visitors to our New York Comic-Con booth will be able to download two exclusive trailers right to their cell phones and catch a glimpse of the action and vivid animation that have made this title a hit. Technology has enabled significant new advances in content delivery that eliminate time and distance barriers, and VIZ Media is committed to utilizing them to their fullest potential to raise the anime experience to the next level. As a result, we look forward to DEATH NOTE continuing to be a fan favorite in a variety of new and established formats!'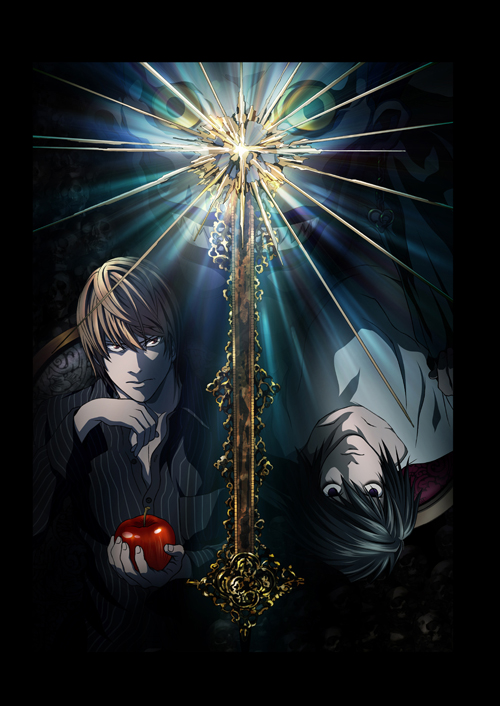 DEATH NOTE based on the comic "DEATH NOTE" by Tsugumi Ohba, Takeshi Obata
originally serialized in "WEEKLY SHONEN JUMP" published by SHUEISHA Inc.
© Tsugumi Ohba, Takeshi Obata/Shueisha
© DNDP, VAP, Shueisha, Madhouse