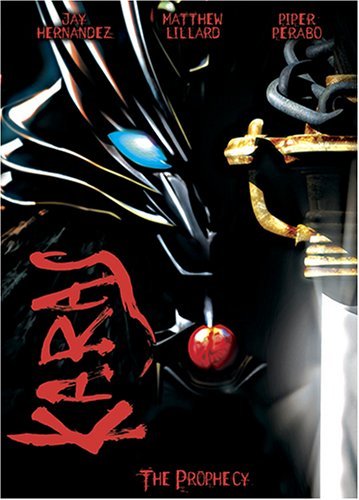 The worlds of humans and demons have overlapped since time immemorial, and a young woman named Yurine and her servant, Karas, have long maintained order and balance between the worlds. But humans have finally lost their fears of the denizens of darkness. Disgusted by human arrogance, Karas turns his back on the laws he helped uphold for so long, taking the name Eko and leading a group of mechanized demons in an attack against the human race.
Meanwhile, a detective named Kure who works at the police division in charge of demon-related incidents opens a case involving a series of bizarre murders that look like the work of a water demon. Elsewhere, the demon Nue, who came to town to fight Eko, spots a water demon disguised as a famous warrior and then Yurine shows up with a new Karas. This new guardian of the city is determined to stop Eko's evil ambitions, but he has a fierce fight ahead of him.
http://karas-movie.com/ - U.S. Official Site
http://www.thekaras.net/ - Japanese Official Site
Licensed by Manga Entertainment
DVD release date April 25, 2006
Staff
Director: Keiichi Satou
Script:
Masaya Honda
Shin Yoshida
Storyboard: Kenji Nakamura
Music: Yoshihiro Ike (Composer)
Original Concept: Keiichi Satou
Character Design: Kenji Hayama
Art director: Hajime Satou
Animation director: Kenji Hayama
Mechanical design: Kenji Andou (Monster & Mecha)
Chief Writer: Shin Yoshida
Editing: Hirofumi Okuda
Executive producer: Keiichi Satou
Monster Design: Kenji Andou
Planning: Keiichi Satou
Sound director: Jin Aketagawa
Sound Effects: Yasuyuki Konno
Credit to ANN for the staff list.
Thoughts: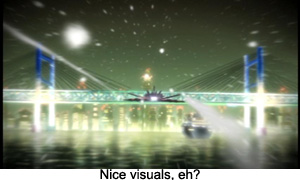 Stikz: I can see why Karas is one of this years most anticipated titles. Manga Entertainment presents, Tatsunoko Productions (The creators of Speed Racer) 40th anniversary feature animation. Having viewed the promo DVD containing only a sneak peek of the feature, I can tell you this, the production and presentation are stellar! I've seen 2D and CG together but there was almost always a sense that the two never meshed together completely seamless. That's where Karas comes in. It looks amazing!
I think the reason it succeeds while others don't is because the 3D scenes are still animated by hand. Motion capture was not used. So since the same style of movement is used, you're never taken out of the film. The fights are a kinetically energized spectacle! With the epic soundtrack and the comic book superhero feel, comparisons to 'Batman' and 'The Crow' aren't far off at all. From what I've seen, Karas deserves all the hype it's been getting.
I do hope that in the full length feature, they kick up the character development. If that comes to be then this will be in every anime fans top five this year. April 25th is when Karas: The Prophecy hits the stores. I'll be right there picking up my copy. The second feature, Karas: The Revelation hits this fall on DVD. (A fun side note: Tatsunoko Productions also made the anime 'Zillion'. That was the first anime that I bought and it's what got me hooked. Thanks guys!)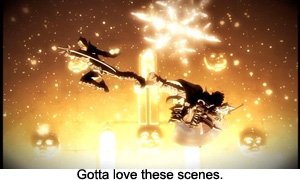 Kefkasou: From my experience with opinions regarding Karas, I've discovered that some people see it as an Anime revolutionize by its spectacular CG animation overshadowing all over aspects to what makes an Anime, Anime. With that said, there are others who harshly criticize it as having a dull plot and generic characters so horribly constructed that no CG graphics on earth can save this. So what is there to check out about Karas you ask? Well, regardless to what anyone says, every Anime excels in some area and indulges in a certain spotlight. In Karas case, we are talking about the animation. If certain people think characters are too dull and undeveloped, why is Azumanga Daioh liked so much? If Karas excels in CG animation, then watch it for the CG animation if that is what interests you. Who knows, maybe Karas could set up an example of what certain animation should evolve into? Anyways, I would definitely check out Karas for an experience. I don't see why the negatives should negate the good qualities (whatever these "negatives" may be). Look forward to this piece of work. Who knows, maybe you will see the qualities of Karas that others can't.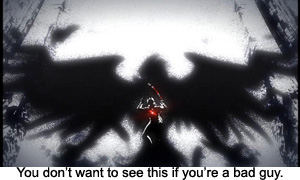 Dark Wind: Let's get the formalities out of the way. Karas is a 6-episode OVA, a 40th anniversary title by the famous Tatsunoko Productions. Anniversary titles, if nothing else, have immense animation budgets and a lot of time to make and create. Last Exile, a 10th anniversary Gonzo title, is an example of this. So hearing it's an anniversary title is promising. For the US, the release is being handled by the almost inconsequential Manga Entertainment, who have released almost nothing in the last few years and somehow still manage to screw up their DVD's. In this case, they are releasing Karas over 2 DVD's, 3 episode's on each. Hopefully they won't muck up the menus or anything this time around, as they have in the past. As for the actual show…well, it certainly looks nice. The two trailers I've seen indicate the animation, quality and fluidity alike, look really really nice. The story seems simple, which is perfect considering the length of the OVA, and the action looks to get the heart-pumping, just as it should. It should be a real blast to watch, I think. Let's hope so.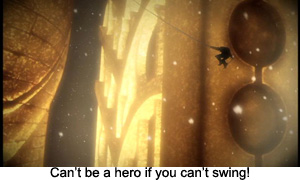 Alpha:
I knew there was something about Karas that is different from the other shows that have been coming out lately. Its awesome action sequences can make any mouth water. Just watching the sneak peek DVD was enough to make me sweat profusely in the palms of my hands and when the full feature DVD came to my front door, you cannot imagine my reaction after watching the whole first volume. The blending of 2D and 3D animation is jaw dropping and when you take that and combine it with the sword fights, and other sequences you get a show that is going to be the next big feature. A super hero for Japan huh? It is certainly looking as bright as the moon shots in the show. Look forward to the release! Both manga and anime!