[GTO] Great Teacher Onizuka V.3 Manga Review ————————
By: Alpha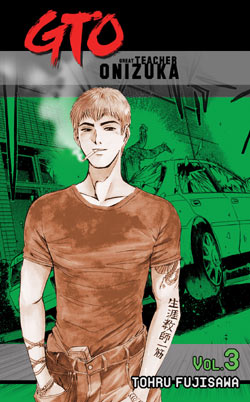 Synopsis:
  Off the streets and on the job, Eikichi Onizuka has ascended to the exalted ranks of schoolteacher only to discover he's now got to learn how to teach.   And the student's are not going to make it easy for him.   A gaggle of seemingly placid young pupils who have already driven three teachers into psychotic fits now set their sites on the Great Teacher.   But they could very well have underestimated Onizuka's unusually high threshold for punishment.

Review:  
  In this volume, the plan to kill Onizuka as begun.   After their failure in the first attempt, Murai goes all out and of course, this results in humor to the extreme.   We are also introduced to the smokin' hot school nurse, Naoko Moritaka (Still can't compare to Ms. Fuyutsuki though).   Going back to Murai's plans.   How's a cockroach in your lunch?   (I've always thought that school lunch had a certain funny funk to it.   Now I know it is for real.   Note: I do not eat school lunch :P).   Well this plan fails then leaves to another try in which Murai almost got a taste of his own medicine.   Battles after battles, then all of a sudden we are introduced to Murai's young mother.   The upcoming parts just shows off Onizuka's character a little more.   At the end of this volume, Noboru attempts to suicide again, but Onizuka gets there just in time to save him.   But he could not save the Cresta.   After Onizuka, Kikuchi and Noboru sets out for revenge.   Anko Uehara (one of the girls who abused Noboru), tells her mother, the head of the PTA and she starts a big ruckus out of the whole situation.    
Recommend Value - A+, This volume is the funniest yet.   You just can't get bored of GTO.   The humor comes back to you every time you read it.   Upon reviewing this volume, I have at least read this volume five times.   I will still be cracking up on the comedic scenes in the near future reads.    
Closing Statement(s) - Time to go on to volume four.