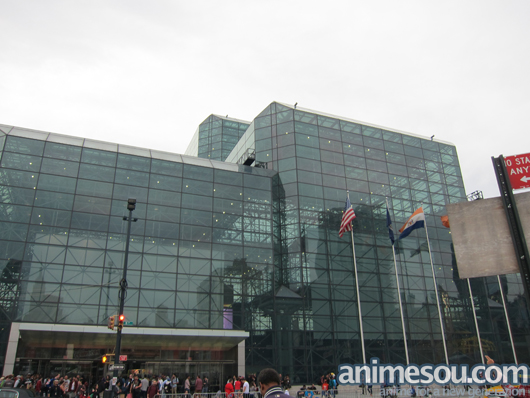 You know the New York Comic Con was close when your phone blows up with panels and various news information. As a first time attendee, yes, a first time attendee in all my years of covering anime, I was pretty much opened to the event. I was going to enjoy myself as best as I could and hopefully, by the time it was over, I would have had a memorable experience. But, before we continue, first and foremost, I have to thank ReedPOP for running New York Comic Con and for issuing Animesou.com a press pass to cover this wonderful event. It was definitely an eye opening experience and I had a ton of fun. Now onto New York Comic Con.
October 9th, 2014 - Day 1:
Getting off the D train and stepping out the station at 34th street Manhattan, one could not tell Comic Con began. However, block by block as I dodge the sea of tourists and New Yorkers, the scenery began to phase change. Look there's a Batman! Or is that Pikachu? Once I got to the Jacob K. Javits convention center, I have finally arrived. The nerves started tingling and palms started sweating; I had no idea what I was in for. I went through the blue entrance and through the lazy bag check. Seriously, what's the point of making me open my bag if you are just going to take a glance. Anyways, I went through the RFID check point, took a few steps and stood there. I took a moment to just absorb the atmosphere. One thing I immediately noticed. Where is the crowd? Was I too late? I arrived at 5:00PM and it was not as suffocating as a Black Friday at Walmart.
Regardless though, I proceeded to head for "The Block." Snapping pictures as I go, I did see many cool cosplays, some better than others; But props given all the same. Walking through "The Block" there were interesting showcases. From the live art that an artist was drawing to the newest PVC figures from Good Smile Company. I did not compile a list of "go-to" booths other than Viz Media and gumi, Inc. for their Brave Frontier mobile game. I do not know if I would have survived if I had planned out every booth that I must hit. There were so many of them, each one with unique showcases. It turned out to be a great idea to just do a walk through and pause here and there for certain showcases that caught my eyes. I had about an hour for sightseeing, before I had to attend Viz Media's "The Future of Shounen Jump" panel with special guest manga-ka Takeshi Obata sensei (Hikaru no Go, Death Note, Bakuman, & All You Need Is Kill).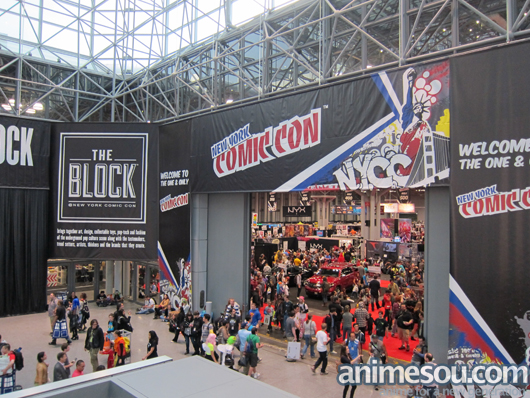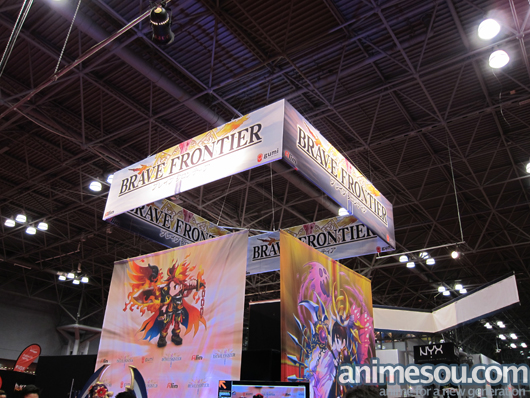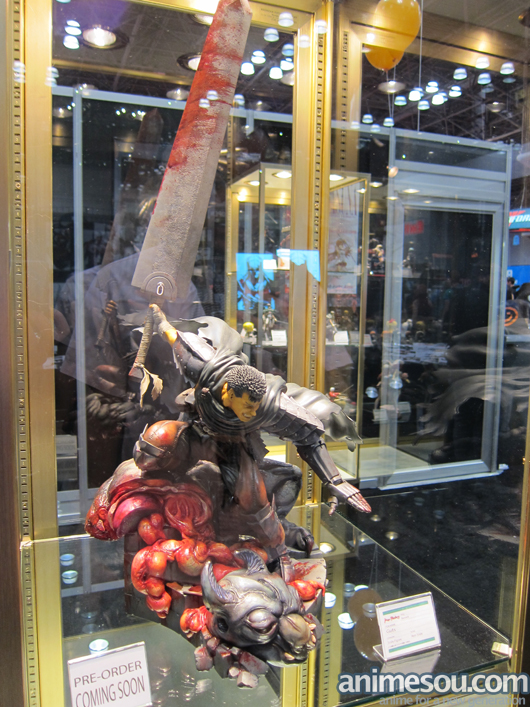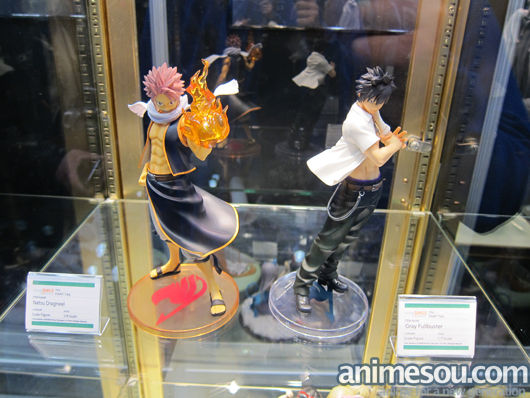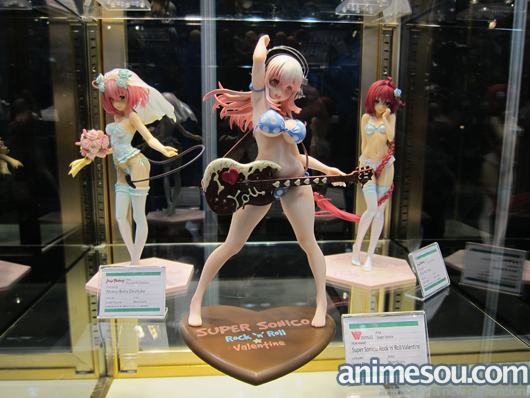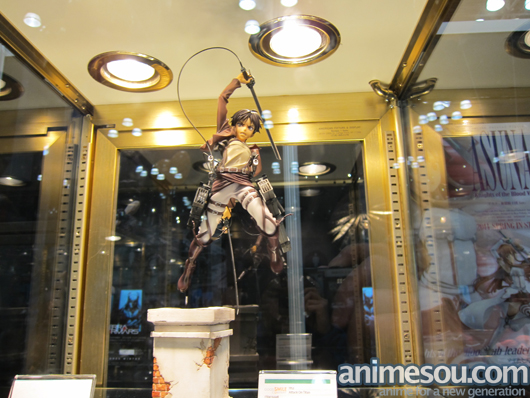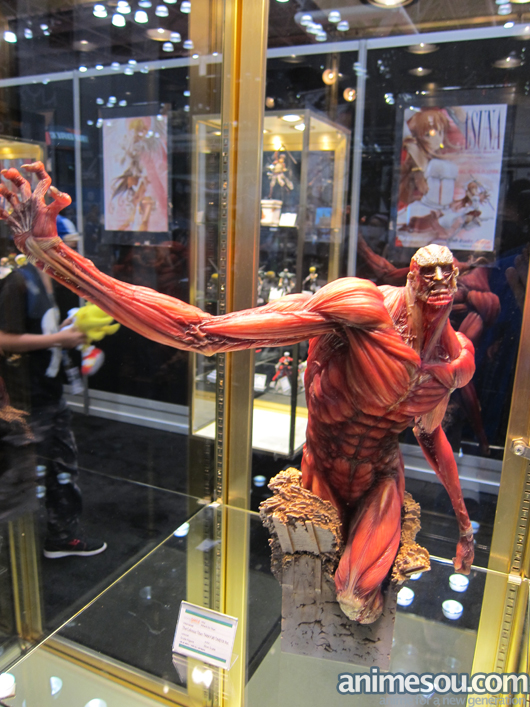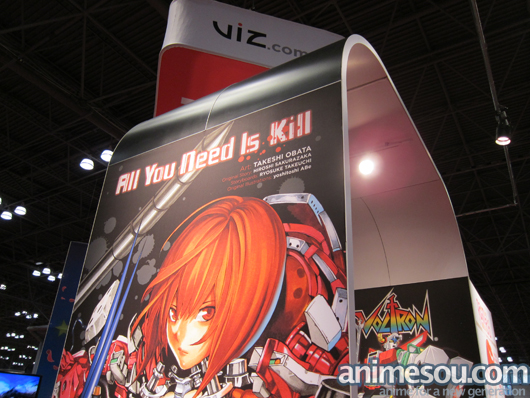 Viz Media Panel: The Future of Shounen Jump:
Earlier in the week, I RSVPed a seat at this panel as I knew I had to be there to listen to Takeshi Obata speak about his works and his views on manga. I hope it was not just me, but the signage at the Javits center was pretty bad. I spent a good 10-15 minutes looking for the panel location, looked at the signs and it pointed to different directions. At one point I was going to ask some staff for help but they were busy on their phones and did not seem like they were getting off it any time soon. I continued to pace around like a chicken with its head cut off. And finally decided to just walk all the way down the hall and see what was there.
Once I got to room 1A10, I saw a line that was probably the most lame attempt at a line. People rushed in and tried to grab the best seat available. And since I reserved a press seat for this event earlier, I proceeded to ask a staff, "Where should I sit?" This person had no idea and told me to ask the emcee of the panel. I walked over and asked, and he just said sit anywhere. Okay? Then what was the point of reserving in the first place? After I turned around I saw there were seats with "Reserved" on them. Uhh… the staff, any of them could have just pointed me to it. Yet, they seemed clueless or just did not care. It was messy and I was pretty ticked off about it.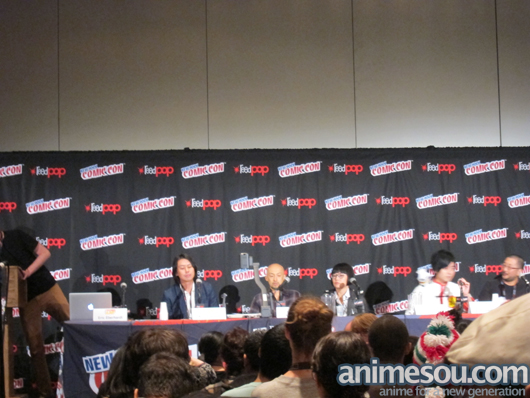 When Takeshi Obata was introduced along with the other guests involved with Shounen Jump, there was a roar of applause. A girl behind me felt the need to tell those in her vicinity that she "loves this man" and for others to put their cameras down, because she needs to see Obata-san every second of the duration of the panel. The panel was entertaining and the audience got to witness a master at his craft.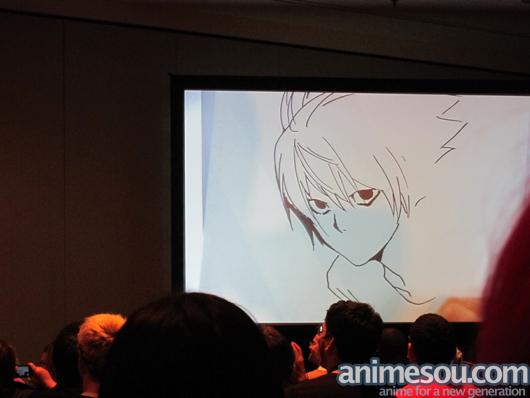 Obata-san drew Ryuk and L on the projection screen. As he was drawing, he also tried to answer the three best questions from fans selected by the Shounen Jump editor and also other questions the emcee had lined up. Personally, I felt it was a bad idea. Obata-san was focused at drawing, and he was giving really generic and basic answers during that period of time. When he was answering questions prior to showing his abilities to the audience, his answers were well thought out and allowed the audience into his train of thought when he does his work. I knew the time was tight, because a NYCC staff continued to walk into the room and showed the panel members the minutes left.
Back to Comic Con:
I left the panel with about a minute or two left as I did not want to deal with the rush of people leaving all at once. After attending this event, I got a much better sense of appreciation for the work of a manga-ka. Viz seems to be doing great with Shounen Jump and if they keep at it who knows? Maybe it will be just as good as the Japanese one. One can only hope.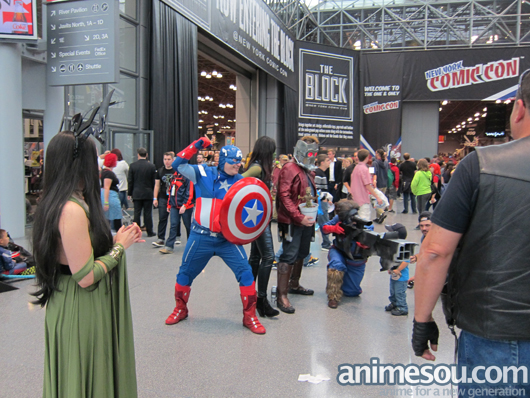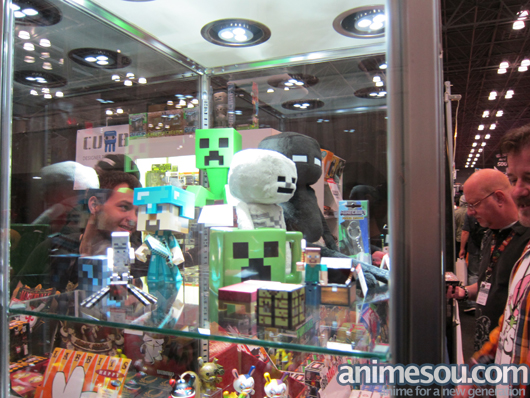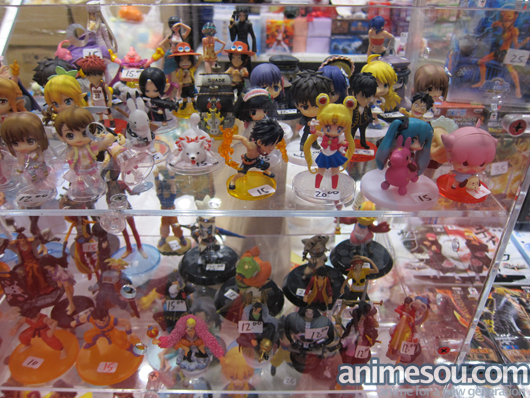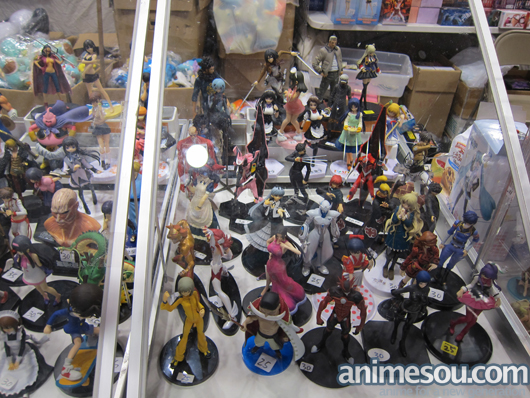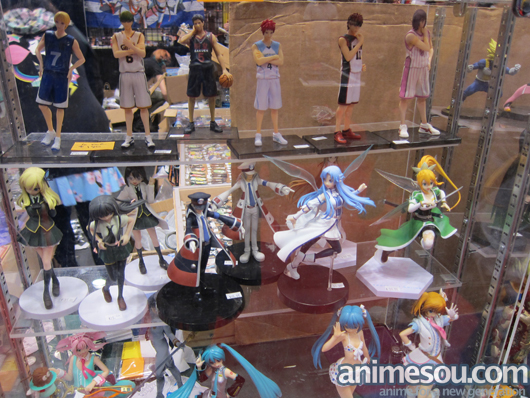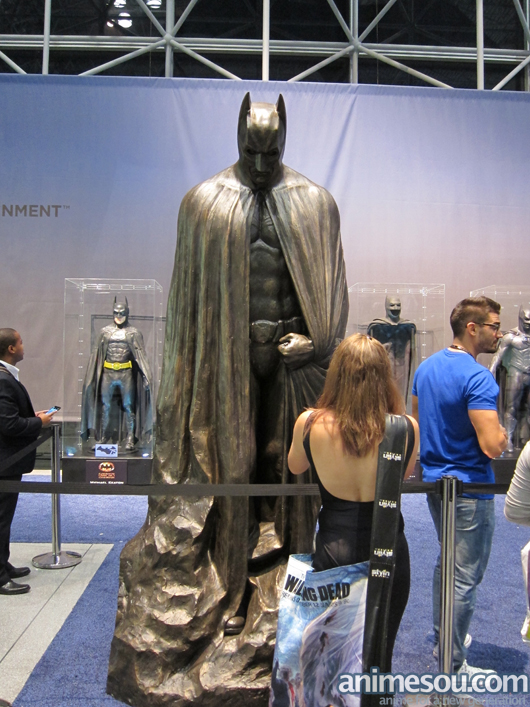 By the time I got out of the panel, it was 6:45PM. I had a full days of work and fatigue began to creep up on me. I took a walk through the rest of the booths all around the convention and saw many interesting items. Seriously, how can one not go broke in this atmosphere? I restrained myself and walked down the steps to check out the DC Comics' Batman 75th Anniversary showcase, in which they displayed all the Bat suits in the movies over the years, with the next Bat suit empty except the head. Talk about getting people excited. I definitely cannot wait for the new Batman to come out, Ben Affleck or not. It was still "early," and I had another panel lined up about "60 Years of Godzilla," but I just could not stand waiting around at the press lounge for it, I decided to call it a day and come back the next.
October 10th, 2014 - Day 2:
I arrived at the Javits center around the same time as I did on Thursday and wow Friday was BUSY. The weather was great and with the long weekend ahead (for some people), it felt like everyone was out. I had some panels scheduled, but without reserving, I did not think I would be able to secure a seat in any of them easily. It was literally a sea of people everywhere. With a large crowd come some of the best cosplay yet! As I walked through the entire convention, left and right, there were people dressed up in their favorite characters.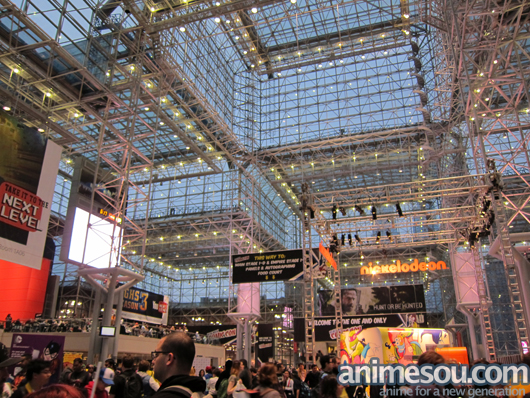 I proceeded to head up to the press lounge to handle some personal business and saw Kevin Smith at the lounge area, that was a neat sight, I mean he had to show up seeing that his show on AMC IS called Comic Book Men and the Secret Stash is just based right out of Red Bank, New Jersey. After handling my business, I proceeded down the escalators and walked towards one of the entrances to "The Block," I noticed a big crowd gathered. Curious, I went and slithered through. Lone and behold, it was X Japan about to give an interview right in the middle of the show floor.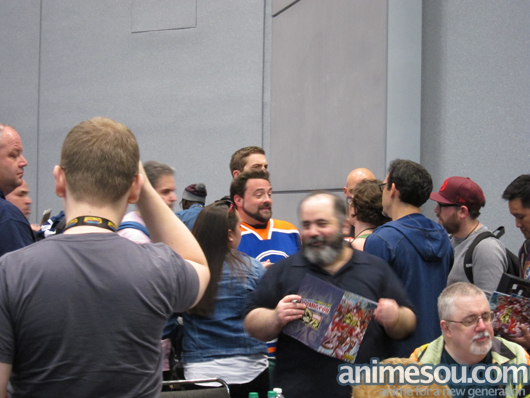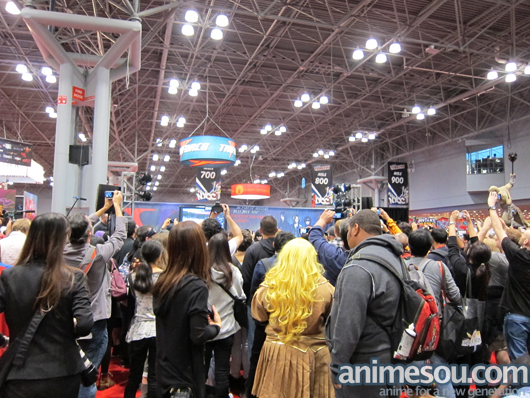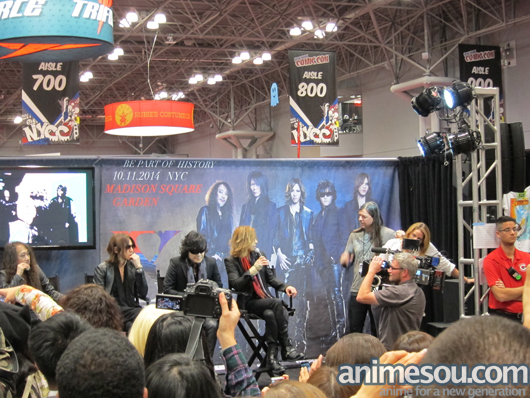 I am not going to lie. I do not listen to their music and will not pretend to be their biggest fan. But it certainly was a cool moment to see the positive reception they got from the convention goers. Heck one guy was asking his friend what the fuss was all about, while his friend replied in an amazed tone of voice, that it was X Japan. In which the guy told his friend I do not know or care who X Japan is. Whether you like them or not, they were out to promote their concert at Madison Square Garden on Saturday October 11th, 2014. Twenty years ago, they made their U.S. debut and after tragedies and hardships, the band is still here. Respect.
Instead of waiting around for panels, I decided to take a walk around the Javits center to take pictures of the crowd and to check out some of the overpriced things vendors were selling. $55 for a cheap hoodie with the Survey team logo on it from Attack on Titan? Get out of here, someone must be drunk. On another note, I will get back on that drunk note in a bit. After completely finished doing the rounds on the whole show floor, it was time to call it a day again. It would be my last day at NYCC, as I had personal business to attend to for the final two days.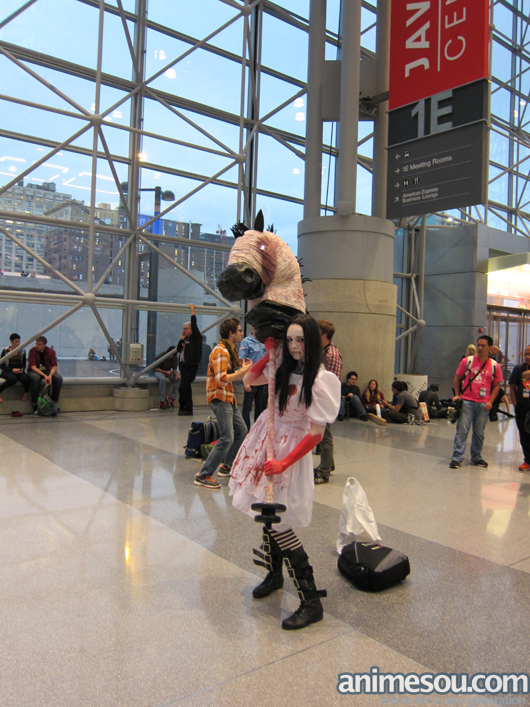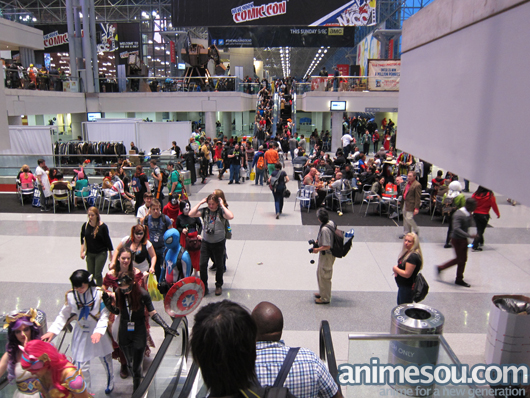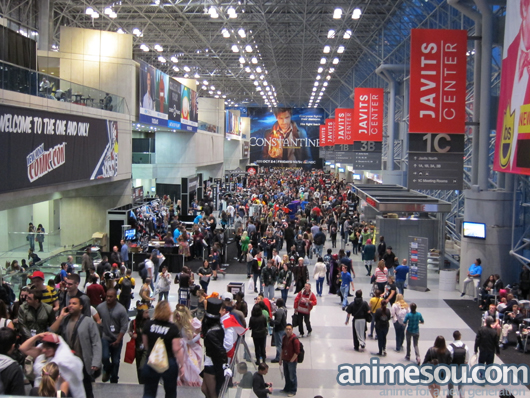 October 11th, 2014 - Day 3 and October 12th, 2014 -Day 4:
I was not at NYCC on Saturday or Sunday, however Animesou's cameraman Ray Tse, did get a ticket for Saturday. My instructions to him were simple: find the best cosplays and document whatever you thought was interesting. He attended last year's NYCC and was in love with it. But this year around, with the gloomy clouds hovering over New York City, it probably scared off some of the crowds. He did not think it was as good as last year's convention, claiming it lacked fan interactive elements to it and the cosplay were of lower quality. In any case some of his pictures are below.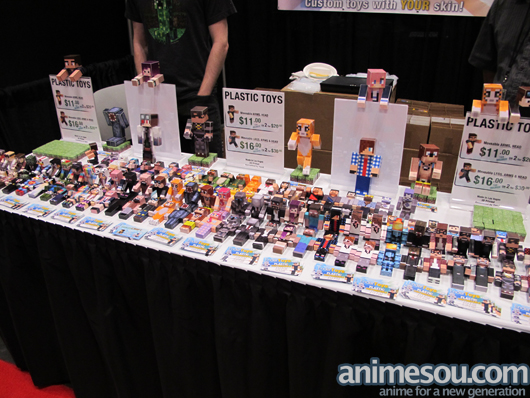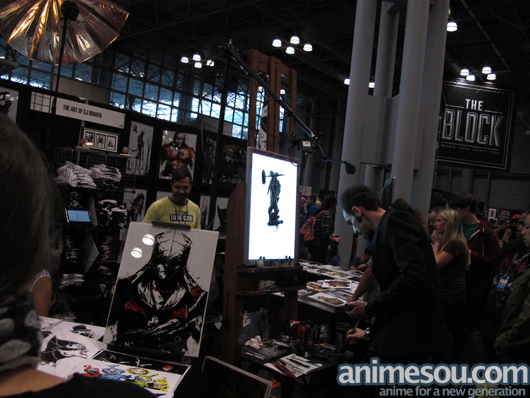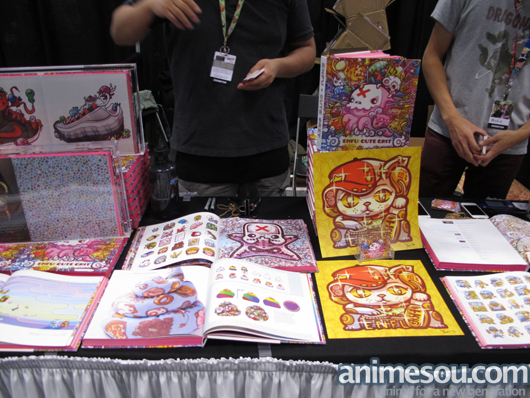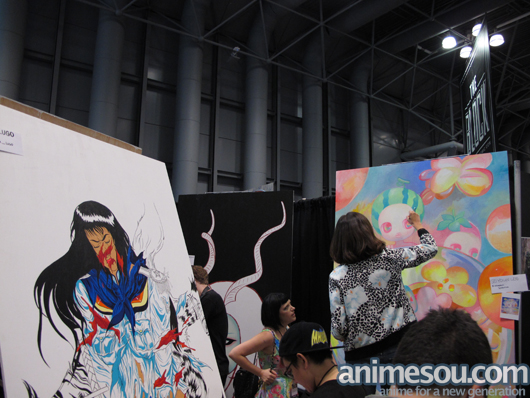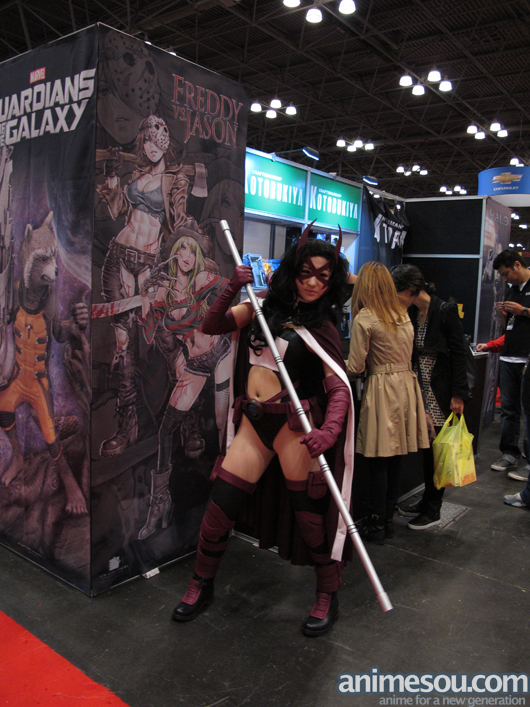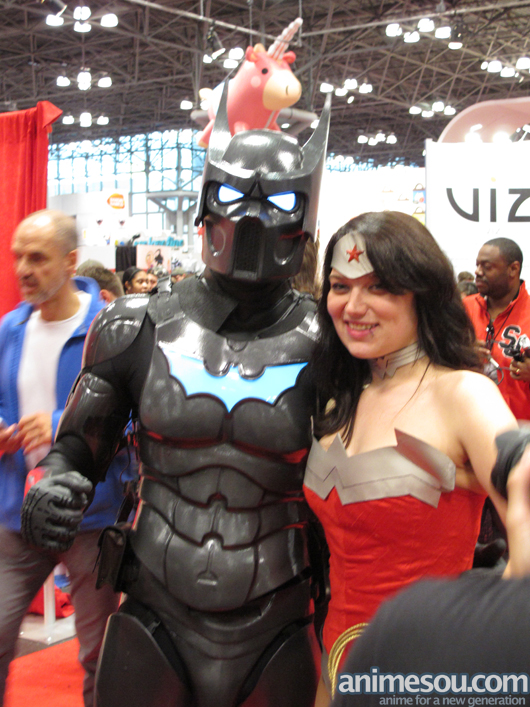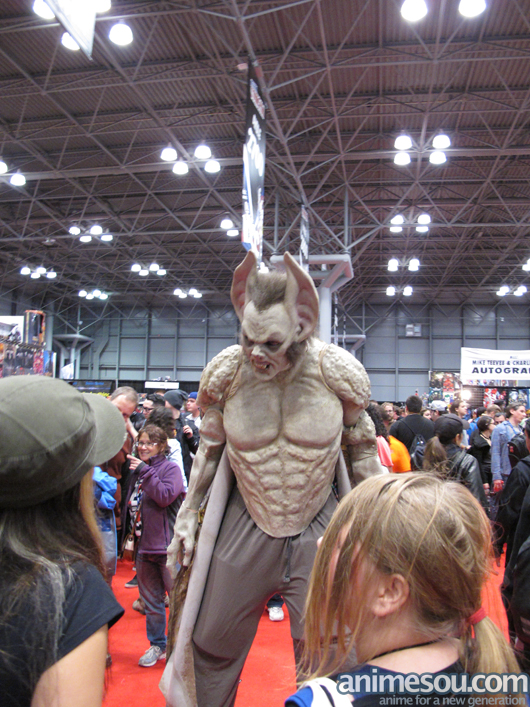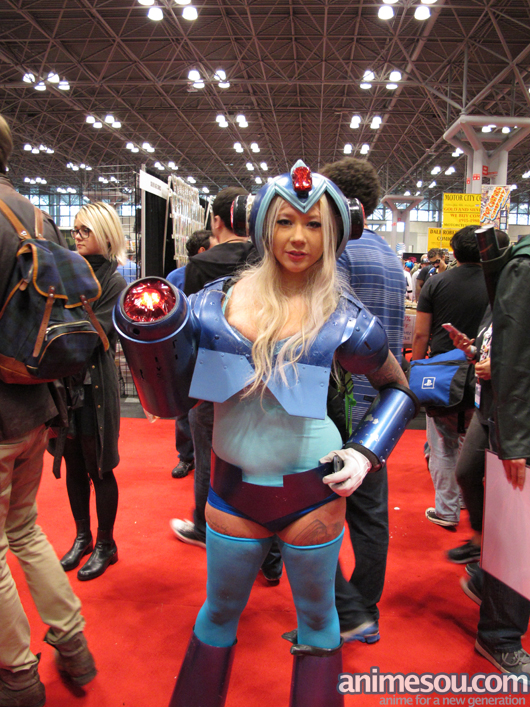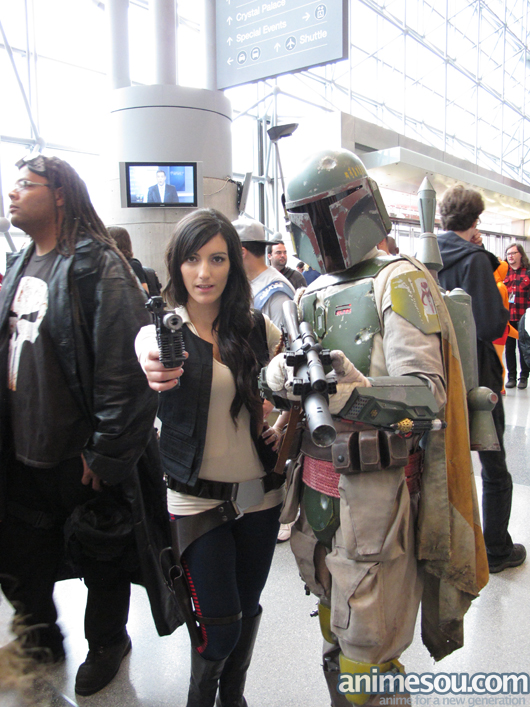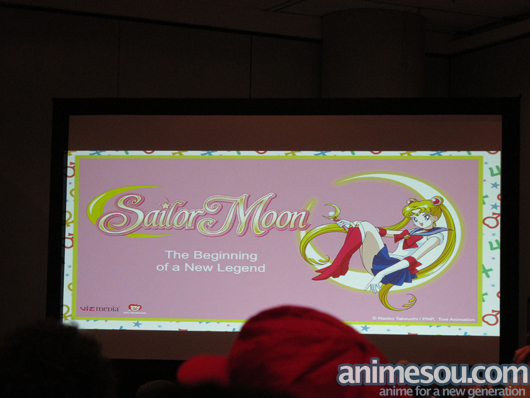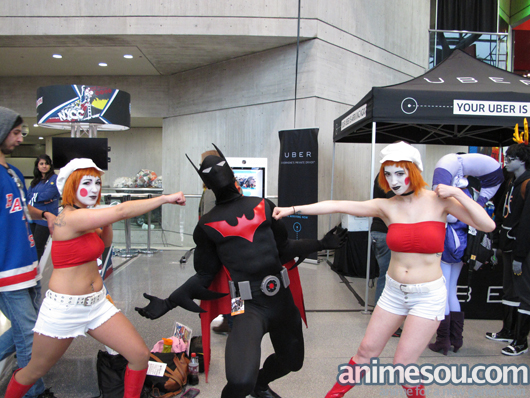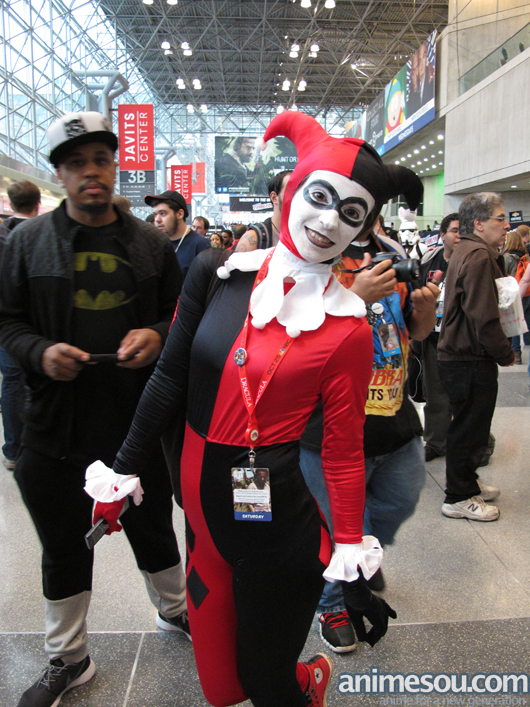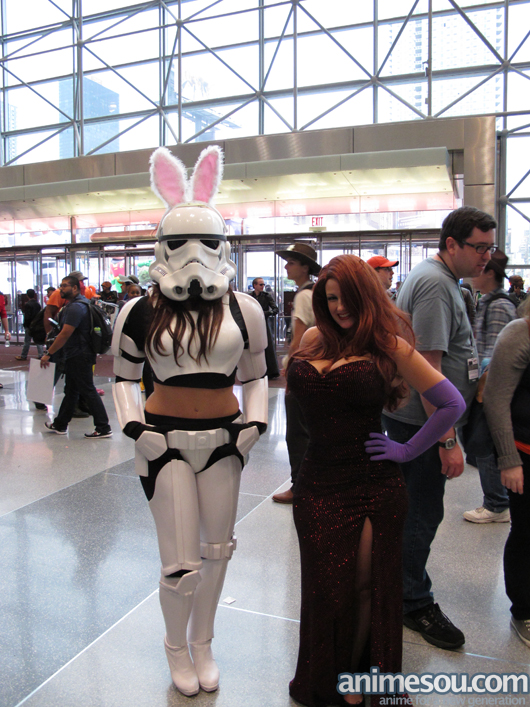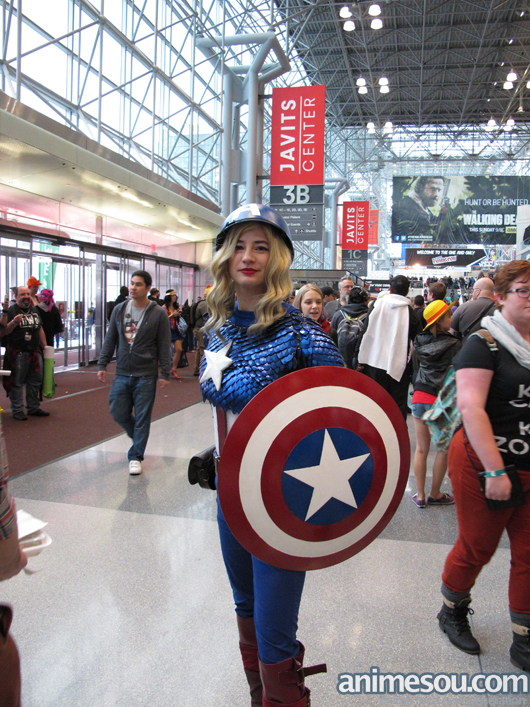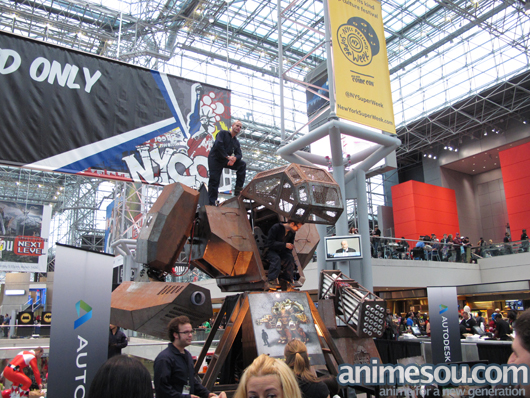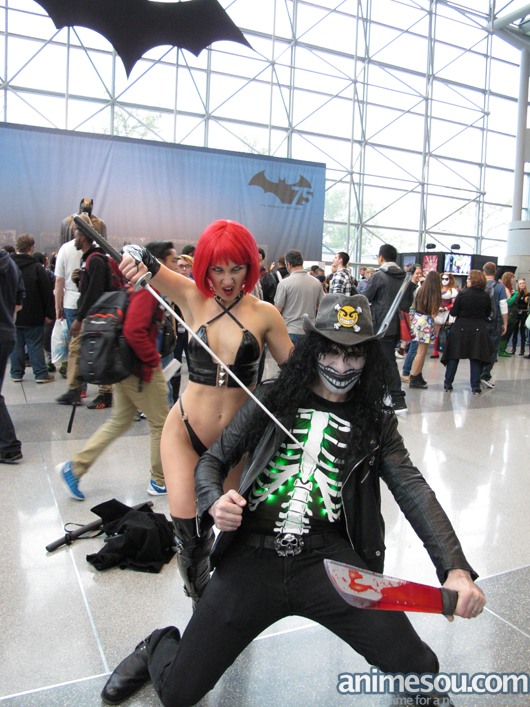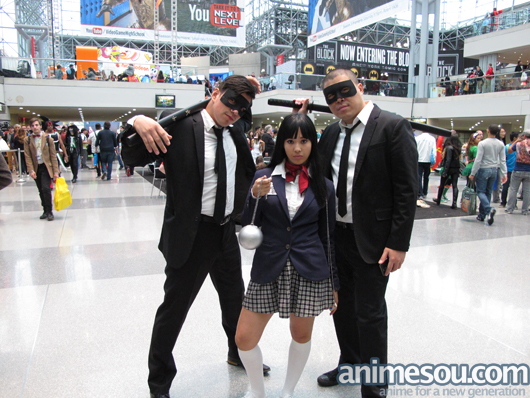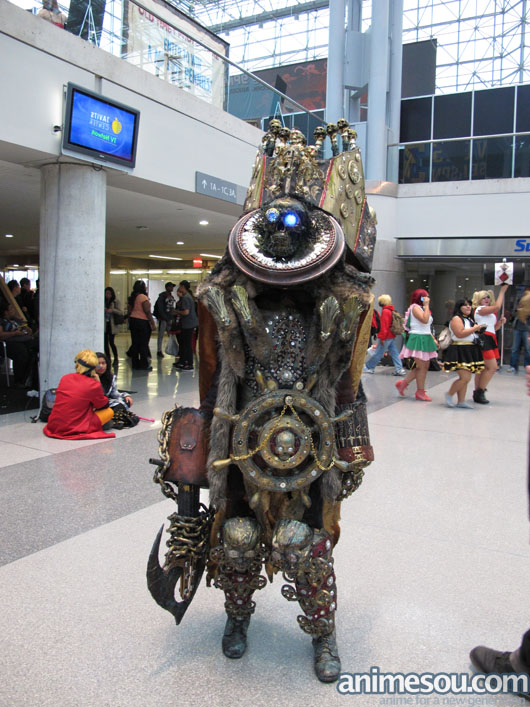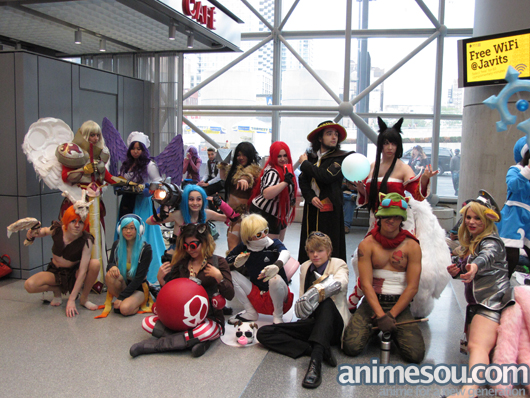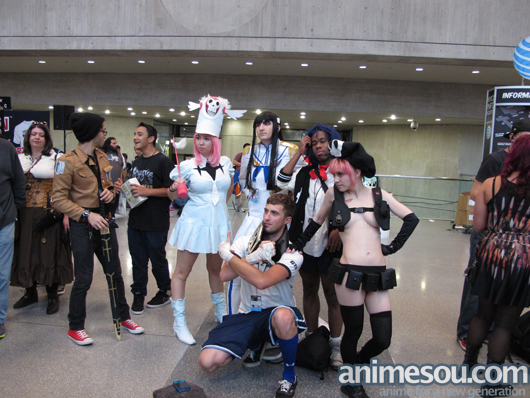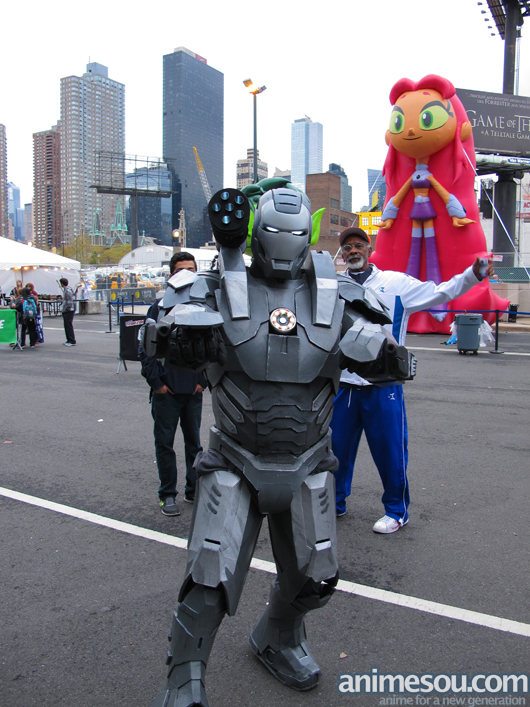 Some Issues That I Came Across:
In an event that is so for the fans, everything has to be all good and dandy right? Not really. While NYCC overall was great. There were some shortcomings. The staff was a bit unorganized, as experienced from my Viz Media Shounen Jump panel. The security was… like really? I know it would be dumb to have TSA style security, but if you are just going to do a lazy glance at people's bags, what is the point? There was another issue. Alcohol. In general, there were no raging drunks, but I came across a dude who was really hammered and he was still holding two drinks. Usually I just ignore these people, but an escalator was stopped and he was walking up the escalator slowly, tipping over left and right. I could tell from his face he was messed up, how is this dude still holding beer? Weird.
In Closing:
Again, I have to thank ReedPOP for allowing Animesou.com the chance to cover this event. I also have to thank them for managing this event. It is not easy and they do a great job at it. On a side note, it was nice to learn that Paris will have their own Comic Con in 2015. I have to thank Viz Media for inviting Takeshi Obata and crew and allow a chance for the fans in the States to show their love for his works. I also have to thank the vendors, the artists, and the fans for making this event even possible. Let's look forward to next year! October 8th - 11th, 2015!