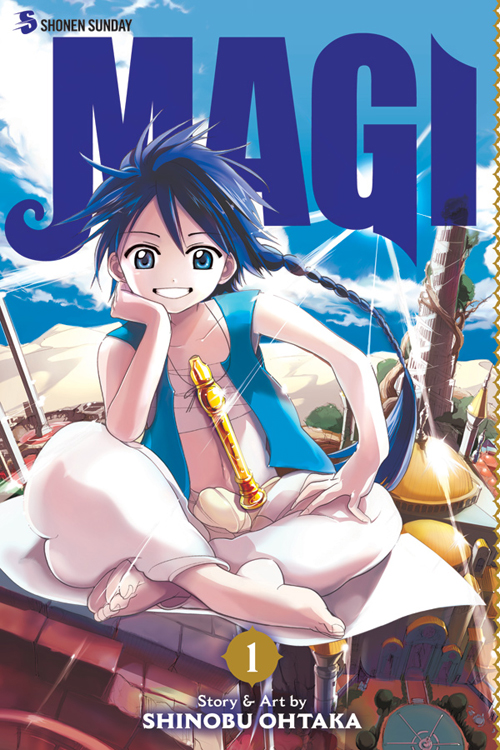 VIZ Media offers a captivating new reimagining of the classic story One Thousand and One Nights (also known as the Arabian Nights) with the debut of MAGI: THE LABYRINTH OF MAGIC, now available. The new series, by Shinobu Ohtaka, is rated 'T' for Teens, is published under the Shonen Sunday imprint, and carries an MSRP of $9.99 U.S. / $12.99 CAN.
MAGI: THE LABYRINTH OF MAGIC is also available digitally for $4.99 (U.S / CAN) from VIZManga.com and for digital download through the VIZ MANGA App for the Apple iPad®, iPhone® and iPod® touch, Android-powered smart phones, and also for NOOK tablets and devices.
Deep within the desert lie the mysterious Dungeons, vast stores of riches there for the taking by anyone lucky enough to find them and brave enough to venture into the depths from where few have ever returned. Plucky young adventurer Aladdin means to find the Dungeons and their riches, but Aladdin may be just as mysterious as the treasures he seeks.
"MAGI: THE LABYRINTH OF MAGIC is a enchanting mix of comedy, fantasy, and adventure, with dungeons full of treasures and deadly traps that hide mysterious magical beings," says Mike Montesa, Editor. "Aladdin and his trusty magical sidekick Ugo are in for the adventure of a lifetime as they journey across deadly deserts and exotic locales in search of fame, fortune, and destiny!"
Manga artist Shinobu Ohtaka is widely known for the creation of the manga series, Sumomomo Momomo. Her series, MAGI: THE LABYRINTH OF MAGIC, originally appeared in Japanese publisher Shogakukan's Shonen Sunday and continues to be featured in the magazine. The manga also inspired a popular anime series.
For more information on MAGI: THE LABYRINTH OF MAGIC, or other popular manga titles from VIZ Media's Shonen Sunday imprint, please visit: http://www.viz.com/shonen-sunday.