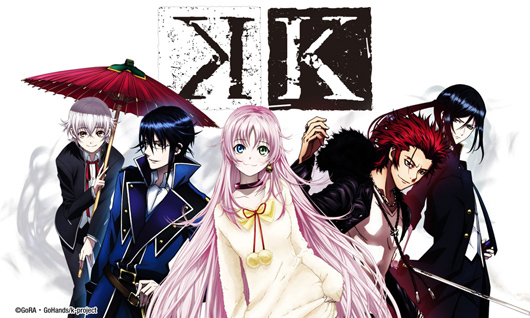 VIZ Media continues to expand its range of anime offerings for 2013 as it announces that it has become the North American master licensee for the anime series – K. VIZ Media will manage the domestic home video, television rights, and online rights and distribution, as well as oversee the licensing and development of a range of new products and collectables based on the property.
K was developed and produced by GoHands, the Japanese studio that also created the cyberpunk anime film series, Mardock Scramble and the enigmatic writers' collective GoRA Project. The highly detailed look of K's production and its intriguing story have made it of keen interest among legions of domestic fans ever since VIZ Media first debuted the series on its VIZAnime online streaming service back in October 2012 – on the same day it launched on Japanese TV.
K is set in a world where history has taken a slightly different course from the one we're familiar with and follows the story of a young boy whose life is caught in a supernatural war between seven kings. Yashiro Isana, also known as Shiro, is wanted for a crime he has no recollection of committing. He finds himself being hunted by the groups HOMRA, led by Mikoto Suoh, "The Red King," and SCEPTER 4, led by Reisi Munakata, "The Blue King." While on the run, another young man named Kuroh Yatogami helps him. Will this fated encounter change Shiro's life forever?
"K has garnered a fast-growing and fervent North American fan base and we are extremely excited to represent this property across all domestic categories," says Daisuke Aoki, Vice President, Animation Licensing. "VIZ Media has an unsurpassed track record of successfully developing anime properties for the North American market and we look forward to partnering with a variety of top manufacturers, agents and other businesses to make K a most-loved series among fans."
For more information on VIZ Media anime properties, please visit www.viz.com/anime.