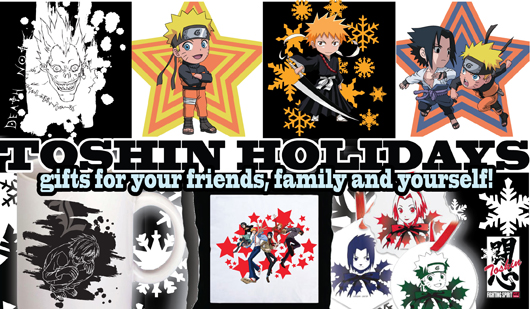 Today, CafePress, Inc. (Nasdaq:PRSS), The World's Customization EngineTM, and VIZ Media, LLC (VIZ Media), the largest publisher, distributor and licensor of anime and manga in North America, is announcing a partnership. The companies have come together to offer fans a curated selection of official and fan-designed merchandise incorporating VIZ Media's best-loved anime brands for lifestyle brand Toshin.
http://www.cafepress.com/+toshin+gifts
CafePress empowers shoppers to create, buy and sell, customized and personalized products online using the company's proprietary print-on-demand services and e-commerce platform. With this new relationship, CafePress will offer a range of Toshin products that feature characters from VIZ Media's NARUTO SHIPPUDEN, BLEACH and DEATH NOTE. VIZ Media currently features these series on VIZAnime.com (a website for free anime) and on Neon Alley (a 24/7 anime channel).
The lifestyle brand Toshin, meaning "fighting spirit" in Japanese, will have its most popular warriors prominently featured on a robust line of highly customizable gear, including t-shirts and hoodies, and accessories, such as cell phone and iPad cases. In addition, fans will be able to create unique Toshin products by choosing from a selection of backgrounds that can be combined and integrated with their favorite full-color character artwork. Consumers can access and download a range of artwork to create fan designs directly from each anime brand store:
• Design your own Naruto Gear!
• Design your own Bleach Gear!
• Design your own Death Note Gear!
"Fan's of anime and manga have been waiting eagerly for a way to showcase their devotion to the VIZ media anime brands. This partnership gives anime enthusiasts never-before-seen access to original artwork they can use to create truly unique designs," says Ty Simpson, VP of Business Development for CafePress. "That artistic freedom, combined with the state-of-the art print-on-demand services offered at CafePress, really offers a remarkable degree of flexibility to this devoted fan base."
"This is an innovative, first-of-its-kind partnership that will allow anime fans a whole new way to create an array of customizable apparel and accessories. We will be working closely with CafePress to develop a complete line of on-demand products featuring a variety of popular characters from several most-loved VIZ Media anime properties," says Daisuke Aoki, Vice President, Animation Licensing, VIZ Media. "We know anime and manga fans love to demonstrate their passion for their favorite shows and characters and with the Toshin brand. On CafePress, they now have the ability to channel their creativity and enthusiasm in a whole new way."
For more information on Toshin.
For more information on CafePress.