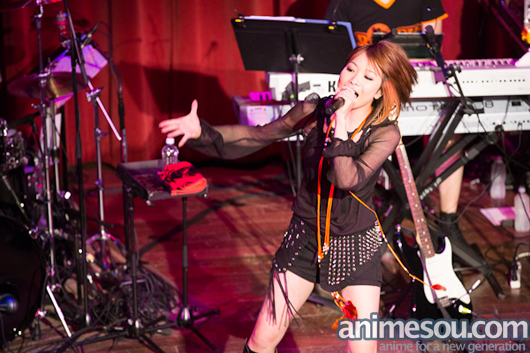 May'n (real name Mei Nakabayashi) is most well known as the singing voice of Macross Frontier's Sheryl Nome and in recent years has provided songs for various anime series as well as releasing a few solo studio albums. Her ROCK YOUR BEATS world tour started in May and spans most of the year. It ends on October 20, one day shy of her 23rd birthday. It has been my opinion that if a guest comes to the U.S. and you want to see them, you'd better find a way to get there. You have no idea when is the next time they'll come from Japan, if ever. This was what drove me to Anime Expo in 2010 to see May'n the first time. For American fans who weren't able to make their way to Los Angeles two years ago, this and the Key Club show in LA were a second and third chance to rectify their mistakes. I arrived at the venue at approximately 1PM, not really sure what to expect. How big would the crowd be? Would HoriPro's gamble for the U.S. fanbase pay off? The line going out the door gave a clear answer. It wrapped around the building and continued to the corner on the next street. Today's tour stop in San Francisco, it was a special Saturday afternoon show and the sun was shining. Given the weather in days previous that were cold with wind and occasional bouts of rain, it was a great change of pace. I ran into familiar faces who came not only from California but as far as the east coast. May'n had clearly brought her fans out. The venue of choice, Yoshi's, is normally a combination jazz club and restaurant. The primary performance area is composed of two floors (two and a half if you want to call it that) with tables and booths ringing the stage. On the ground floor the tables going back are slightly raised to allow for clear angles and this is also true for the upper floor. As soon as the doors opened excited fans rushed the stage and packed themselves as close as possible. Others preferring a more laid-back experience chose a table to get comfortable in the back. The venue itself contrasts with those May'n has played in before; it's a much smaller, closer, more intimate experience where you get the feeling that you can reach out and touch her. You have the sense that she is really in front of you in the same room. If you've seen some of her other concert footage they have taken place in large arenas that hold thousands like the Budokan or Nokia Theater. For me this is a much better experience. The show started a few minutes past 2:30PM with "HEAT of the moment" and went on for almost two hours.  The set list included a mixture of songs primarily from her anime offerings as well as from her newest album, HEAT, and previous albums "If you…" and "Styles." Eien and Lion helped represented Macross Frontier (no Universal Bunny, sadly. Color me jealous of the other concerts which did include it!) with Aria the Scarlet Ammo's Scarlet Ballet also coming into play. Besides the titular "HEAT of the moment," "GET TOUGH," "DOLCE," and "Giant Step" were some of the songs from HEAT. "Ready Go!," "HERO," and "Kimi Shini Tamou Koto Nakare" were from her earlier albums. May'n mentioned that she had been contemplating song selection up until the very start of her tour. The resulting set has high-speed songs to get the crowd going and slower-paced songs to bring them back down to earth.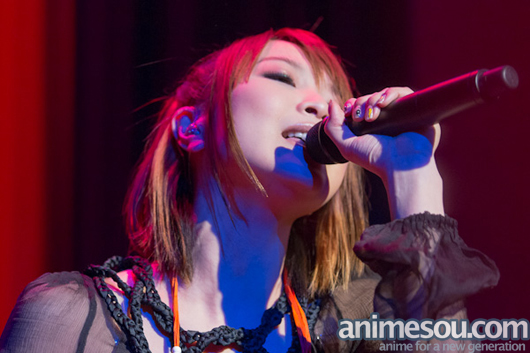 One thing of note is that May'n has really been practicing her English. She did most of her MCing in English and was even able to converse with the crowd. This definitely came in handy for the call/response explanation of "Smile:D" (the second song on the Scarlet Ballet single) in which May'n got the crowd involved with a variety of fun motions during the song. During one MC section May'n explained that she wanted to see some of the locations featured in Macross Frontier like Powell Street as well as ride a cable car. I don't know if that had any contribution to the decision to hold a show in San Francisco but if it did, I'm grateful for it. During another MC section she explained her desire to deliver songs to every person in each place and country she goes. The "Phonic Nation," if you would (one of the songs from her second album, "If you…"). Through music we are all brought together. English, Japanese, it matters not. Melody and emotion are all universal. That is what ROCK YOUR BEATS is about at its core. The final song of the main set proved to be Diamond Crevasse. At Anime Expo, May'n had answered that this was her favorite song out of all of those she recorded for Macross Frontier. It is a song about love, goodbyes, and hope. May'n's voice filled the room and commanded a sense of calm. The previously energetic crowd was universally quiet as they listened in awe.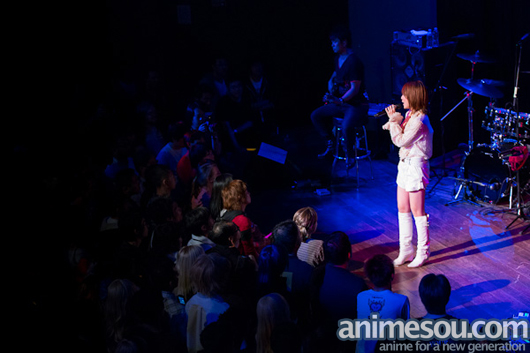 After a short break and many calls for an encore May'n returned. She brought the show backed to its high-tempo pace with "Brain Diver" (from Phi Brain), "Number One," and ended with her newest, "Chase the World" (from Accel World). May'n then introduced her backing band and went as far as waving good bye and saying thank you to everyone in the audience one by one. It's a simple gesture that can mean so much to fans that more artists should partake in. We were also officially inducted as "buin" (club members) as counterpart to May'n's position as "Buchou" (club leader - her nickname).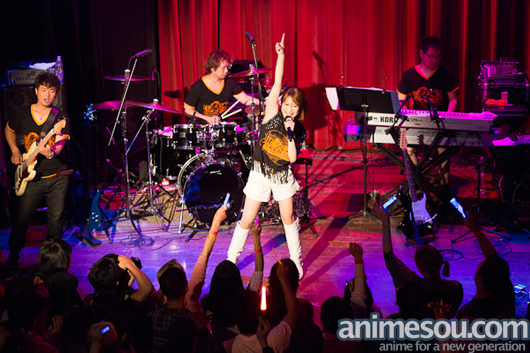 VIP ticket holders lined up for the post-concert meet and greet. May'n greeted smiling fans with handshakes and her stylistic autograph. The line cycled quite quickly. Perhaps next time May'n's ever-growing knowledge of English will allow her to fluently speak with her American fans. Or perhaps next time more of us will have a working knowledge of Japanese, haha. For those unable to attend Anime Expo in 2010 (or were unable to secure an autograph there) this was a valuable opportunity and in a way makes that $100 ticket all worthwhile. As someone who went through the war that was Anime Expo's autograph sessions that year, let me tell you, the premium today is a small price to pay for a guaranteed autograph.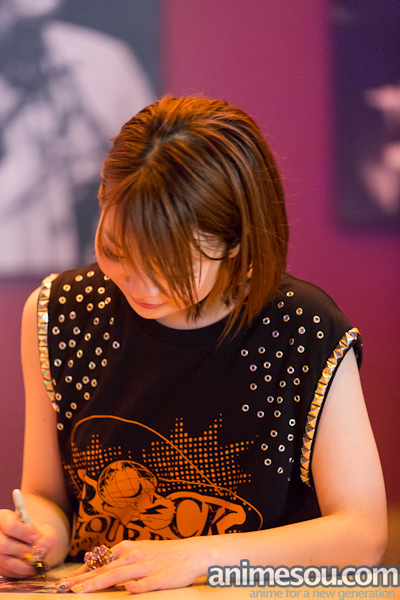 All in all, it was a great day. I even saw a few Sheryl cosplayers (did I mention she's one of my favorite characters?). The one negative I can say is the merchandise prices. $67 for a tour shirt (originally priced at 3500 yen). Ouch. I still bought it, but it hurt a little. In a few days May'n will continue her international tour in Beijing. This will be her third show of the tour in China and after this and the Shanghai stop a couple of days later will close out the international leg for July. Her next international stops will be in Germany and France followed by South Korea and Hong Kong in September. For reference, here's the list of overseas stops both past, present, and future. June 21 - Key Club (Los Angeles)
June 23 - Yoshi's (San Francisco)
July 6 - Huamei Zixin International Theater Chengdu (China)
July 8 - Hangzhou Redstar Theater (China)
July 27 - Beijing MasterCard Center (China)
July 29 - Shanghai Luwan Stadium (China)
September 7 - Zeche Bochum (Germany)
September 8 - Le Divan du Monde Paris (France)
September 16 - Mapo Art Center Seoul (South Korea)
September 23 - Kowloon International Exhibition Center (Hong Kong) May'n closed out the show by saying she would definitely be returning to San Francisco. I'll be waiting. HoriPro: I hope you got America's message. We want more. A big thanks to HoriPro and RESONANCE for this opportunity.