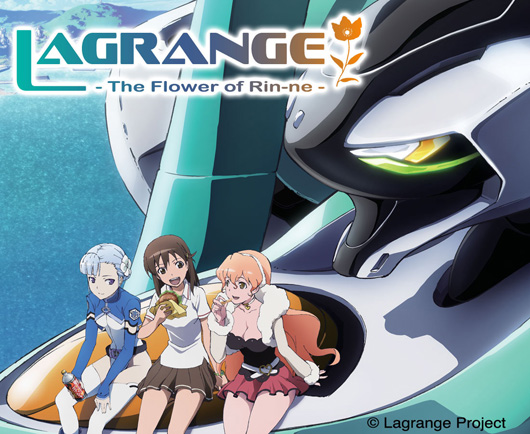 VIZ Media, LLC (VIZ Media), the largest distributor and licensor of anime and manga in North America, excites anime fans with the announcement of the U.S. online simulcast premiere of the brand new series, LAGRANGE – THE FLOWER OF RIN-NE, on VIZAnime.com, the company's own website for free anime, as well as on the free, ad-supported Hulu service and in high-definition on the Hulu Plus subscription service. The first episode (subtitled) is available now with new installments scheduled to debut each Sunday!
In addition, Kazé SAS will be the official partner in the United Kingdom for the simulcast of LAGRANGE - THE FLOWER OF RIN-NE. Episode 1 is now available on www.anime-on-demand.com, with new episodes debuting every Sunday.
LAGRANGE – THE FLOWER OF RIN-NE just launched on Japanese television on January 8th, and is produced by Studio XEBEC (Broken Blade, Martian Successor Nadesico, Fafner), created by the famed animation studio, Production I.G. (Ghost in the Shell S.A.C Sengoku Basara: Samurai Kings), and directed by Tatsuo Sato (Martian Successor Nadesico, Ninja Scroll: The Series, Stellvia). The robots are designed in collaboration with Nissan Motor Co., LTD's creative team, chosen from more than 60 designs from an internal Nissan design competition.
LAGRANGE – THE FLOWER OF RIN-NE (Rated TV-MA) depicts the adventures of a 17 year-old girl whose mission becomes to defend her city from invading space aliens. Madoka Kyono is an energetic girl who is full of passion. As the proud, and only, member of the Kamogawa Girls' High School Jersey Club, she goes around helping people in need. But Madoka's life is turned upside down when she is suddenly asked by a mysterious girl named Lan to pilot a robot. Motivated by her desire to protect the people and city of Kamogawa, Madoka agrees to pilot the resurrected Vox robot to fight against extraterrestrials that have come to attack Earth.
"LAGRANGE – THE FLOWER OF RIN-NE is a hilarious, action-packed story about a determined teenager that devotes herself to protecting Kamagawa City and its peaceful inhabitants against mysterious alien invaders," says Brian Ige, Vice President, Animation. "The story features a stylish cast of lead characters, as well as an arsenal of sleek, battle ready robots conceived by a team of top car designers from Nissan Motors. The series plays an important part of our 2012 roster which will deliver near-simultaneous release of many top anime properties throughout the year."
VIZAnime.com is a free-to-use web destination that is now the permanent home to some of the company's best-loved animated series. Over 1,800 episodes are currently available, and new content is added on a weekly basis. Series currently simulcast on VIZAnime.com include TIGER & BUNNY, BLUE EXORCIST, NARUTO SHIPPUDEN and BLEACH. Other fan-favorite series available include CROSS GAME, DEATH NOTE, FULL MOON, INUYASHA: THE FINAL ACT, KEKKAISHI, NAOKI URASAWA'S MONSTER, NURA: RISE OF THE YOKAI CLAN, ONE PIECE, VAMPIRE KNIGHT, and more!
For more information on LAGRANGE – THE FLOWER OF RIN-NE and other VIZ Media anime titles, please visit www.VIZAnime.com.