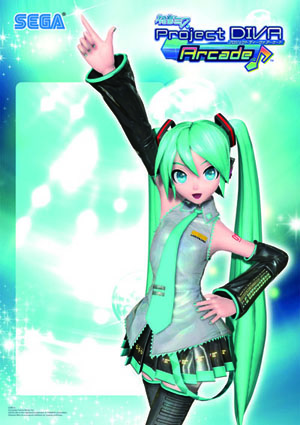 NEW PEOPLE, San Francisco's dynamic entertainment destination showcasing the latest examples of Japanese popular culture, teams with SEGA Corporation to bring the "Hatsune Miku Project DIVA Arcade" to the 2011 J-Pop Summit Festival, taking place in the city's Japantown for two days – Saturday and Sunday, August 27th and 28th.
"Hatsune Miku Project DIVA Arcade" is being shipped from Japan as a special treat for J-Pop Summit attendees and is the first and only unit outside Japan, Taiwan, Hong Kong and Singapore. Players will be able to purchase $1.00 tickets to play the game at the NEW PEOPLE Booth stationed on Post Street throughout the Festival. Ticket sales begin at 11:00am on Saturday. August 27th. Due to time limits, only 50 tickets will be available for purchase each day.
J-Pop Summit attendees are also invited to play "Hatsune Miku Project DIVA Arcade" – for free – at the J-Pop Summit VIP party, taking place Saturday August 27th from 7:30pm to 10:00pm at NEW PEOPLE. Come mingle with a variety of featured artists and performers from the Festival, enjoy snacks and beverages, and try your skill at the first-ever Hatsune Miku video game to come to America! Get your VIP Party ticket now.
The weekend-long J-Pop Summit is highlighted by live bands and DJs, fashion shows, a Vocaloid music conference, several theatrical film premieres, dance workshops and performances, and assorted arts, crafts and food vendors. Full details and programming schedules are now available at J-pop.com.
"Hatsune Miku Project DIVA Arcade" is the first-ever CGM (Consumer Generated Media) arcade game and features a dazzling digital world created by the players themselves. "Hatsune Miku Project DIVA Arcade" is a rhythm game featuring Hatsune Miku and other Vocaloid virtual pop stars singing popular songs from SEGA's "Hatsune Miku -Project DIVA-" game for the Sony PSP, and from the Niko Niko Douga web site. Check out how to play.
Hatsune Miku, whose name means, "first sound of the future," is a digital female avatar and the most popular of the Vocaloid Character Series software originally created by Crypton Future Media using Yamaha's Vocaloid 2 engine to create synthesized vocal tracks. In Japan, Hatsune Miku is a major national phenomenon where she appears in many popular video games and music videos.
Hatsune Miku has also played several sellout "concerts," performing on stage as a 3D hologram backed by a live band. Her international notoriety has spread to North America, where she was recently featured in a TV commercial for the 2011 Toyota Corolla. Hatsune Miku also performed her first U.S. concert for more than 5,000 people at an event called "MIKUNOPOLIS in LOS ANGELES," which took place at the 2011 Anime Expo in Los Angeles, CA.
NEW PEOPLE opened in 2009 and has become a unique must-see attraction of San Francisco's cultural landscape. The 20,000 square foot contemporary venue features the latest examples Japanese popular culture expressed though film, art, fashion, and a variety of specialty boutiques and ongoing monthly events. NEW PEOPLE is located at 1746 Post Street in the city's Japantown.