Written By: Brian Lee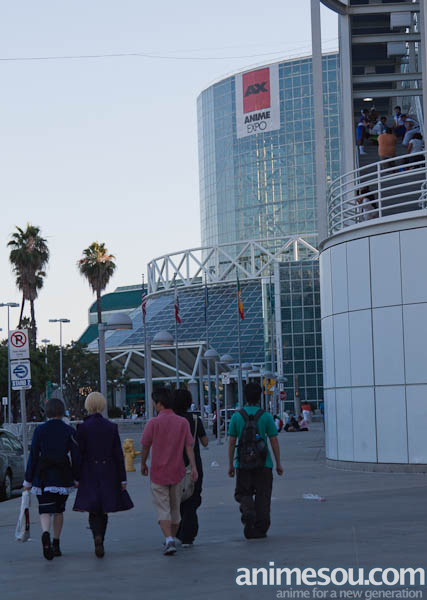 It's hard to believe that Anime Expo held its twentieth anniversary this past Independence Day weekend but that's how it is. This year marked its fourth year in downtown Los Angeles after previously being in Long Beach and Anaheim. Right next to the convention center is Nokia Theater and LA Live, a collection of restaurants, eateries, and clubs. Anime Expo utilized both Nokia Theater and Club Nokia for a few of their special events that needed a little extra room. This is the biggest anime, manga, and Japanese culture convention in the United States and they showed that off.


KALAFINA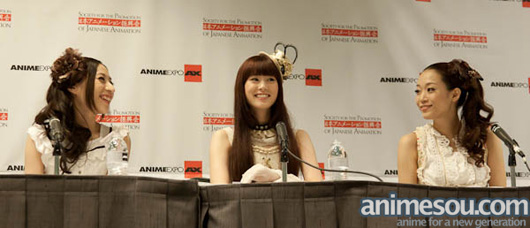 The first major panel of the convention for a lot of attendees was the singing group Kalafina, most recently known for "Magia," the ending theme of the anime Puella Magi Madoka Magica. They are backed by veteran composer Yuki Kajiura who is responsible for the production of their music as well as Madoka and many other franchises. Kalafina is also well received for the Kuroshitsuji (Black Butler) ending "Lacrimosa" and the many vocals of TYPEMOON's Kara no Kyoukai, their original raison d'etre. They have released two albums, Seventh Heaven, which compiled many of their anime related songs, and Red Moon, a largely original affair. A third album is set for release later this year.
Kalafina's center personality is Keiko Kubota and to her left she was flanked by Wakana Otaki and to her right, Hikaru Masai. Each member would take turns answering questions. Some were about their music, others their style, others their previous musical experience. One of Kalafina's high points for me, besides being backed by Yuki Kajiura, is their clothing. Keiko mentioned that each song has a theme and their costume is loosely based on that. Sometimes the image is determined after the song is written; other times there are specific storyboards that help determine this image but whatever the case, it makes for a great visual.
This weekend was special in that July 2nd, the day of Kalafina's concert, is also Hikaru's 24th birthday. The panel ended with everyone in attendance singing "Happy Birthday to You."
Kalafina's concert was held in Club Nokia on Saturday evening and was one of two concerts for the year to be sold out. Downstairs was standing room only and packed wall to wall. Upstairs had stadium seating that allowed for a good view no matter where you were and monitors that mixed concert video with anime footage supplemented this. Being Anime Expo, the set list was full of songs from Kara no Kyoukai, Kuroshitsuji, and Puella Magi Madoka Magica. When they started "Magia" the whole room seemed like it exploded and "oblivious" garnered a strong reaction from TYPE-MOON fans. A couple songs from Eve no Jikan and Sora no Woto closed the night. At the end of the concert they took a group photo. Perhaps we'll be seeing a DVD later on?


MIYUKI SAWASHIRO
Miyuki Sawashiro, one of NIS America's seiyuu guests, was another draw and her panel was held in the spacious Petree Hall. Her first major role was Puchiko from Di Gi Charat in the late 90s and she has been the voice of characters like Mint from Galaxy Angel and Saeko Busujima from Highschool of the Dead. Earlier this year NIS America announced the license of the anime Arakawa Under the Bridge and Miss Sawashiro, as the voice of the character Maria, was there as part of its retail push.
One thing visitors of Petree Hall would be seeing a lot of was Danny Choo as host and sometimes translator for any events held within. He began by getting the crowd to yell "Miyuki Sawashiro!" and she entered wearing a kimono. Banter between the two revealed the origin of her English skills as a combination of college studies and home stay. Format for the panel was a question and answer with previously submitted questions and when these ran out, audience ones. These included ones about why she got into the industry as a seiyuu, some of her favorite roles, her thoughts about a few of the people she's worked with, and even requests for her to say lines like Cammy's "spin drive crusher" from Street Fighter 4.
She expressed a deep amount of respect for Maaya Sakamoto, who she worked with on Arakawa Under the Bridge and went as far as always making sure to sit behind her as a sign of that. Sakamoto exhibited an aura of being a reliable senpai and was always comfortable to talk to. When asked about how working with Katsuyuki Konishi was (on Beelzebub), Miyuki mentioned how he would always prepare the script and place it on her seat ahead of time. It's something a little interesting considering the fact that Miyuki plays the role of Baby Beel, a character that communicates largely with baby sounds.
Miyuki mentioned that she would like to further study English. For the moment she only speaks English "when she wants to order a hamburger."


HATSUNE MIKU/VOCALOID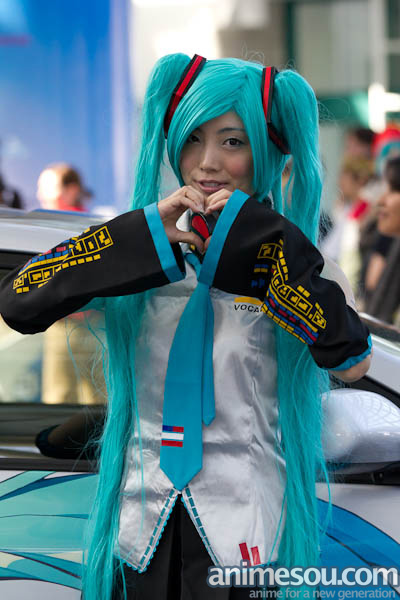 Miku Hatsune is growing at a frighteningly fast pace both online and in real life. Both Crypton and Toyota have begun huge pushes in America in order to expose more and more people to the Vocaloid craze that has swept Japan. In the main lobby of the Los Angeles Convention Center's south hall was a Toyota Corolla which you may have also seen in Toyota commercials featuring Miku on television stations as well as on Youtube.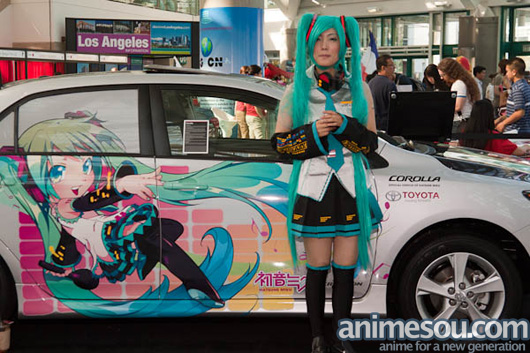 The first inklings of the official American Miku rush were last year at San Francisco's New People theater in which they held screenings of the 39's Giving Day concert of 2010. Anime Expo would be where they really drew lines in the sand. The Miku Keynote, held on Friday in Petree Hall, outlined their plans for the rest of Anime Expo. Danny Choo acted as MC and called out the guests by getting the audience into things with the phrase "Miku-san, maji tenshi!" which translates roughly to "Miku-san is a real angel!" Hiroyuki Itou, President of Crypton Future Media, and Toshihiro Fukuoka, Chief Executive Editor of ASCII Weekly Magazine and editor of Tokyo Kawaii Magazine, provided the meat of the keynote.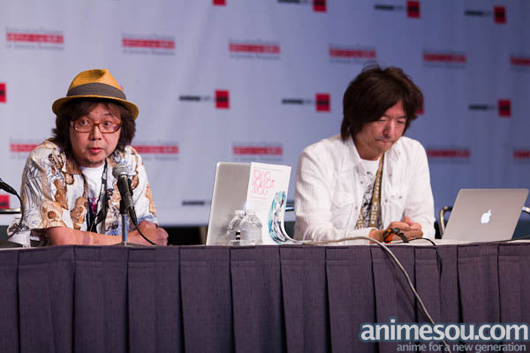 Toshihiro Fukuoka and Hiroyuki Itou
For our readers who don't know, Vocaloid most often refers to the voice synthesizer software developed by Yamaha and Crypton. A series of characters and designs were assigned to the voice banks in order to improve their appeal. The Vocaloid 2 series consists of Miku Hatsune, Rin and Len Kagamine, and Luka Megurine. Legacy vocaloids like Meiko and Kaito are seen as older siblings to the Vocaloid 2 characters. Each has a different theme and voice.
The main appeal of Vocaloid is the creative aspect of it. Musicians and composers without a singer can utilize Vocaloid to fill in that blank. In fact this is what one music producer had in mind when his band broke up and he wanted to see if he, with the assistance of Miku, could do it all himself. Sometimes this only results in songs. Other times another artist will take that song and create a video to go with it and then share it on Niconico or Youtube. This can either be accomplished with traditional video and 3D software suites or with MMD, MikuMikuDance, and a freeware 3D animation program. This was made specifically for Vocaloid where different models are imported and animated to music. Traditional artists contribute through drawing art either original or based on existing videos/songs and uploading to websites like Pixiv or piapro, Crypton's own purpose-built Vocaloid website. Sometimes all three occur at the same time and music, design, and video are coordinated by a group. This whole cooperative structure has helped grow Vocaloid into the phenomenon it is today. A search survey done by Crypton revealed that Nico Nico had approximately 93,000 Vocaloid videos with Youtube having almost four times that number at 366,000.
The first order of the keynote was to outline the Vocaloid push for Anime Expo. Friday's keynote would be followed by a MMD workshop and the day after would have a Miku Conference. A dance competition would be held on Sunday with a Sapporo Snow Festival Miku nendoroid the prize. A merchandise booth with all manner of items from shirts to DVDs to figures was setup in the Exhibit Hall to sustain attendee's desires to buy including a collaboration effort between Sanrio and Crypton, Miku Kitty. A portion of the rest of the keynote was an introduction to the many Vocaloid 2 characters that most benefited people new to the scene but I doubt the audience required that.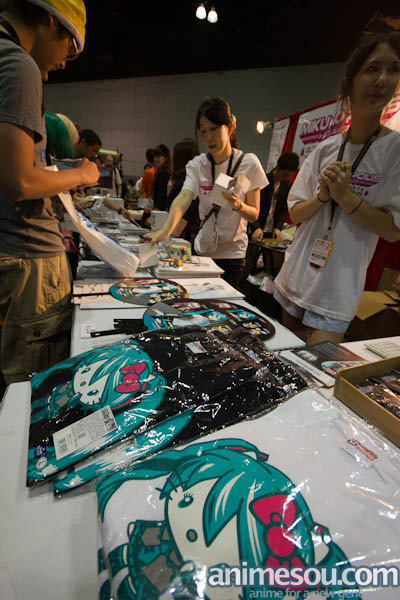 Miku Kitty!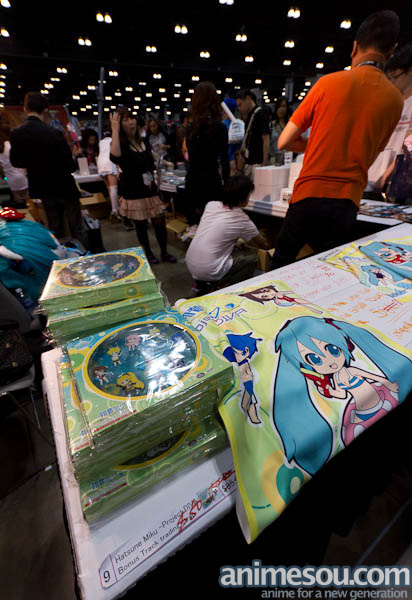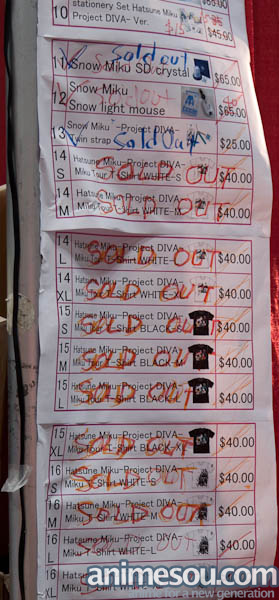 Monday showed that the Miku booth proved quite popular over the weekend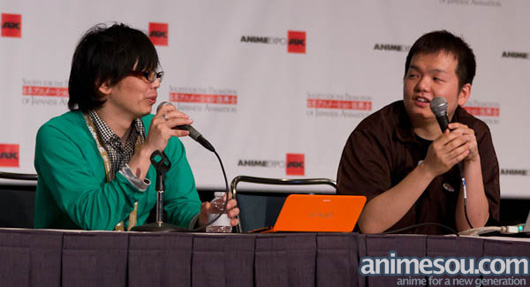 Saturday's Miku Conference was more of a behind the scenes talk. Crypton's marketing director Wataru Sasaki was accompanied by Onyx Kobayashi, a producer and composer of Vocaloid songs. They revealed some of the things running through their heads throughout the rise of Vocaloid till now.
Onyx remarked that when in Japan he can't really tell what the rest of the world is thinking about Vocaloid so it was good to come to America for this event. A large portion of the Japanese audience raised their hands when queried about whether they had tried to use Vocaloid. The English speaking contingent was in the minority. Sasaki would respond with "Well, maybe that's because we don't have an official U.S. version yet." He followed by saying that an English version will definitely be released "(because) we've spent a lot of time and money on it already and if it isn't then I'll get yelled at (laugh)." Originally their goal was for 39,390 fans on the official Miku Facebook page (they're currently up to 224,000) before considering an English version.
Will Miku in English have as much an impact in America as it did in Japan? "I would love to see Vocaloid chase Lady Gaga!" says Onyx. Considering how popular Lady Gaga is in Japan as well as the rest of the world, those are big words. But the success of Vocaloid in English lies entirely on how Miku is received and used by fans. Japan's anime community has much more practice at this sort of thing thanks to all the amateur music composition both original and derivative that has been driven by their doujinshi movement over the past few decades. The English community has a much smaller number of these fan composers, DJs, and remixers. However, only time will tell whether English Vocaloid is a spectacular failure or the cause of a creative revival.
The biggest event of the convention was the Saturday concert. This would be the first time that Miku has performed live outside of Japan. Previously two concerts, fittingly on March 9th (mi can be read a 3, ku as 9), have been held for the past two years in Japan and they have been quite successful. The same success would be shared with Anime Expo and this is the first time in all the years that the convention has been in Los Angeles that the entirety of the 7,000-odd seats of Nokia Theater were sold out. At first only the central portion would be utilized in order for the projection screen to be seen at its best. Technical limitations meant the Miku hologram becomes invisible to certain viewing angles depending on its location. A Japanese travel tour created specifically for this event allocated much of this center block leaving the rest for domestic consumption. Sales of the remaining tickets went quickly and since demand remained high the other areas of the theater were opened with online presales sold out as early as May. The very final sales would go on at the convention itself but for seats on the edges of the theater that faced the technical problems outlined above.
The twenty-four song affair had a live backing band performing alongside Miku and would go on for approximately an hour and a half and was full of dedicated fans waving glowsticks and enjoying some of their favorite songs like "World is Mine," "Saihate," and an English version of "PoPiPo." In the later parts of the concert Miku's fellow Vocaloids Len and Rin Kagamine as well as Luka Megurine would appear and sing a couple of their own songs. Noticeably absent was "melt," a song that had featured in the previous Miku concerts.
Currently a competition is going on to design "U.S. Miku" which will culminate in this year's San Francisco Japantown J-Pop Summit in late August. Heads up: they're using kickstarter to help fund the event and pledges of $20 and $100 will get you a Hatsune Miku x Hello Kitty J-Pop Summit Festival 2011 Edition USB card and entry to the VIP party. $100 also gets you photo opportunities and an autograph session with guests from Japan in addition to VIP entry ($20 gets you the general entry).


MAON KUROSAKI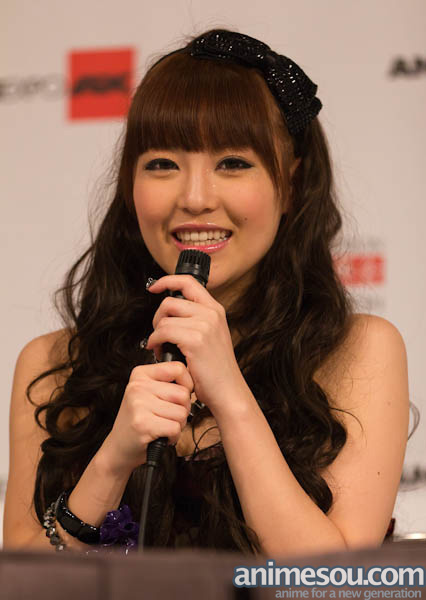 A relative newcomer to the anime scene is the vocalist Maon Kurosaki. Her debut work was for last year's anime Highschool of the Dead in which she released an album of twelve songs, each the ending theme of a different episode. She begin a few years ago at Dearstage which is a combination otaku-friendly cafe, club, and idol/singer training grounds held in the heart of Akihabara. Geneon producer Mitsutoshi Ogura chose Maon to be the singer of HOTD and she was set for a three month rush to create all twelve songs. Maon recalls that "sometimes I couldn't stop crying… I feel like I really grew in those months." More recently she contributed to the two ending themes of To Aru Majutsu no Index II. For Magic ‡world she was, as a fan of the light novels, tapped to write the lyrics and helped create the PV that she based partially on her own life. Maon described herself as a hikikomori who wanted to sing but couldn't make that step. People cheered for her and finally she was able to transform into the girl she is now. She loves cosplay, anime, and games and wanted to show that in the PV. Near the end of the panel was the revelation of a rock song called "SCARS" set to be used in Hellsing OVA IX.
Sunday's concert was listed as being an hour long and was the shortest of Anime Expo's four ticketed concerts. It was still enjoyable and the crowd loved it. Her HOTD album provided the bulk of the performance with the two To Aru Majutsu no Index II songs also coming up. Midway through the set she sang SCARS, the Hellsing OVA song revealed the day before, for the first time live. By the end of the concert the audience called for the customary encore and Maon, throat feeling a little down, came out to explain that as much as she wanted to sing she physically couldn't. She made up for this on Monday with an impromptu three-hour long autograph session, sickness or not.
Later this year Maon will be releasing a mini-album of songs for the OVA Hakuoki, another series she is a fan of. She will also be participating in August's Animelo Summer Live 2011 concerts alongside names like May'n, Yui Horie, and Nana Mizuki among others.
Her main message for everyone in the audience: "If you can believe, wishes come true. You can change yourself for the better. You are who you are so don't hide it (because that makes you uncool) (laugh)."


GOOD SMILE COMPANY/NITRO+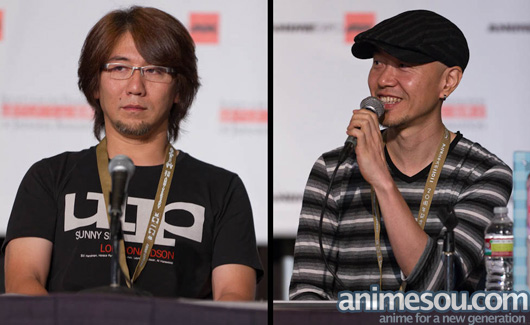 Takanori Aki and Taiki Kosaka
Good Smile Company x Nitro+ was not only a panel for fans of figures but also one for people who wanted to know a little about the philosophy behind both companies. Held in Petree Hall it consisted of MC Danny Choo, Good Smile Company's Takanori Aki, and, Nitro+'s Taiki Kosaka. Each of these three have attended previous Anime Expos with Kosaka having made his first visit back when Long Beach was the place of choice. Aki had actually just a few days earlier been at France's Japan Expo but decided to make the trip to Los Angeles. He remarked how fans in America knew much more about current titles airing in Japan and how there were more cosplayers here.
Aki recounted the history of Good Smile Company and how it began as a talent agency for seiyuu. It failed miserably and he knew that they had to change. He was friends with sculpting and figure production group Max Factory and thought they were one of the best but wondered how well they could continue business-wise and wanted to assist. One thing led to another and now you have GSC in its tenth year of figures. His first job was at Konami in sales where he was tasked to help sell Tokimeki Memorial, one of the first bishoujo games, to stores. At this time no one was sure such a thing would sell. When asked how he made sales work he said, "I had to think that what I was selling was the best in the store." But he also came to think, "Is what the company making what the user likes and enjoys?" That question has stayed with him till this day and helps drive him in his efforts. As a creator he says that sometimes you get really into your work and sometimes a divide forms between fan and creator. He tries to keep things in balance at Good Smile to avoid such a damaging event.
Somewhat related to the whole Vocaloid-push theme of Anime Expo we come to Good Smile Company's Black Rock Shooter. It started as music composed by supercell (with Miku on vocals) and creative design by the artist huke and a PV to go with it but with time its popularity grew to the point to where GSC picked it up for major release. An OVA, figures, and soon enough a PSP game are the products of that. The opening trailer for the game was shown, set to the song "no scared" by the hardcore band ONE OK ROCK. Aki had brought with him quite a number of figures to be given away to the crowd but this would have to wait.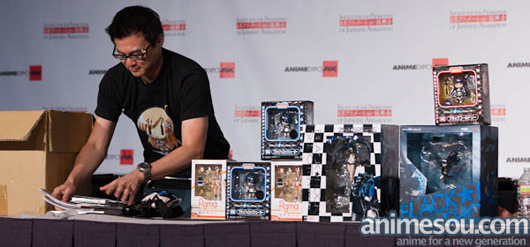 Cheerful Japan is a charity project headed by Good Smile Company to help raise funds for the ongoing recovery of the Sendai area that was hit by the massive 9.0 earthquake in early March. So far it has raised approximately $900,000 and with the planned once per month release of a variety of figures aims to bring much more. The first release, a special edition of the Miku Hatsune nendoroid, should be arriving for international buyers soon with those in Japan having already arrived. The Miku nendoroid was followed by a giant plushie of the Good Smile Seijin mascot and a nendoroid of the Good Smile Company mascot, Gumako. The next upcoming item is a Cheerful Japan version of the Miku figma with orders set to open in late July.
Nitro+'s Kosaka had his start making doujinshi and caught the attention of one of the studios responsible for creating The Super Dimensional Fortress Macross (known to some as the basis for Robotech). He worked as an intern under mecha designer Kazutaka Miyatake before becoming an editor for Newtype magazine and working at Namco and Banpresto before eventually forming Nitro+. Working under others was good but what he really wanted to do was to create.
They started with a game called Phantom of Inferno way back in 2000 and which was released in English in 2003 by the now-defunct Hirameki. Another of their popular games, Deus Machina Demonbane, was just released about a month ago by JAST USA/Nitroplus USA after almost two years since it was first announced that it would be officially translated. Future titles for English release include Saya no Uta (which has notably been already translated by fans), Sumaga, and Satsuriku no Django. On the anime side of things Nitro+ has been involved with the popular Puella Magi Madoka Magica (with Aniplex whose U.S. branch announced that they would be releasing it in English) and the currently airing Steins;gate (with 5pb; artist huke, mentioned earlier as designer of Black Rock Shooter, was the character designer for Steins;gate).
So what do we have to look forward to from these two companies? From GSC, obviously more figures. Aki mentioned that there is an upcoming Nendoroid PSP game where you can battle with characters like Haruhi and Nanoha in a Super Robot Wars style game. "What about Madoka?" "She might not make it into this one." "Put her in #2!" Black Rock Shooter is still on the rise and besides the BRS game there may be an English version. More BRS goods will be released in America.
For Nitro+ we have the Super Soniko game which is about a girl, Soniko, who is an upcoming musician who wants more people to see live concerts. Players take the role of photographer and confidante and you ask her questions in an adventure type game. Danny Choo's pet project Mirai Suenaga appears in game (2D art only as opposed to Soniko's 3D, unfortunately) and Danny himself is mentioned in the text at one point in the game. In the fall we will have the anime adaptation of TYPE-MOON's Fate/zero which they originally collaborated to write the light novels. It will be handled by Aniplex and ufotable (who also worked on the superb Kara no Kyoukai and the opening animation of the Black Rock Shooter game).
As to what happened to all those figures that Aki brought? It became a gigantic series of room wide janken (rock paper scissor) games. To the victors go the spoils.


EXHIBIT HALL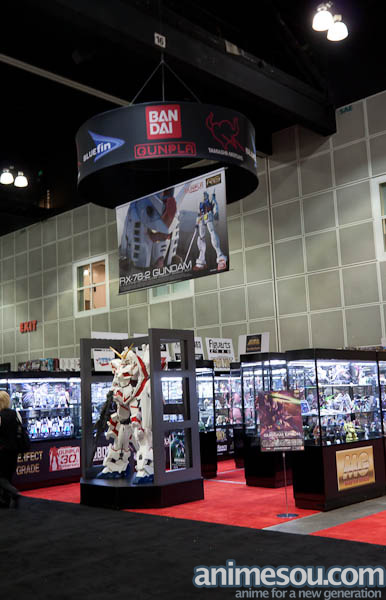 Once you've been in one anime convention's exhibit hall you're more or less going to see the same thing in another convention's exhibit hall. You've got your various stores selling shirts, plushies, manga, figures, and whatnot. You've got your industry booths selling their respective company's wares. Some of the recent additions to the industry side of things are video streaming sites who have begun streaming live from the convention so that people unable to attend can get a glimpse of what goes on, or at least, whatever goes on in the small corner of the room that the camera can see.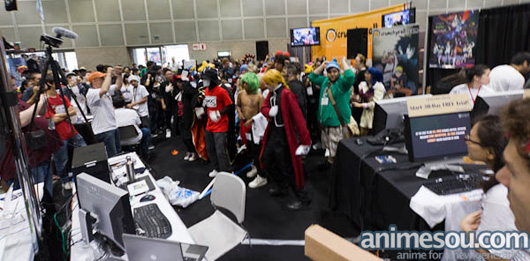 With nothing else to do on Monday, why not have an impromptu dance?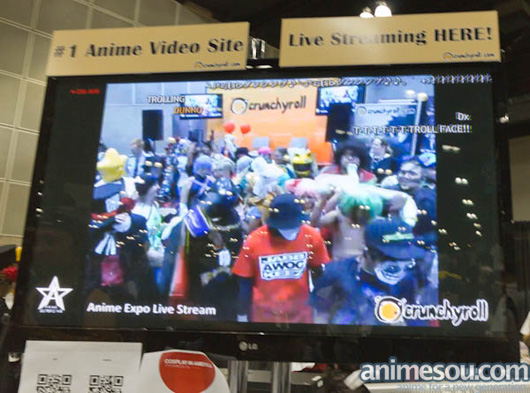 What the cameras and everyone else see
One of these sites is Crunchyroll, a company established originally as a user-dependant video hosting site that naturally attracted the upload of fansubbed (and therefore copyright infringing) anime. Eventually they went legit and developed into an official streaming partner of various anime studios boasting English subtitled anime available shortly after their airing in Japan. That time problem was one of the biggest hurdles for anime licensing. Sometimes licenses in English would take months, oftentimes a year or more, before becoming available to the public. With fansub groups able to process and turnaround anime within a week there was no way they could compete especially since the public can fall out of love with anime after a season ends. Now that Crunchyroll works with anime studios that demand for current anime can be legally filled.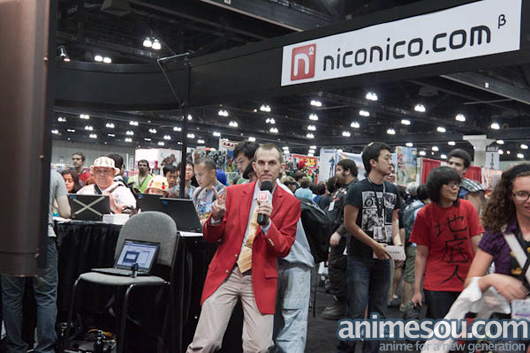 One of the Nico Nico booth's hosts
The other streaming website is Nico Nico Douga who helped make things like Vocaloid available to everyone. A quick comparison for Nico Nico is "Japanese Youtube" but with the added bonus of comments that are time-specific and will scroll across the screen. A lot of Japanese content is sourced from Nico Nico and posted on Youtube to make it more visible to English speakers. Nico Nico also boasts a live streaming system so broadcasts can be made as they happen and this retains the comments that scroll across the stream. As part of an English push Nico Nico has created an English navigation system to their site and they were taking signups for new accounts at the convention. Upon creating an account you would receive a Nico Nico shirt (although the same one given out in every goodie bag that you got after picking up your badge). Nico Nico had also simulcasted the Miku Hatsune/Vocaloid concert for a nominal fee.
Aksys games, well known for fighting games BlazBlue and its predecessor Guilty Gear, was also in attendance. They had brought along some of their more niche games like the shoot-em-up game Deathsmiles and fighting game Arcana Heart 3. They also played host to some of the staff from Idea Factory who were responsible for Record of Agarest War Zero, recently released and available for purchase at the booth. Other items on sale were the BlazBlue "Hope" shirt created for charity for the Sendai earthquake featuring Tsubaki, Ragna, and Noel and a new BlazBlue shirt featuring Valkenhayn as well as their library of games. They would also hold a fairly popular BlazBlue tournament which packed not only the booth but the nearby aisle.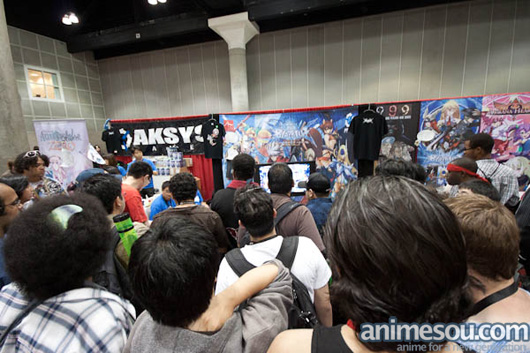 A very packed tournament.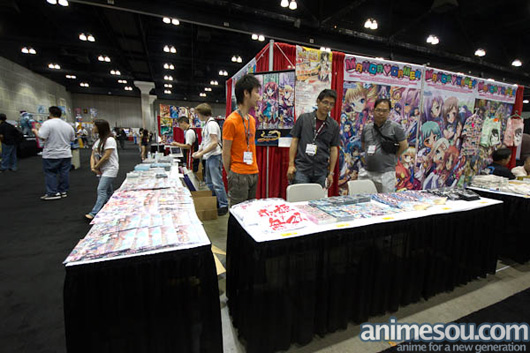 One company that stood out last year with multiple mini-concerts by singers of various game songs at their booth was Mangagamer. They had to scale back this year to just merchandise and brought along a mix of oppai mousepads, specially colored shikishi, and even things like K-on swim trunks. Mangagamer is known more for their translation and publishing of a variety of Japanese visual novels like the Higurashi series, Koihime Musou, and most recently, Kara no Shoujo. Illustrator and designer Shinji Katakura of OVERDRIVE along with other guests were also at the booth.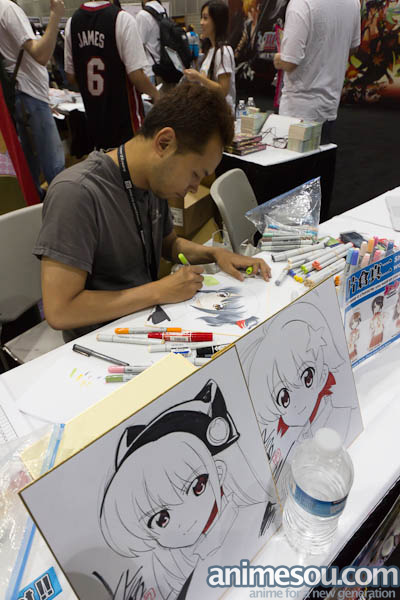 Shinji Katakura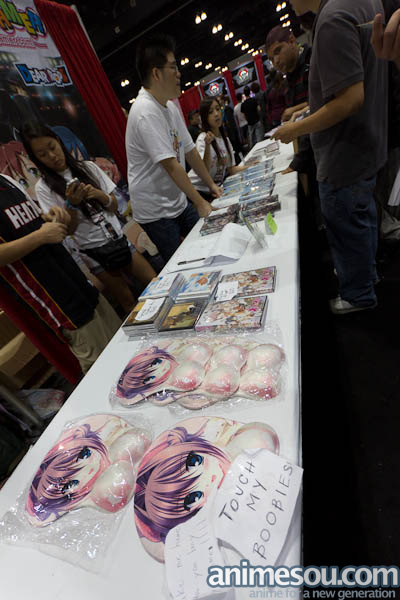 A few of the goods available at the booth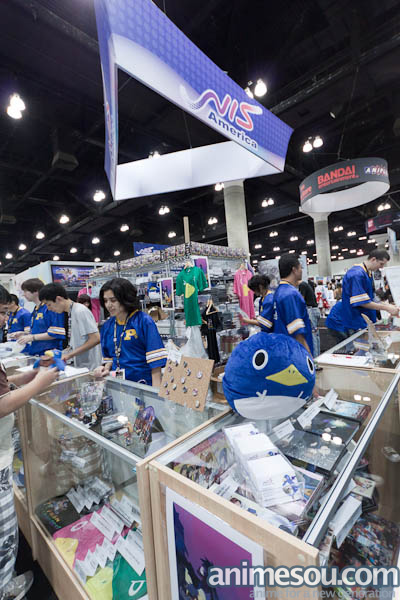 NIS America…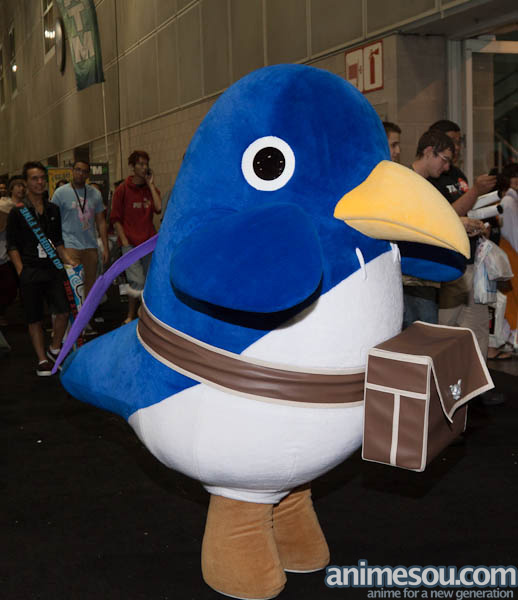 …complete with giant Prinny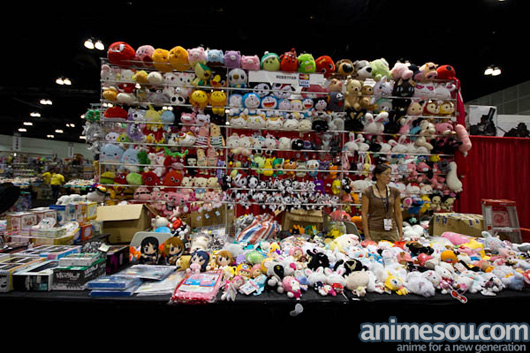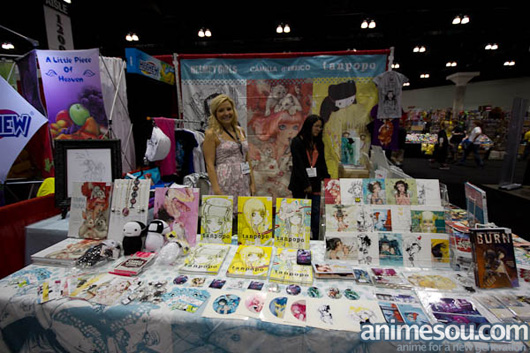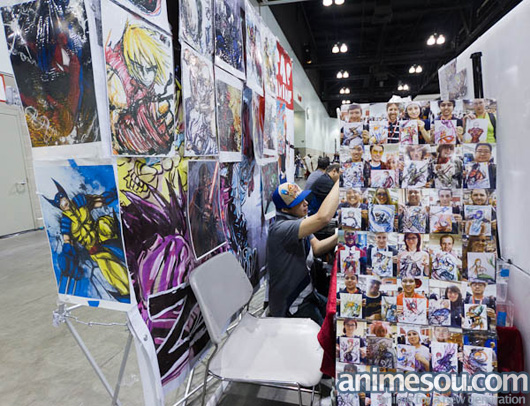 Artist Alley was held in the back of the exhibit hall and had the usual mix of prints, artists available for commission, and various crafts. It was busy in what seemed like every hour of the day.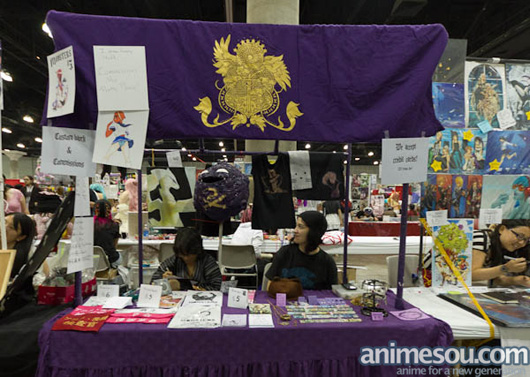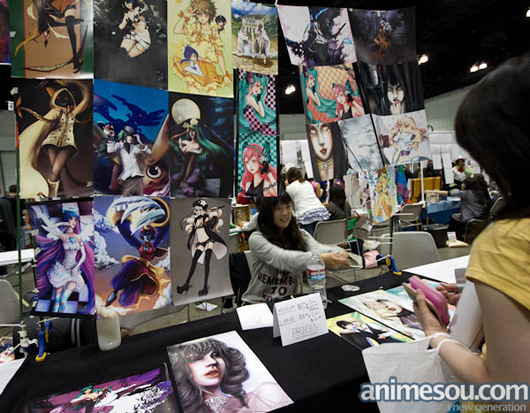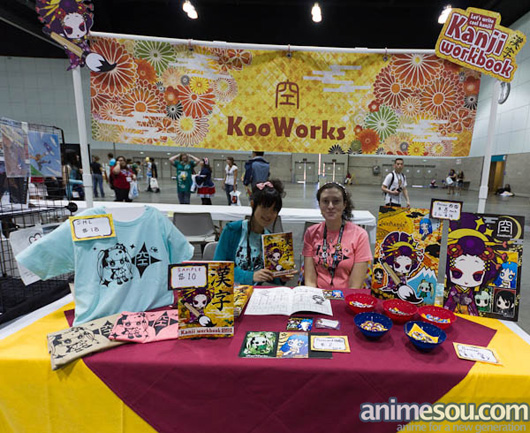 AUTOGRAPHS
Autograph sessions ran a little differently this year. Attending a panel did not guarantee a ticket. It did however tell you when most sessions were as they were not listed in the guidebook, online, and not even at the info desk except for that day. At some panels the barcodes on the back of your badge would be scanned and that information fed into computers that would randomly select the names of lucky attendees. These attendees would receive a guaranteed autograph ticket. Everyone else would have to pray for luck and a spot in the standby line. This time they held the autographs off to the side in the area the Artist Alley was the previous year and the Artist Alley was in the back of the hall. It seems less congested than last year and competition was much less fierce. I'm not sure if this is because of the location, the guest list, the lack of everyone knowing when the autograph sessions were, or the ticket system. The Monday open autograph sessions involved the staff from Crypton, Kalafina, Nirgilis, and on the far side, Vic Mignogna.


COSPLAY
As with every year the events of a convention help determine what cosplay you'll see. Naturally this year there was a lot of Vocaloid but other popular series like Puella Magi Madoka Magica were well represented. Code Geass and Kuroshitsuji are still going strong. There were a few Highschool of the Dead cosplayers in the crowds. And there's always some things that just stand out more than others.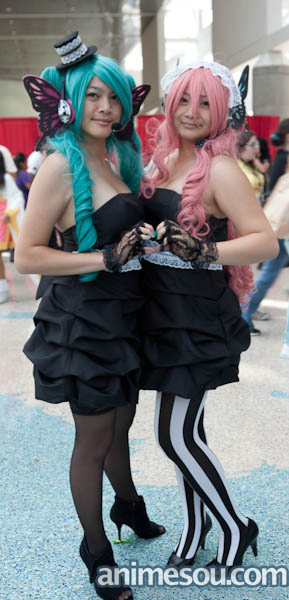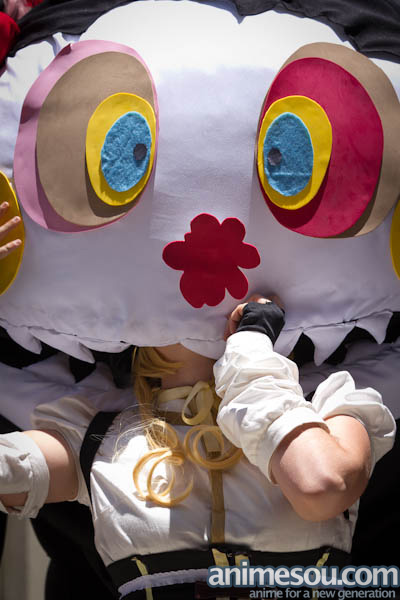 This seems to be a recurring theme at Madoka gatherings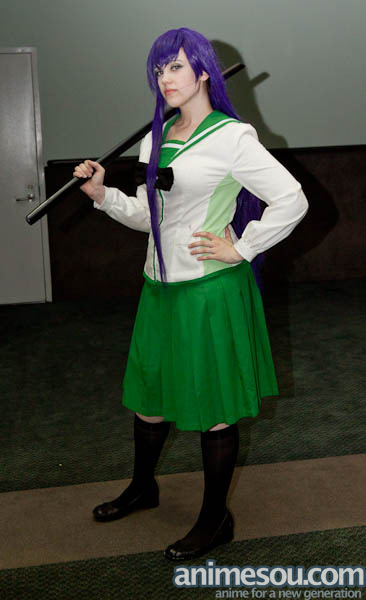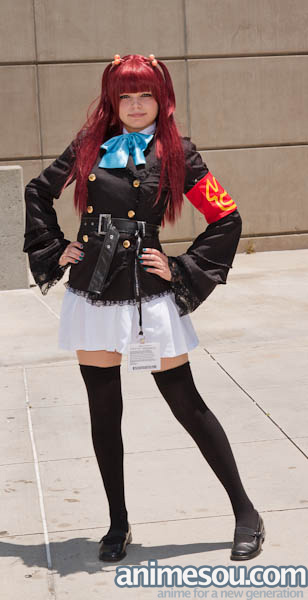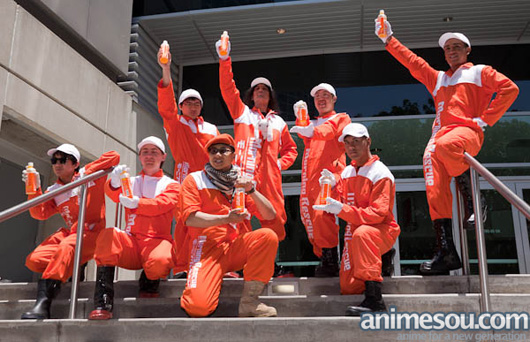 Morning Rescue en masse.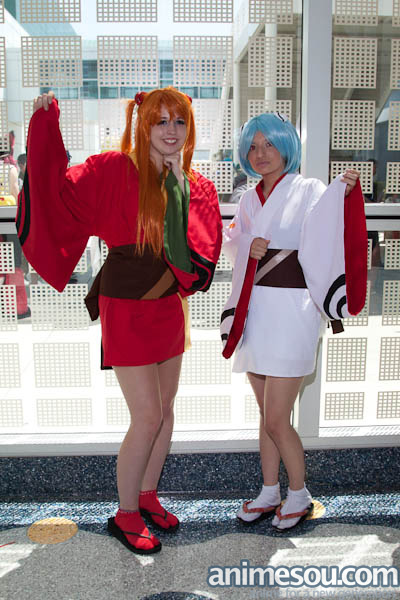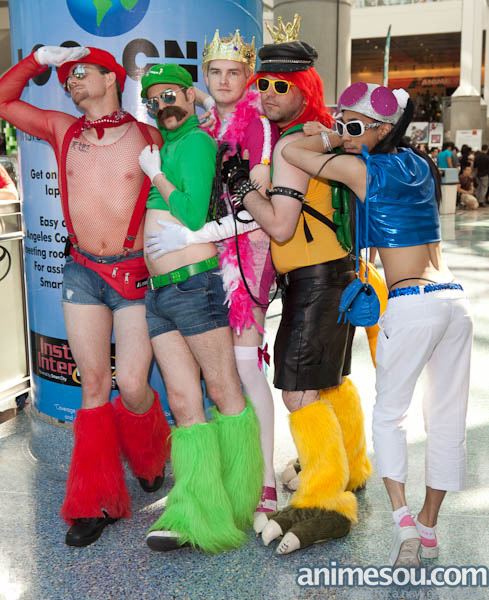 Too bizarre not to take a photo of.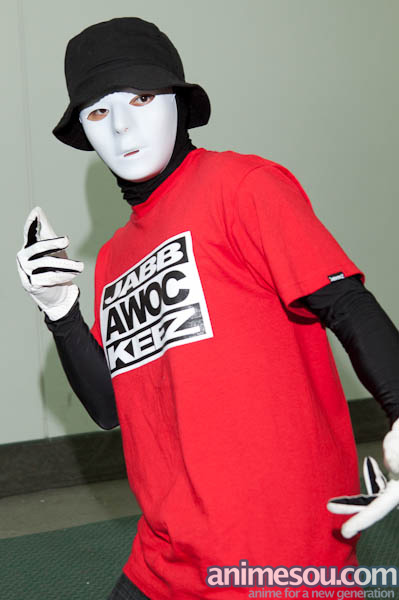 Not exactly in the right place but still welcomed by congoers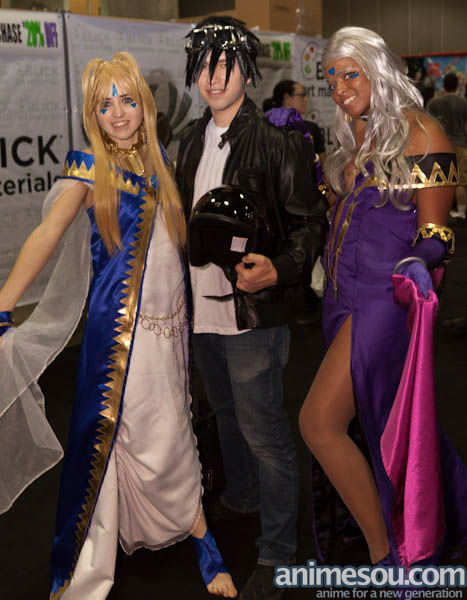 Always good to see fans of the old series. 23 years and still going.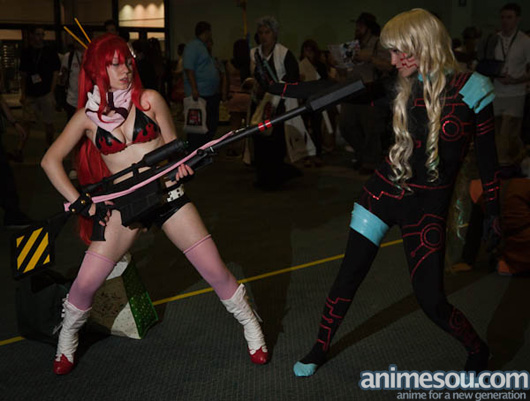 CONCLUSION
Now where do we go from here? Anime Expo 2012 is going to have a lot of work to do to surpass the likes of Miku who managed to sell out the entire Nokia Theater. Even big names like May'n and Megumi came nowhere near filling out the ground floor, let alone the upper levels. The change to holding three out of four concerts in the smaller Club Nokia is one that is both good and bad. On the good side a smaller venue means you can fill it with less people and have it look full. This is good for artists who always like to see a full house (rumor has it that some concerts in Nokia Theater were delayed because of managers hoping that more people would arrive) and happy artists tell their friends who will hopefully come to AX too. On the bad side its standing room only and no assigned seats which means you have to wait in line for a long period of time if you want to be closer to the stage. It also means that there's a greater threat of concerts selling out (good for the artist, bad for the fan). This might all be useless thinking if they go back to Nokia Theater next year (the Miku concert's setup dominated the theater for half of the convention) but the lower cost for using Club Nokia might mean it's here to stay.
Guest wise, I think it was fine. There was a good mix of seiyuu, industry guests, and musical guests. I have seen some complaints online where they were unsatisfied by the guest list but this might just be in comparison to last year's May'n, Megumi Nakajima, Yui Horie, AKB48, Yuu Asakawa, and more. The cornerstone of this year was Miku and some have thoughts that this was where the bulk of money went to.
Organization wise, something has to be done about the pre-reg line. More computers. More shade. Something. If you get there early it is maybe an hour to pick up your badge. Get there late and you are looking at three to four hours. Not to mention that you then have to rush to the ticket booth (this year located all the way across the center in the west lobby) and wait for another hour or more to pick up tickets that are first-come-first-serve no matter when you actually purchased the ticket. Day 0, 1, and 2 (Saturday) are the biggest offenders. Day 3 and 4's lines were a ghost town in comparison. Rumor has it that more of the convention center is available for AX to use next year so it's a possibility that the line might be moved inside which will be a welcome change from waiting in the July sun.
Announced numbers for this year were 47,000 unique, 128,000 turnstile, up from 46,000 unique, 103,000 turnstile which means that the total number of attendees was roughly the same but the number of people going each day was up, if that makes any sense. Or maybe it means more people were just going in and out of the doors. Lines for certain events like the Miku panels and Kalafina were definitely long and you had to arrive at least an hour early if you wanted to be close. It's not San Diego Comic Con bad, but it's getting there. As far as autograph sessions go it's actually gotten better but that might be because of the lack of information about them. Last year it was more or less Anime Linecon for me where I went from a panel line to an autograph line to another panel or autograph line from the time I got to the convention to the time I left. This year I spent less time in autograph lines. Did I have a good time? Yes. The concerts make 90% of my AX experience every year and everything else is a bonus. If they keep bringing in the musical guests, I'll be happy.
Next year is set for June 29 through July 2, another Friday through Monday. The convention-going staff of Animesou will see you there.