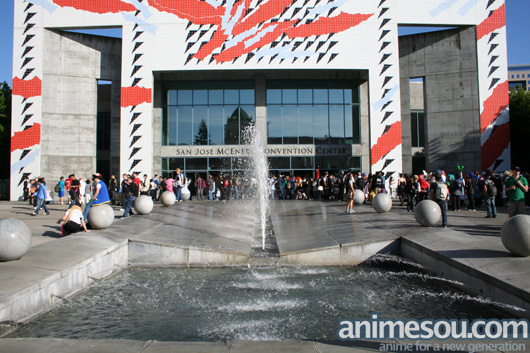 FanimeCon 2011
'On your mark! Get set! Fly!' was pretty much running through my head as I hopped on the plane to participate in another year at FanimeCon which took place at the beautiful McEnery Convention Center. Towering over the convention on the left and right were the Marriott and the Hilton where fans eagerly checked in to their hotel rooms and quickly snagged a spot in line for pre-registration. For many, this was the event of the year for them with guests of honor, dealer's room, artist alley and an almost countless line up of things to scope out and do. But before I run through the nitty-gritties, I want to thank the staff this year as well as all the other contributors of this convention, which include the attendees themselves as well. So without further delay, I showcase to you all of FanimeCon 2011~!
Swap Meet
I told myself this a thousand times, if not more, to stop buying. Seriously, swap meet this year was crazy. Now let me define crazy for you people in this context: the ability to provide a massive supply of goods ranging from doujins, figures, out-of-print items and whatever your minds can come up with. Since the start of swap meet a few years back, it had grown exponentially to what it is now with thousands of fans selling and buying and looking for that special something only a diehard anime fan would still possess. In terms of numbers though? Really, I swear it felt like people would have exploded outward into the sky, both Thursday and Friday nights had there not been a roof above Exhibit Hall III.
With the addition of set ups of E-Gaming and Arcades, you could imagine just how jam packed even an exhibit hall of that size could have been. Now moving on to the actual products, I really liked what I saw this year and as mentioned above, I bought things to the point where I got sick of buying more. You know the phrase "shop till you drop"? Well.. it almost happened to me. But anyways much like last year, swap meet was a success in terms of what it offered and I don't think it has failed me personally. However, there are some minor complaints with the swap meet this year.
One concern of mine was how it seemed as if a few people were monopolizing the spaces in swap meet. Granted it was understandable some had much more to sell and wanted to maximize their profits, but it seemed almost unfair for those who wanted to take part in swap meet for the first time and make a little extra spending cash for the convention. Hopefully those who took up massive spaces by having friends buy out more spaces for them would allow others to get in on the action of swap meet next year. Either way I loved swap meet and I hope for its continued success.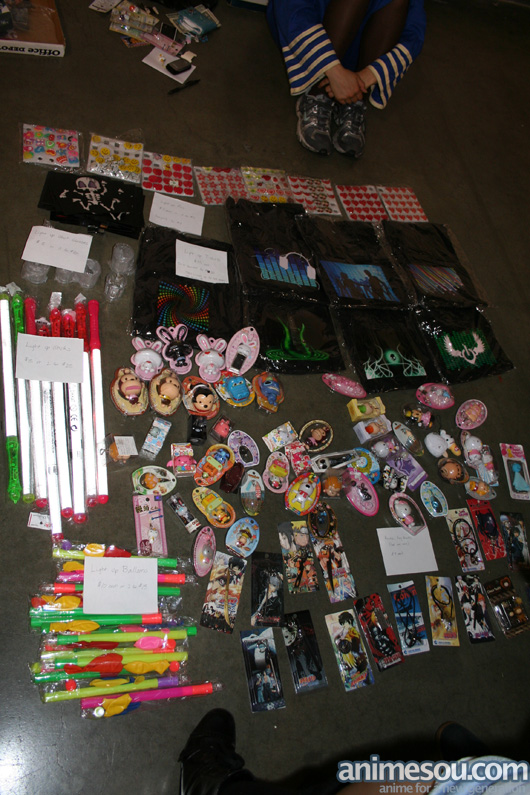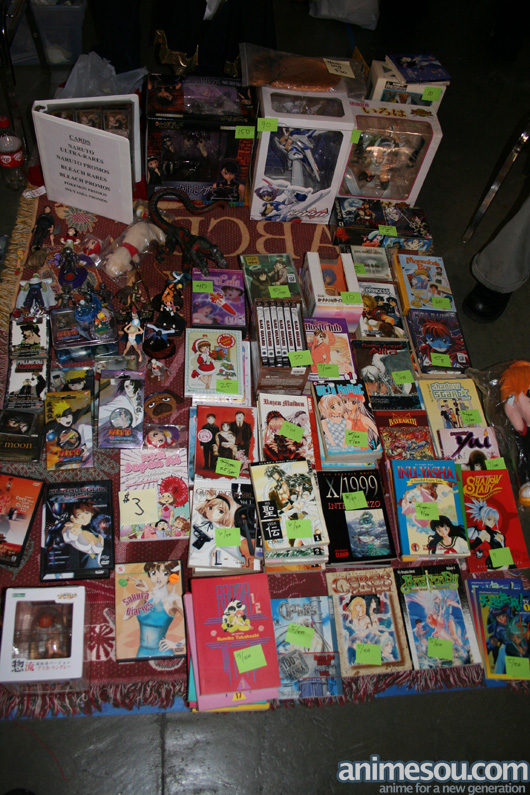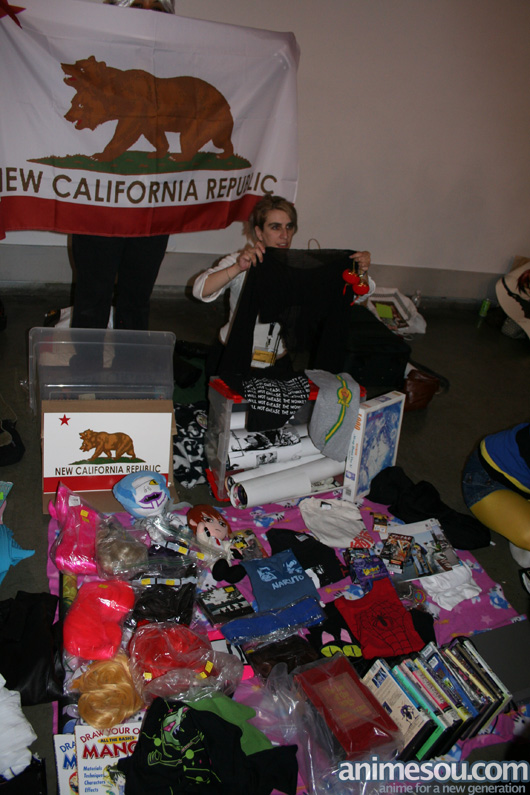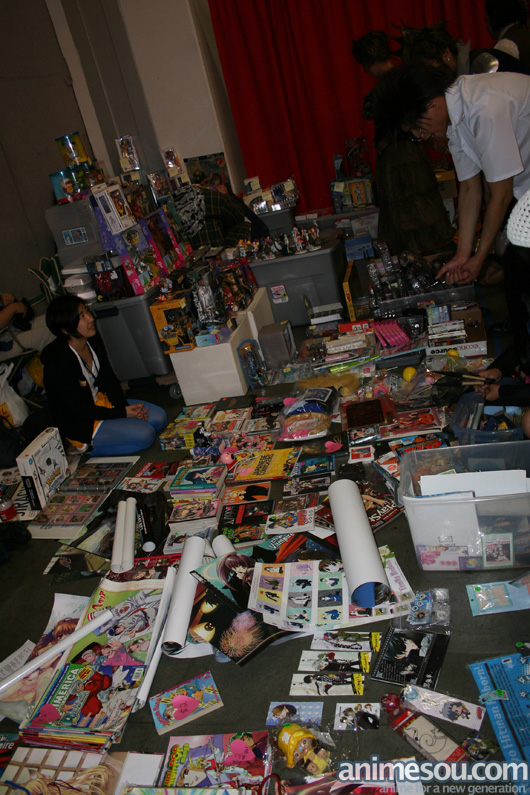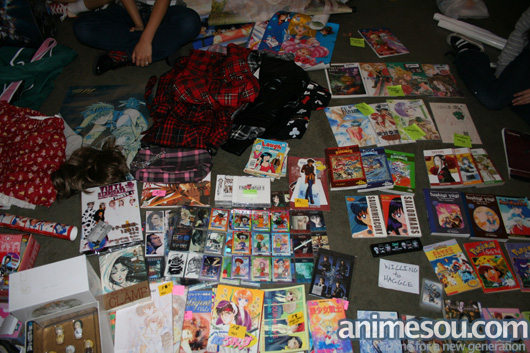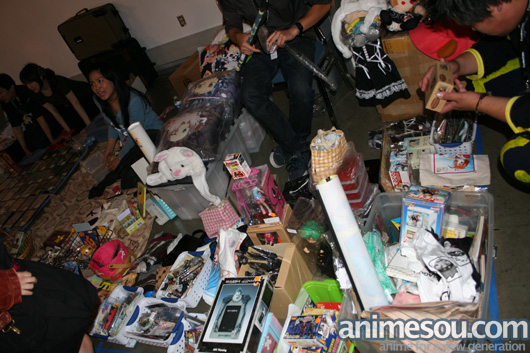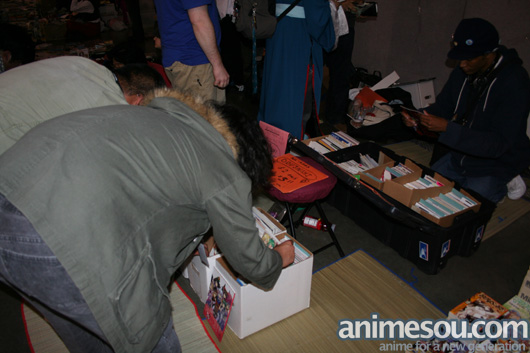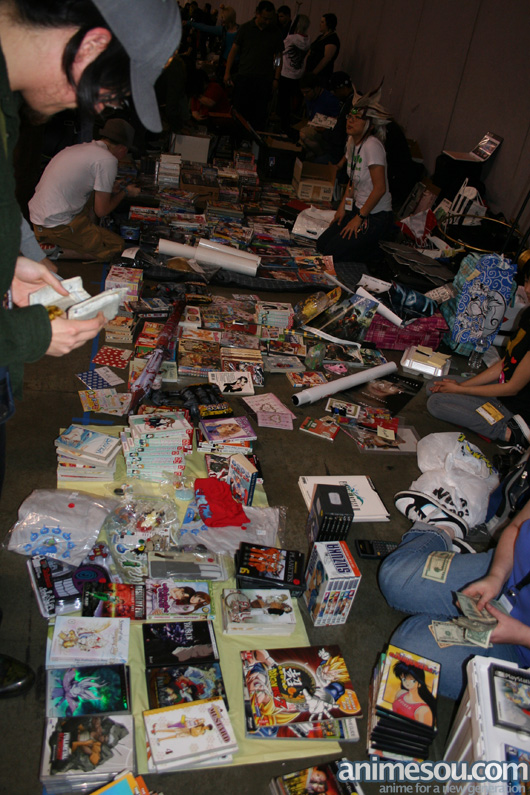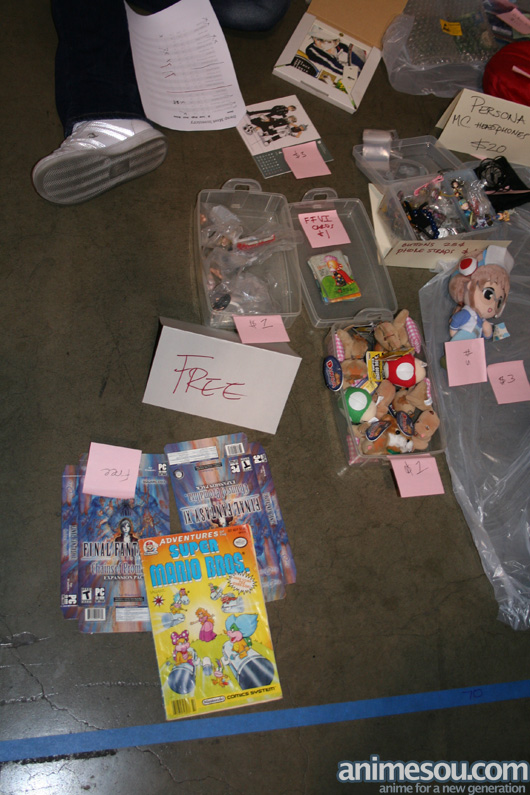 Dealer's Room
With this tough economy and the skewed exchange rate between the yen and the US dollar that's been going on for who knows how long now, being an anime dealer isn't exactly the easiest or profitable thing to do. However, dealers still made their trips from all around the country to participate at FanimeCon, bringing with them loads of anime and anime related merchandises. Even Crunchyroll, Bandai and other anime industries made their appearances this year to show what they licensed and had to offer.
I have to admit that even though FanimeCon didn't have the most dealers in the dealer's room this year, enough of them still came and they came with quality. You want Cospa t-shirts imported from Japan? Try half a dozen of them with those. You want figures that are desired? Try… a lot of the dealers. Long story short and as mentioned, the dealer's room at FanimeCon came with quality. Still a lack of imported CDs, but we all have an idea of what's going on so I assume there isn't a need to touch up on it. Anyways good dealer's room this year and I hope to see many return next year old and new.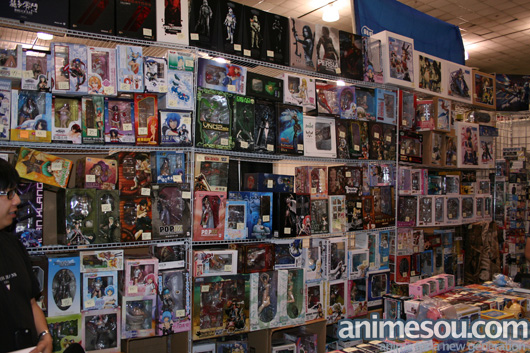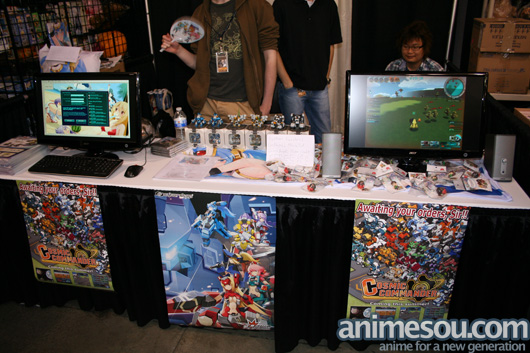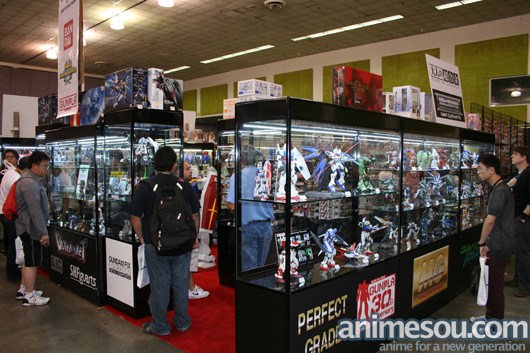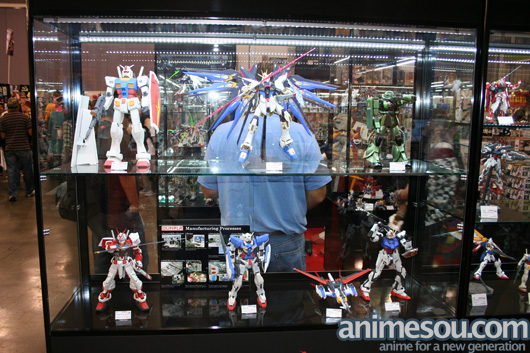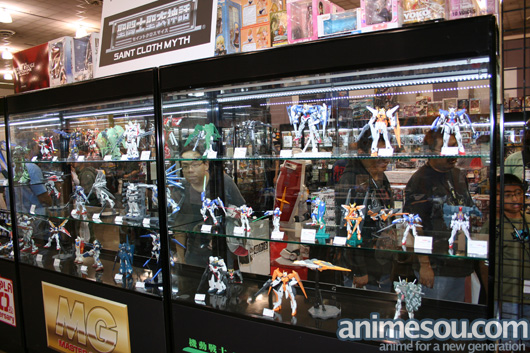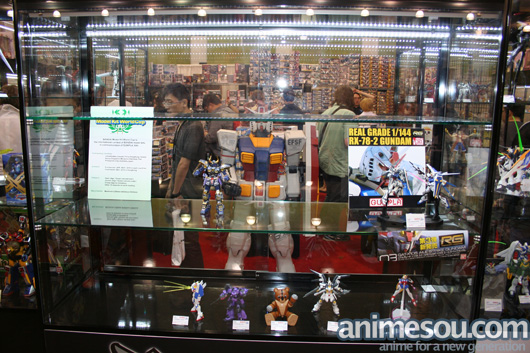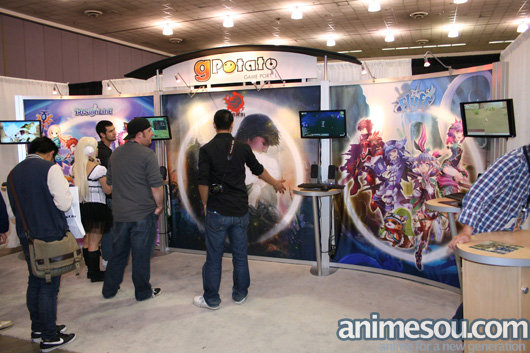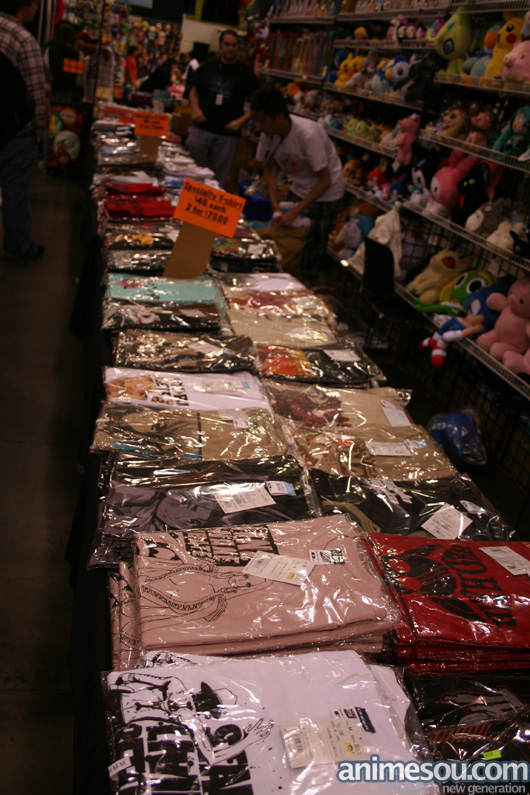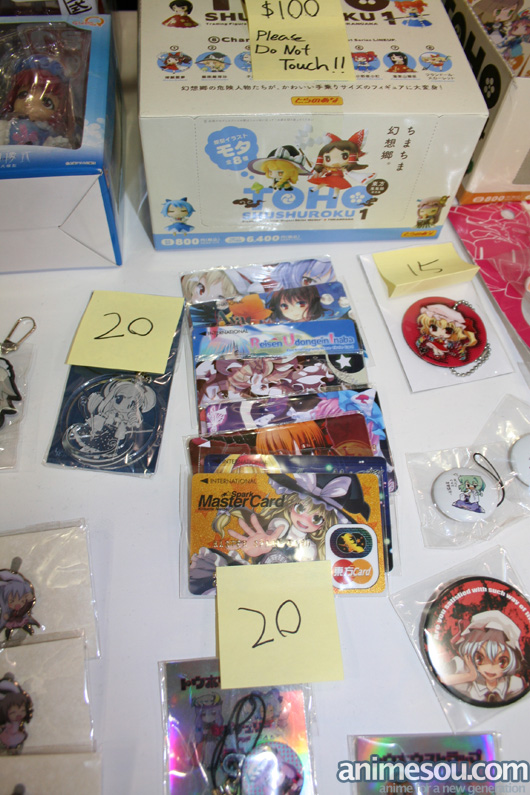 Artist Alley
Ah artist alley. If there was one place where creativity thrived, this was it. I remember the artist alley back at Anime Boston and how I noticed an increasing number of artists venturing into the unknown world of playing with metal, wood, plastic and other earthly material on top of the traditional pencil and pen and buttons and what have you. T-shirts, paper origami characters, plastic beaded characters, plushies, keychains made out of plastic, wood, metal, paper… and possibly even fire, wind, water and earth weren't a rarity to see. I mean the list went on and on with what the artist alley had.
What I found more interesting was how in tuned the artists were with what was currently popular in the anime world, one of which being Puella Magi Madoka Magica. I would safely say almost a dozen artist, if not more, had some form of work of that anime in one way or another. From key chains to pins to stickers to even magnets. This was a prime example of the type of interest of fans that were at FanimeCon and how closely in touch attendees were with releases of anime out in Japan.
Many of the PMMM merchandise at the artist alley were sold out by the last day of the artist alley and even I had my regret of not buying a Kyubei phone strap an artist was selling the day before. Aside from that, I spoke with a good number of the artists and they shared their stories of how they got into doing what they do: a passion for art and creativity. Keep doing what you do best and love. See you guys around when FanimeCon rolls around next year.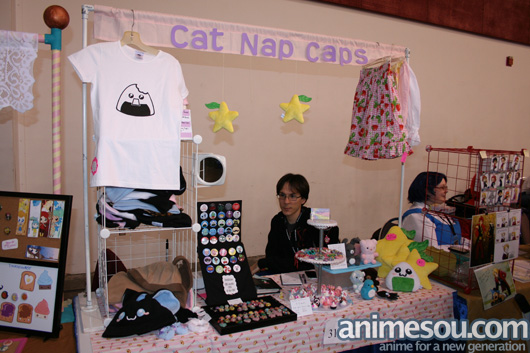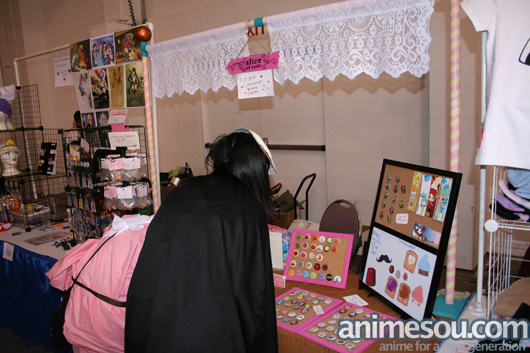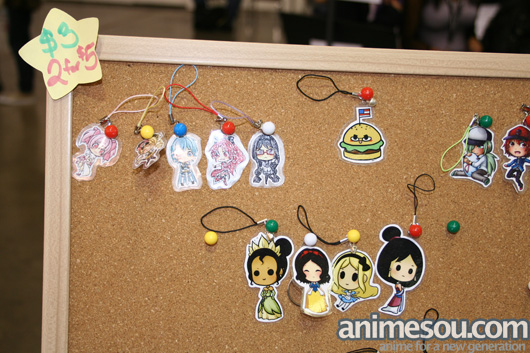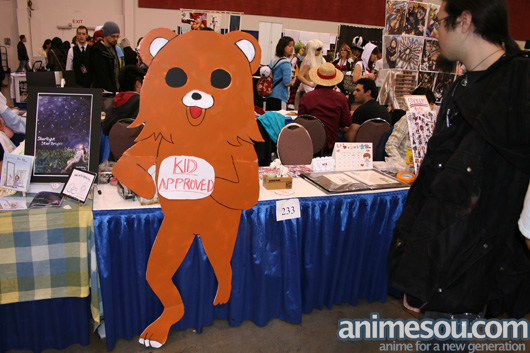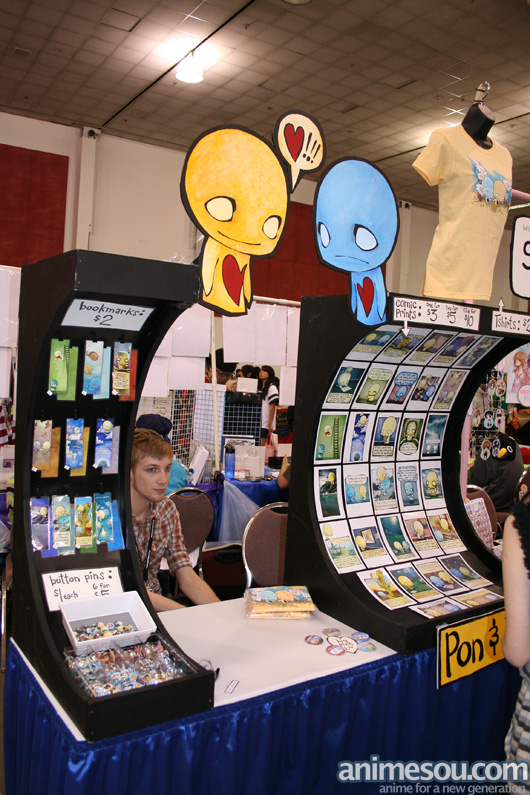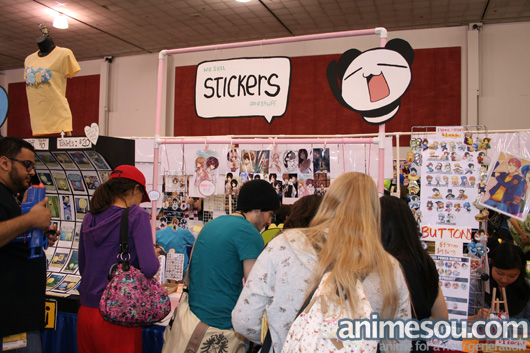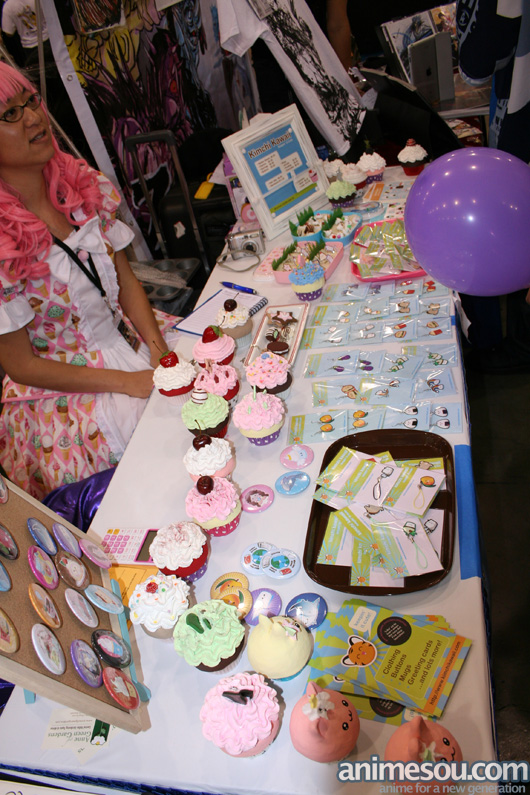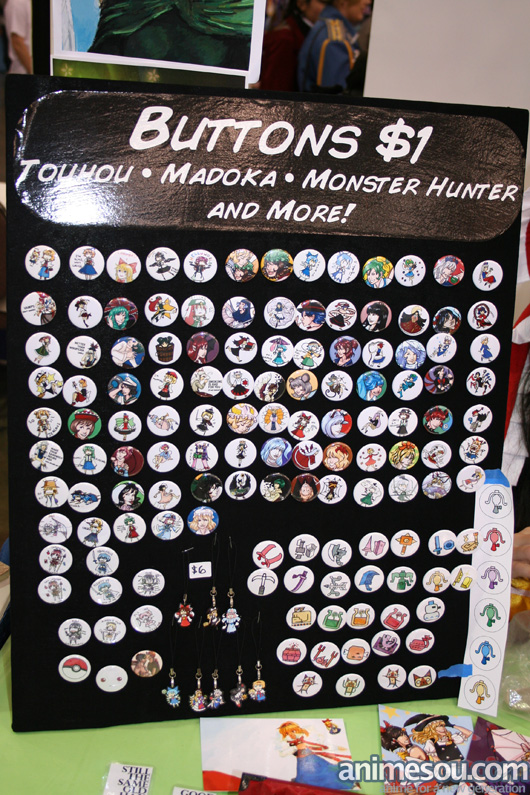 E-Gaming and Arcades
Well much like last year, the set up was just about the same for E-Gaming with the same amount of awesome and diverse games of all genre. This was the first year I stuck around for some of the tournaments and actually participated in one and, wow were they hyped. One thing which bugged me was the Blazblue tournament and how even though PSN was restored a week before the convention, the updated game wasn't put out until the very end when the tournament started. Had I known that, I would have signed up rather than to fight for my life to get a spot, when it was almost too late in the end. I guess they did mention that it was version 1.02 or higher, but honestly it was like playing a completely different game. There was a bit of confusion but it worked out in the end regardless.
The Marvel vs. Capcom 3 tournament was also pretty fun to watch and I found it pretty funny some guy placed a container of salt on top of the TV before the match started. Overall it seemed to me the tournaments started on schedule and went very smoothly. The two I attended were very organized and ended on time so props for getting that done. Also having iplaywinners there to record and upload videos of the top whatever players to their site was a bonus.
One thing I do wish to see in the future is having fight sticks and whatever accessory being lent out for use. I understand that those things do cost quite a bit but if there is a way to monitor who uses what, say by someone giving up their ID and badge or something for the staffs to hold on to, it could work. It happened at Anime Boston and it worked out fine. But again, it's still a risk so this isn't so much a complaint as it is a possibility of any staff of e-gaming wish to provide what they have for public use in the future.
Arcades worked out really well this year and I thought they had a decent selection of games. The head of arcades actually posted on the Fanime Forums asking which titles people wanted. Again, a sign that the staff is listening to what the fans want. The prices to play them were also not too bad even though some have mentioned that they were cheaper elsewhere. However with the way things work at a convention, it is a bit different so that needs to be taken into consideration. Finally with the layout, nothing much for me to complain there. People seemed to have a lot of fun and being next to E-Gaming all these years is like a match made in heaven <3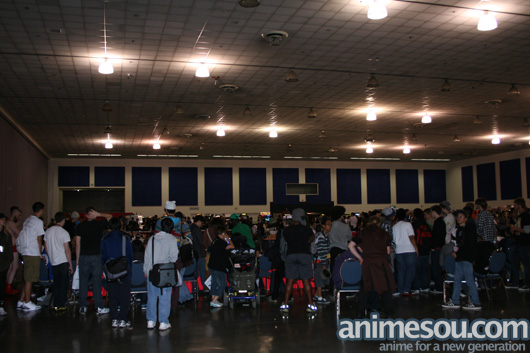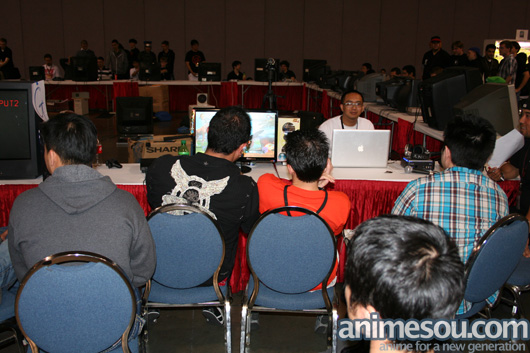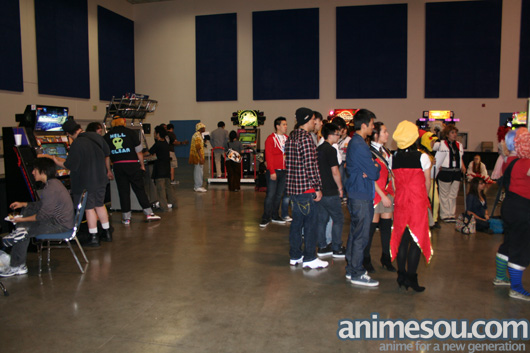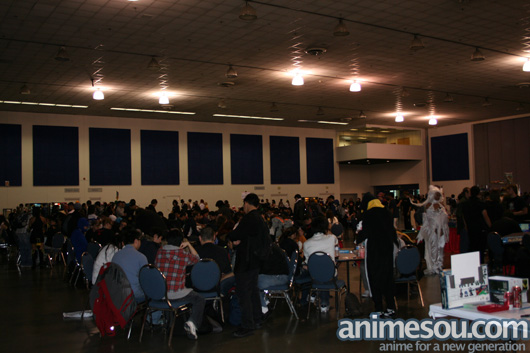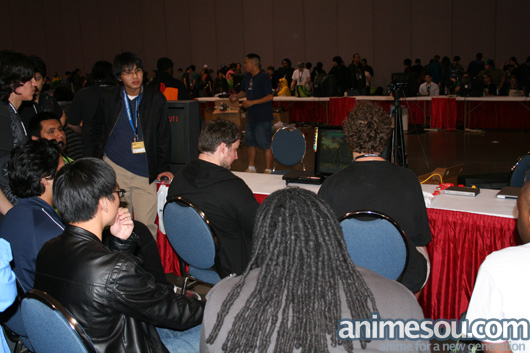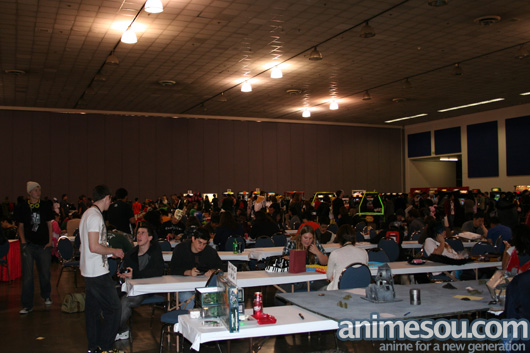 Stage Zero
Well if there was one thing that FanimeCon stood out against the rest, Stage Zero would certainly be one of them. Located at the main entrance on the second floor of the convention, Stage Zero served as a spot where big events and showcases took place as well as providing casual entertainment for the occasional and curious passerby. One event which took place was the Fanimaid Stage Zero performance. Like the previous year, Momoi also joined in on the fun as they danced, sang and shared memories with each other and everyone else. Also on Stage Zero was a Marvel vs. Capcom 3 charity event where people paid a few bucks to play against each other. Again, much hype took place during the matches as people watched on and cheered. Overall though Stage Zero is and will continue to be a major contributor to FanimeCon's diversity and uniqueness. I look forward to seeing more events next year.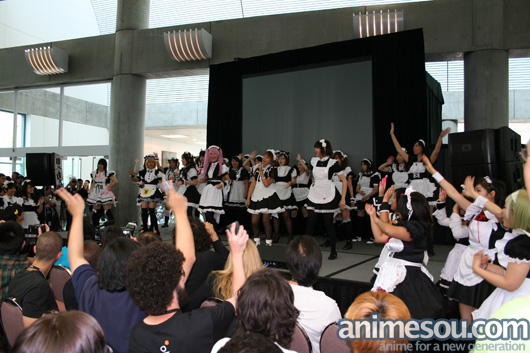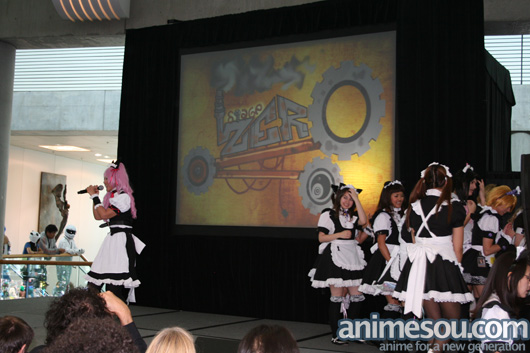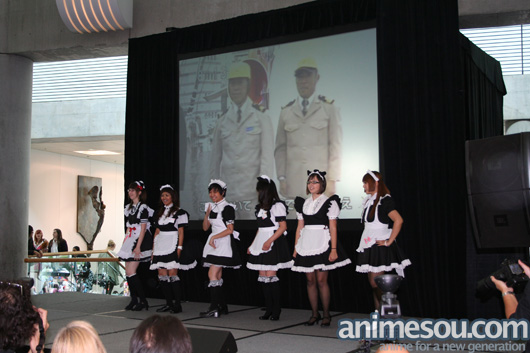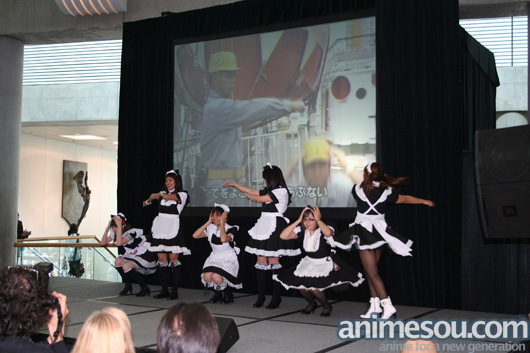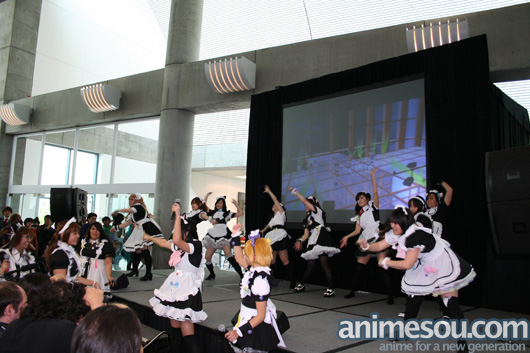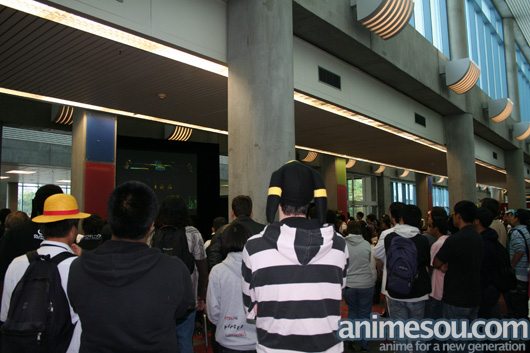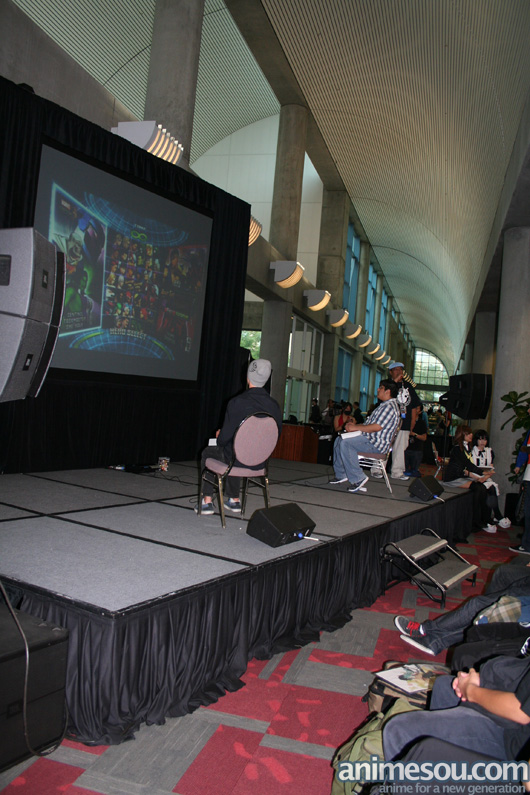 Tohru Furuya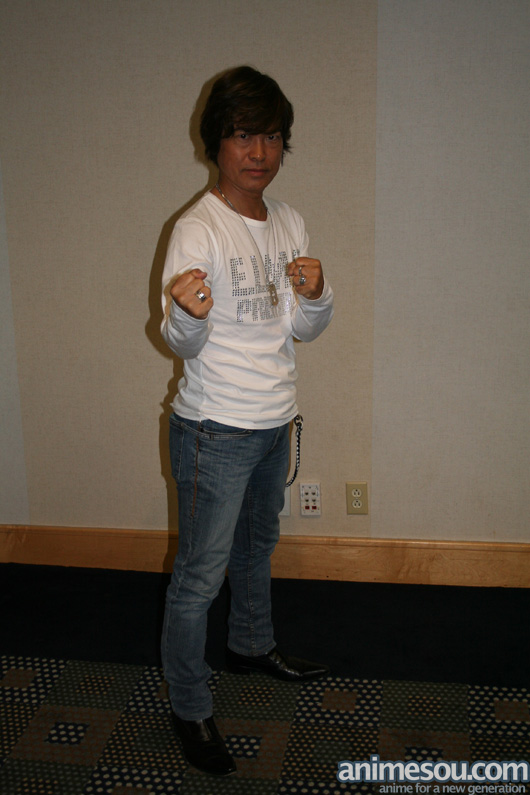 Yep, you heard it right. Tohru Furuyu, the legendary seiyuu known for his key role as Amuro Ray in Gundam, Tuxedo Kamen in Sailor Moon and Yosuke Kasuga in Kimagure Orange Road, made his trip to FanimeCon this year. For many, his visit was highly anticipated as floods of people crowded into his panel room, snaked around to form lines for his autograph session and getting the chance to meet him up close. During his panel, dozens of people lined up to have their questions answered and explained. For the most part, the questions were fairly entertaining, although I was hoping there were more diverse ones regarding the whole spectrum of his career.
Nearing the end of the panel session as Tohru was running out of time to answer everyone's questions, he went down to the rest of his fellow fans and gave them all hugs as a final show of appreciation he had for all his fans. After his panel session, people rushed to get his autograph as a loooooooong line was formed in the waiting room. All in all, he was an amazing addition to FanimeCon this year and I hope he felt the affection from his fans who look at him not only as a legendary seiyuu, but also as a role model.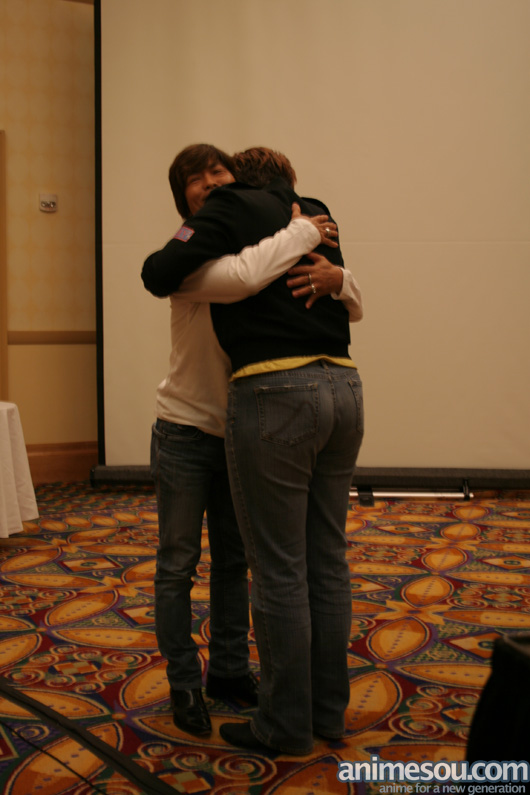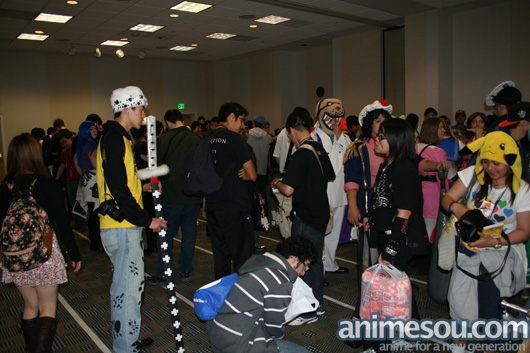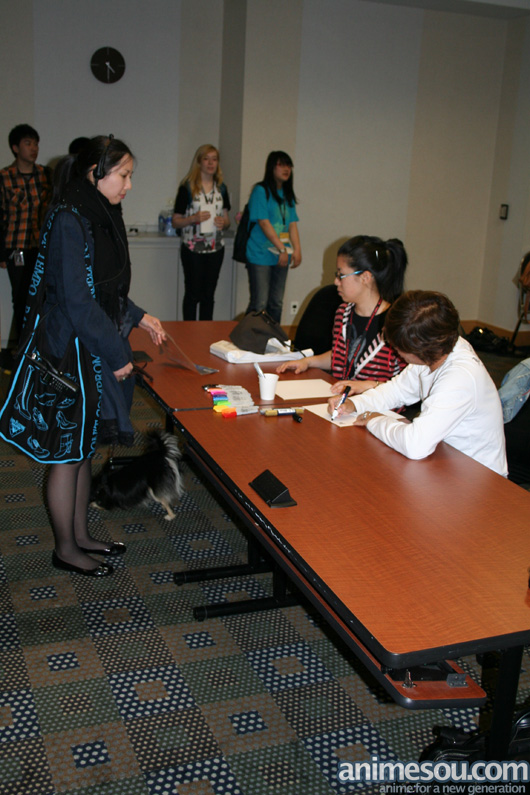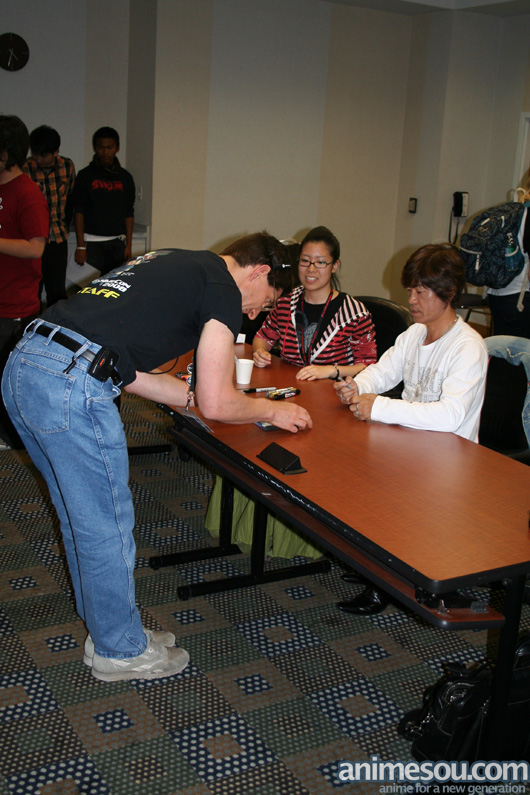 Ryusuke Hamamoto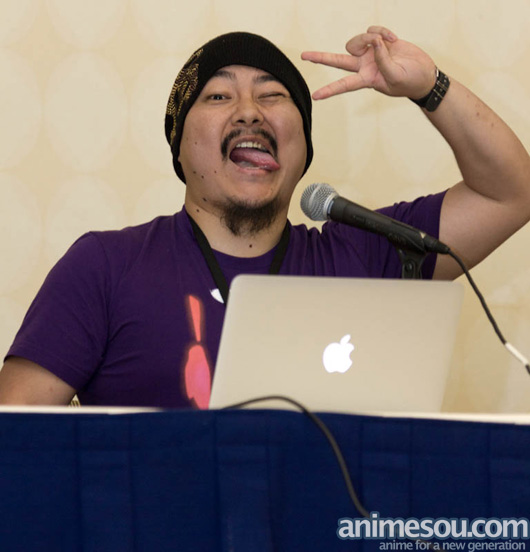 Brian Lee: A guest of honor I was happy to see is the artist Ryusuke Hamamoto. I have been familiar with him for approximately six years after seeing one of his sketchbooks from Comic Market, one of Japan's major doujinshi sales events. Hamamoto has a distinct style that involves superdeformed designs and has contributed work to a variety of companies like Bandai, Shueisha, and Square Enix. His most recent commercial works are for Bandai's Petit Eva and R-style series and Comic Gekkin's Usagi Rurikarakusa. An artist throughout his life, Hamamoto really developed his style during his high school years and was influenced by Ryusuke Mita, mangaka of Dragon Half, and CLAMP, the famous group known for Cardcaptor Sakura, xxxHolic, and others.
The format for his two panels were open Q&A and inbetween questions he drew Neon Genesis Evangelion themed illustrations on his laptop. He gave advice to potential artists on how to break into the industry, both American and Japanese. As a fan artist turned professional artist he had to go through the same process. When asked about how well he was able to live off of his work he answered, "I brought seven things with me to work on while I'm here."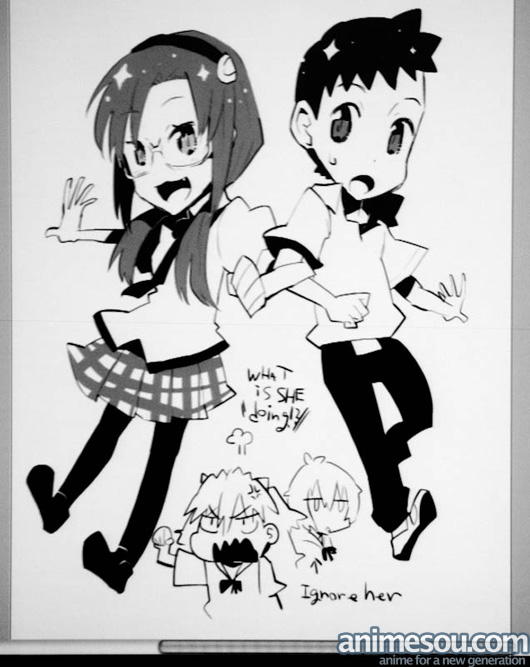 Halko Momoi: The Queen of Akihabara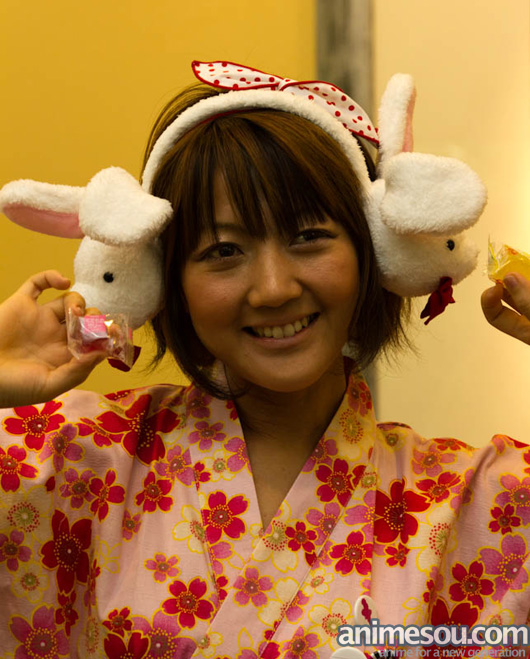 Brian Lee: Known as the "Queen of Akihabara," Haruko Momoi has been active in the industry for the last ten years as a seiyuu and singer with unofficial work starting even earlier. This year's convention marked her third Fanime and second formal concert. Momoi's concerts are marked with crowds wielding glowsticks and performing designated dance movements called "otagei" (sometimes spelled "wotagei") which makes it easy to tell who has been around for a while by what they carry in and what they do. The main two glowstick colors are blue, one of Momoi's favorites, and pink, a natural given her name and its similarity to "momo" which means peach. At select times an intense, short-burning orange known as the UO ("ultra orange") is used. New as of last year's IVY album is green for its namesake song.
For the first half of the concert Momoi wore a white dress adorned with sparkles and a matching hairband and lace gloves. Midway through her performance she donned a pair of faux heart-shaped headphones reminiscent of those worn by Crypton's Vocaloids. They had been presented by a fan to her during Saturday evening's autograph session and this fan was thrilled they were being worn. A panda themed jumper helped round out her appearance.
The song list for this concert contained a mix of fourteen songs ranging from new ones from IVY like Kiss! Kiss! Kiss!, a mix of old standbys like Wonder Momo-i and Ai no Medicine, and even a few unexpected ones like Luka Luka Night Fever, a high-energy dance song popularized on Nico Nico Douga and YouTube that was originally composed for the Vocaloid Luka Megurine. For Luka Luka Night Fever a few brave souls even volunteered to perform the dance onstage alongside Momoi.
LOVE.EXE helped closed out the concert's main set. It is the opening song for the game Baldr Force EXE and is a mainstay of Momoi's music repetoire and a true fan favorite. It also plays host to one of the more complex of otagei moves, the "thundersnake," which is characterized by a series of wide, sweeping arm movements. The room up front was at a premium so this particular otagei had to be done sparingly with the more close-quarters friendly "mawari" which involves jumping and spinning repeatedly (hence the "mawari"), arms held high, being favored in its place. The maids of Fanime's maid cafe were only too happy to join in onstage. Some of them were attendees of her previous concert and executed otagei flawlessly.
Besides her concert on Sunday, Momoi had two Q&A panels and two autograph sessions on Saturday and Sunday as well as a mini-concert in the early afternoon on Saturday. On Saturday she cosplayed as her most recent seiyuu role, Feiris Nyannyan, from the Xbox 360 visual novel and now anime series Steins;Gate. She fielded a variety of questions including ones about the current state of anime and the increasing use of fanservice, how to become the King of Akihabara ("Well, Feiris Nyannyan is the queen so if you marry her, then you'll become king!"), and whether or not it would be possible to stream her concerts from Japan for those unable to make the trip. After every question the questioner was presented with a snack brought from Japan.
Momoi expressed the desire to return in 2012 and with any luck she will.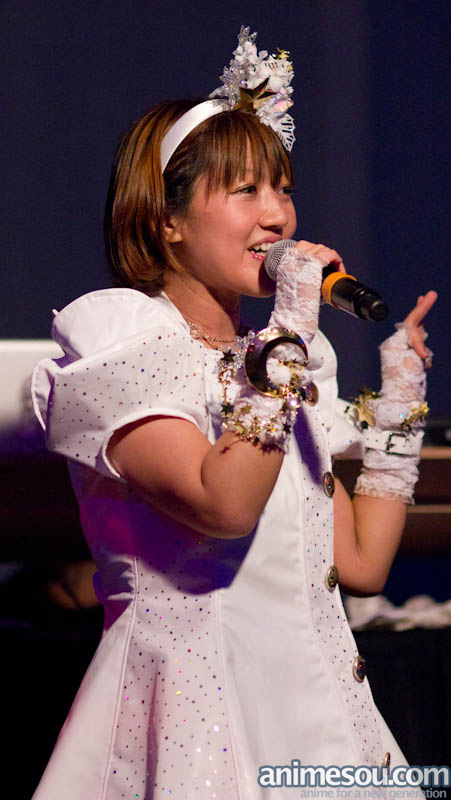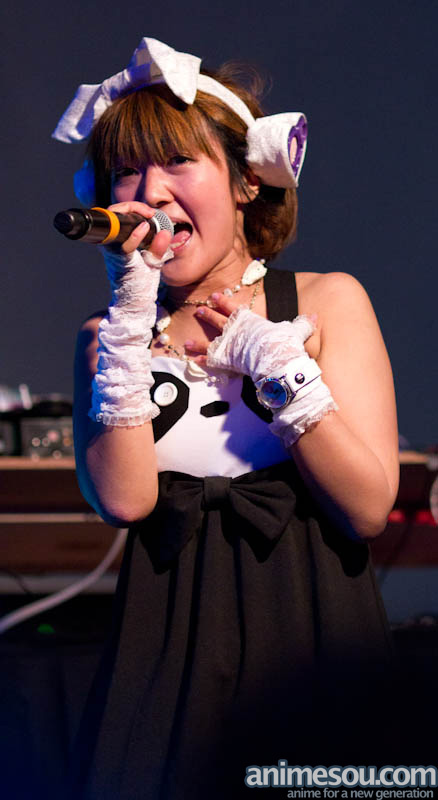 Karaoke Contest
Brian Lee: One of Fanime's annual traditions is the karaoke contest held on Friday. 2011's preliminary round consisted of three hours and approximately forty entries which was whittled down to ten for the second and final round which lasted another hour and a half. All of the final ten were awarded prizes with the eventual winner, Patrice Coleman, receiving a Nintendo 3DS and trophy (both in the mail), and the opportunity to sing at the Fanime Masquerade, which she eventually took advantage of. The vast majority of songs were anime or Japanese culture related with the exception of a few like Portal 2's "Want You Gone." Older fans were well represented with classics like Bubblegum Crisis' "Konya wa Hurricane," the singer jokingly saying "I can tell you're all younger than me" from the relative lack of a crowd reaction.
Contestants came both in their casual clothes as well as cosplay. One contestant, Emily Chen, was well prepared with a Ranka Lee motif (of Macross Frontier) and two of her songs, Houkago Overflow and Nijiiro Kuma Kuma from the second Macross Frontier movie, Sayonara no Tsubasa. She was even prepared to give a summary and explanation of each song's theme. As a Megumi Nakajima fan (Ranka's seiyuu) I was thrilled but also slightly disappointed at the lack of one of my favorites from the soundtrack, Koi no Dogfight.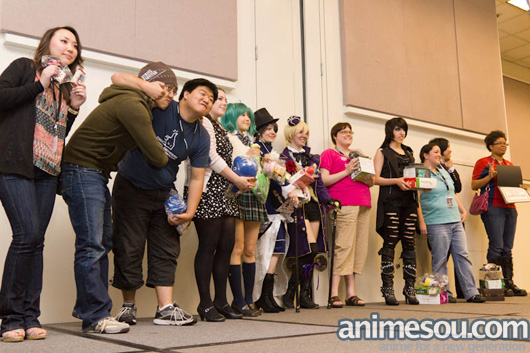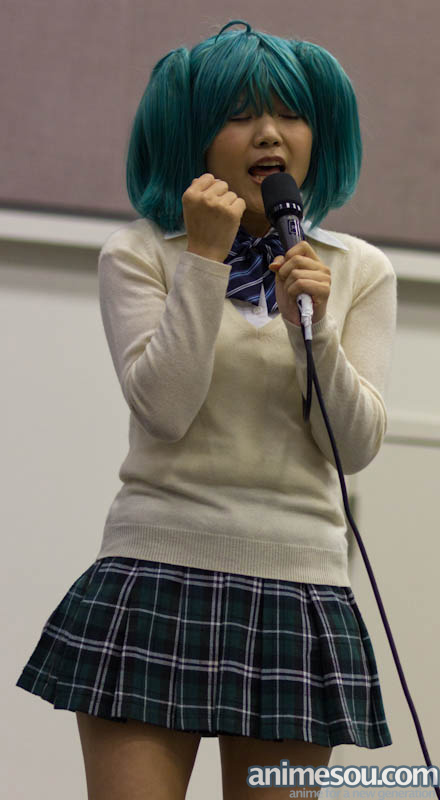 Masquerade
Brian Lee: This year's Masquerade Cosplay Spectacular was MC'd again by Ric Meyers. California con-goers should be very familiar with Ric as he has attended Fanime in some capacity for the last seven years and July's San Diego Comic Con for more than a dozen. San Jose's Civic Auditorium was again packed to capacity as attendees waited to see the many contestants and their skits. 2011's entries numbered at more than 60 with 54 skits and a few more display entries. Some of the skits included a line of Star Driver cosplayers from Thick Bread dancing to "Men in Tights" from the 1993 movie "Robin Hood: Men in Tights," the cosplay group Angel Hearts performing choreography to idolm@ster (something they would do throughout the convention including a concert early Monday at Stage Zero), and a near-naked Dante from Devil May Cry in a parody of the Old Spice commercials.
One entry that stood out both during the masquerade and later online was a Portal themed affair by NOTN Cosplay in which two Chell cosplayers performed in sync to music, complete with blue and orange portals and trademark portal guns. In true portal fashion when one entered the other would exit and even when peering through one side you would see the other. This entry ended up winning the "Most Dramatic" award. Gaming websites like Gamesradar and Destructoid would later pick up on it in the coming days.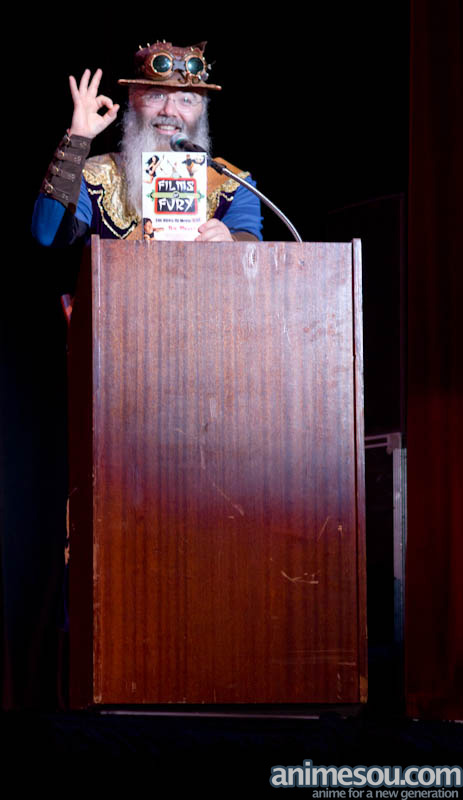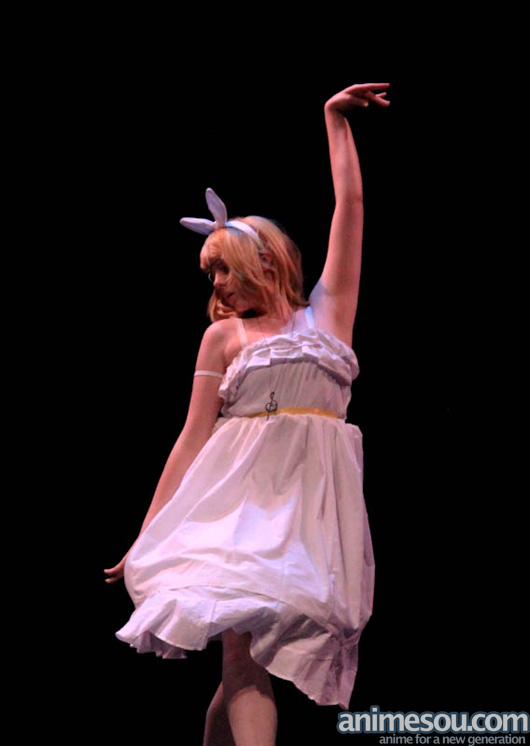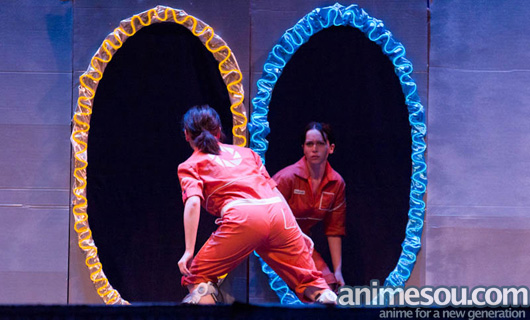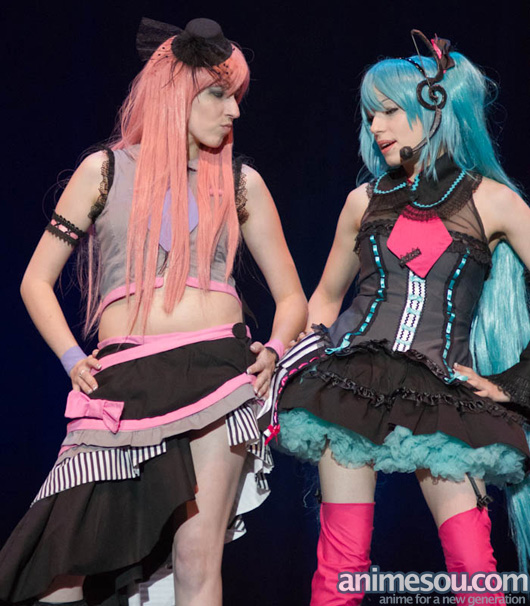 Fanimaid Cafe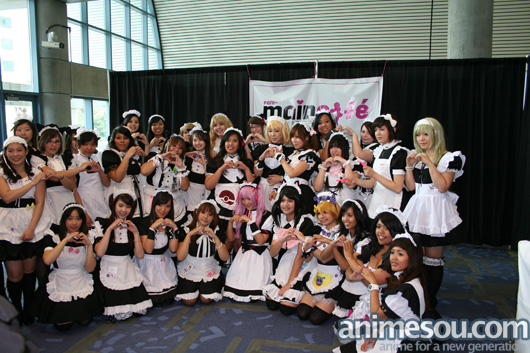 Fanimaid Café took place again on the side of the Hilton where attendees lined up to take part in this event that had grown proportionally in recent years. I visited the maid café on both days and it was jam packed with a line that looped around the corner almost every time I passed by it. Inside, the set up looked nice with neatly arranged and decorated tables. People were served by their maid, allowed to eat while their maid kept them company, chatting and playing games with them. Every table that I passed by, I saw happy faces one after another. It was a sight to be seen.
To touch up on the maid café a bit more, there are a few points I want to bring up regarding this event. For one, the Fanimaid Café is a prime example of the "By Fans, For Fans" idea of FanimeCon. A good comparison I can think of is masquerade where fans spend their time to put up a performance by the fans and for the audience. I guess if you think about it, every anime convention has a little bit of the "By Fans, For Fans" in them. However, the Fanimaid Café attempts to introduce people to what an authentic maid café would be like in Japan. It's an attempt to incorporate an aspect of the anime subculture that's bold and daring with many skeptics who question this having never experienced this before. But that's the whole reason why FanimeCon is loved by so many, as this type of event is exactly what makes this convention unique and stand out on its own.
The fans which are a part of this subculture attempts to pro-actively be a part of it and reinforce the saying "By Fans, For Fans" to another level. This isn't so much as being simply a staff or volunteer as much as it is an idea or concept put forth by people who are passionate for an area of the subculture. All the time that the maids spend in practicing for skits, training for the café and the time spent during the café are all 100% volunteer work with no compensation. That's dedication and I hope to see its success grow in the following years.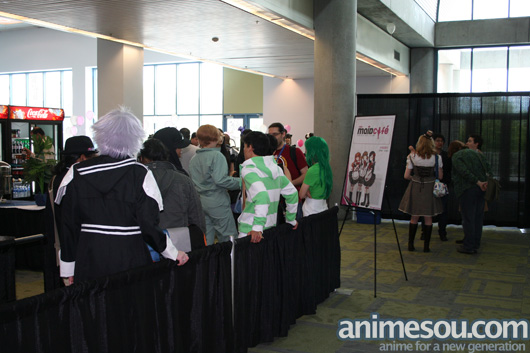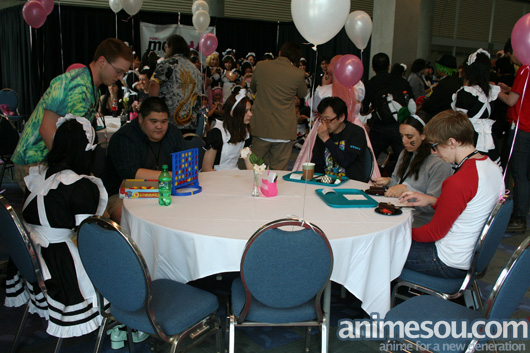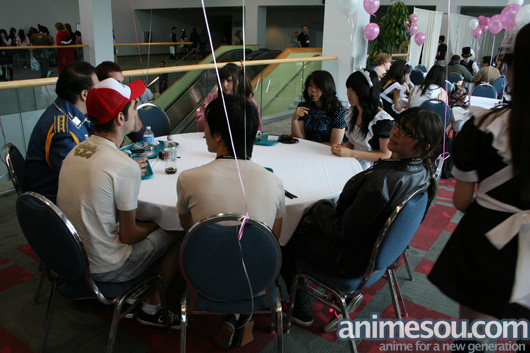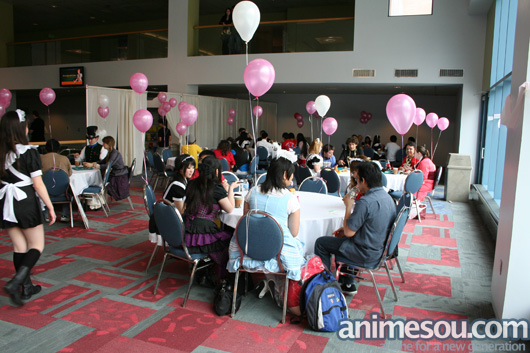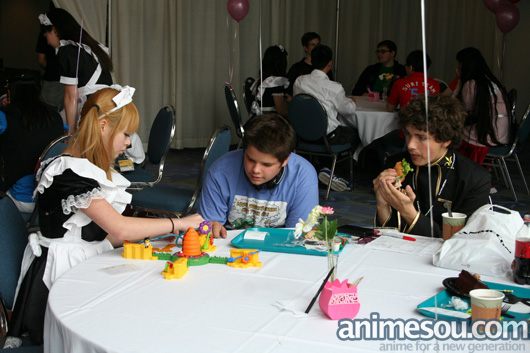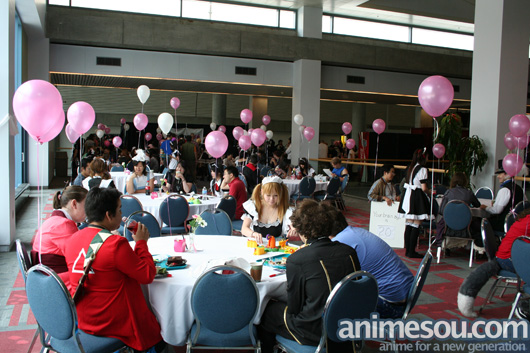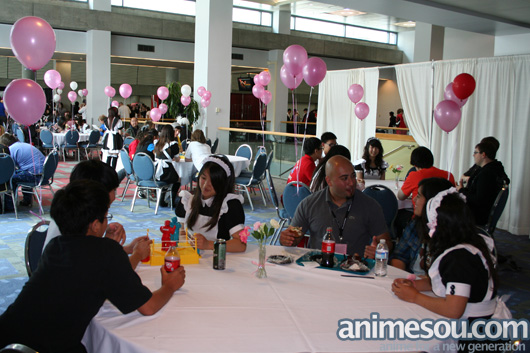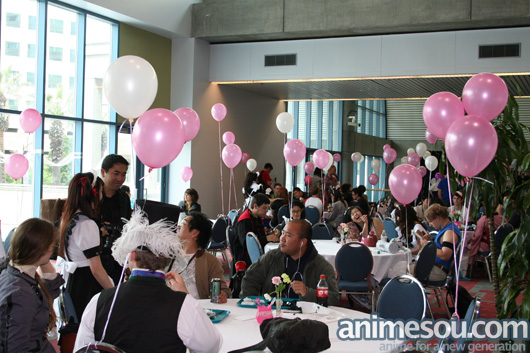 MusicFest: Yuya Matsushita and FLOW
Well ladies and gentlemen (mostly ladies), Yuya Matsushita made his appearance at FanimeCon this year and wow was he popular… I mean REALLY he was. Though he has only done two anime themes in the anime series Durarara!! ("Trust Me") and Kuroshitsuji ("Bird') he's nevertheless an amazingly talented dancer and singer overall. Throughout his concert, screams ran through the concert hall with every move and wink he gave. It was almost like watching a Japanese Bieber in action. Overall, his concert went very smoothly and on time. I hope he enjoyed all the girls who cried out for him, wanting to have his baby and I hope he will contribute more of his work in future anime.
Following a small intermission after Yuya's concert, FLOW took on the spotlight as cheers ran through the crowd once more. Unlike last year and with a change for good, FLOW's concert took place on a day different than Swap Meet which not only yielded more audience for the concert, but also in part gave the people who missed them last year a chance to see them. Like Yuya's concert, things went without a dent in time or any technical problems. For me, it was a pleasure to have them back as they have done extensive musical work in anime, such as, Code Geass, Naruto and Eureka 7. Their return was a treat for both their dedicated fans and fans who were attending FanimeCon for the first time and I hope they enjoyed what this convention offered them.
This was the first time that FanimeCon has held two concert during a single MusicFest that involved major names. The proper care and enforcement by FanimeCon's staff who took part both directly and indirectly made this joint concert successful and on time. Though a small incident happened involving a fan who took video of the concert when it was strictly prohibited even for approved Press members, stern rules were needed to prevent other potentially dangerous things from happening and forming such as mosh pits. Good job all around with the concerts this year.
Cosplay
Never a year have I been disappointed by the cosplayers at FanimeCon and this year certainly wasn't one of them. One thing I love about this convention is how much in tuned and up to date people are with anime. It would be unfair for me to make the judgment that cosplayers represent the extent of the general anime competency of the fans, it certainly does represent a more active rather than passive attitude fans at FanimeCon have. Madoka cosplayers? I literally saw dozens of them floating around the convention.
Although many have mentioned how the amount of cosplayers have been declining more and more, there also isn't a doubt that the recent seasons of lackluster shows isn't exactly something that helps in relieving the problem. During the previous few years, big hit anime, such as, Gurren Lagaan, Code Geass, Lucky Star, Haruhi and so forth have made choosing cosplays very convenient for many who looked up to a popular series with characters to choose from.
What is there nowadays? Madoka? Well that's actually been covered fairly well at FanimeCon and in fact several have mentioned an inflation in the number of them. Panty and Stocking cosplayers have also exploded and of course you have your usual Bleach and Naruto cosplayers. But what next? Star Driver? Sure there are interesting characters but even for more hardcore anime fans, how many really have cared to watch it? In other words, I don't believe that fans are caring less and less for cosplaying but are finding it more and more difficult to find characters to worthy to cosplay.
With that said, every year I have my top 5 choices of cosplayers I usually acknowledge for their contributions to FanimeCon through their passion in the art of cosplaying. However this year, I have decided to increase the number to 10 rather than 5. Keep in mind though these are just my top picks. For everyone who did their part as a cosplayer for FanimeCon this year, keep it up. You are an active participant of this subculture and I appreciate the hard work and dedication that you have been put into it.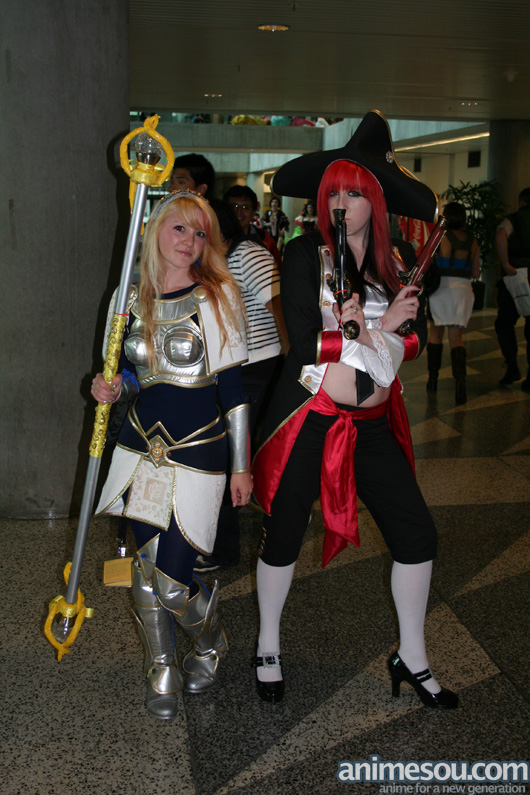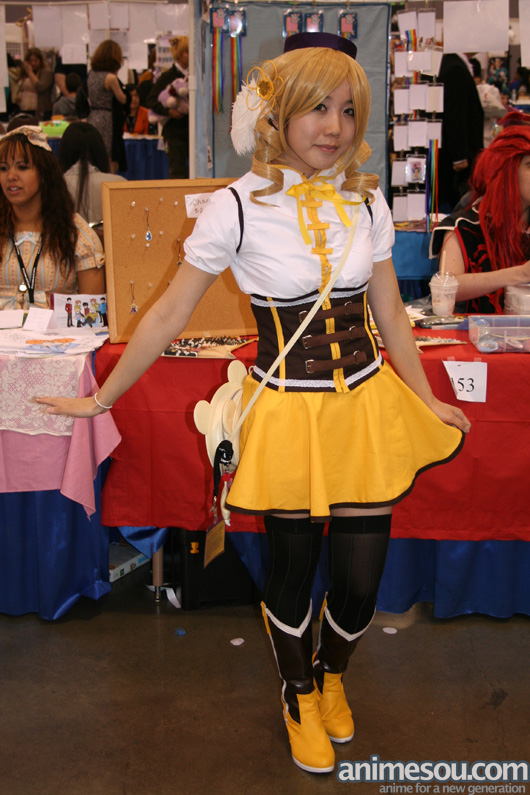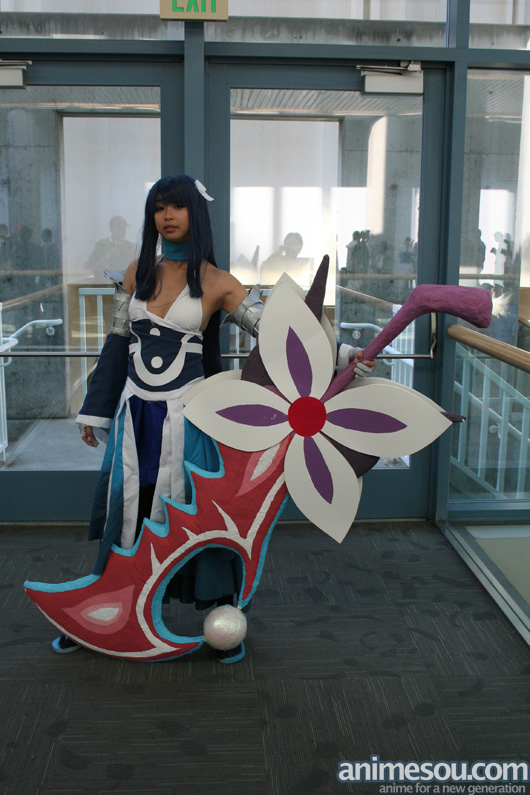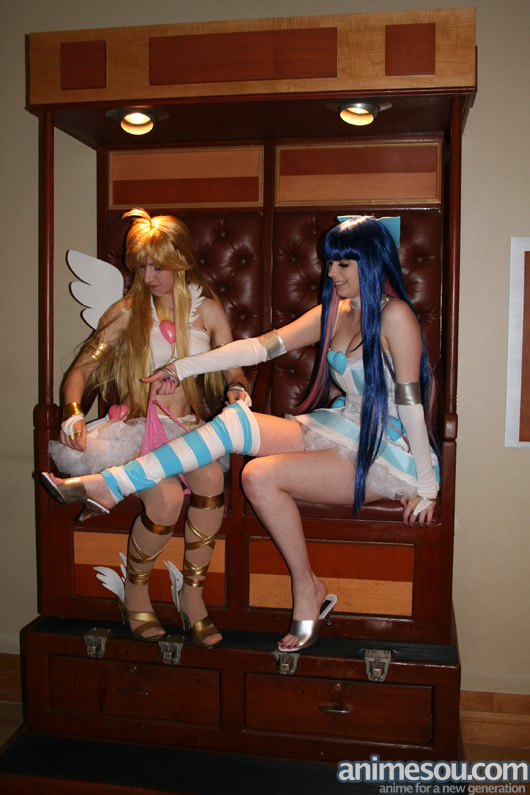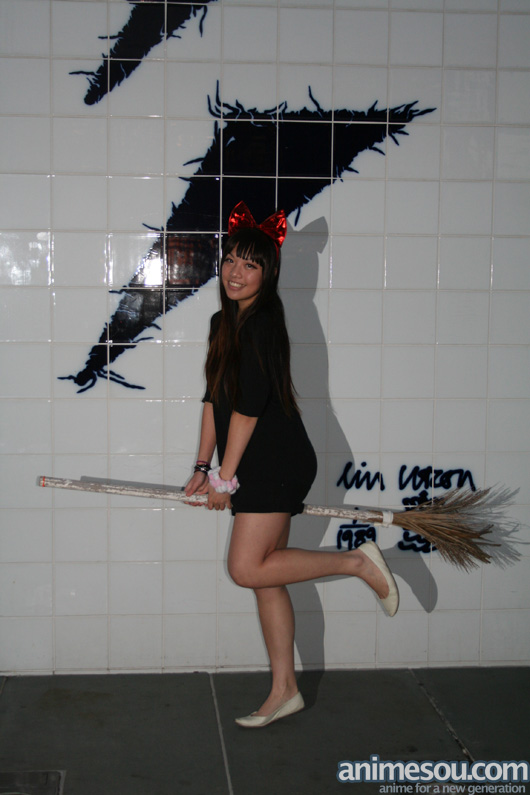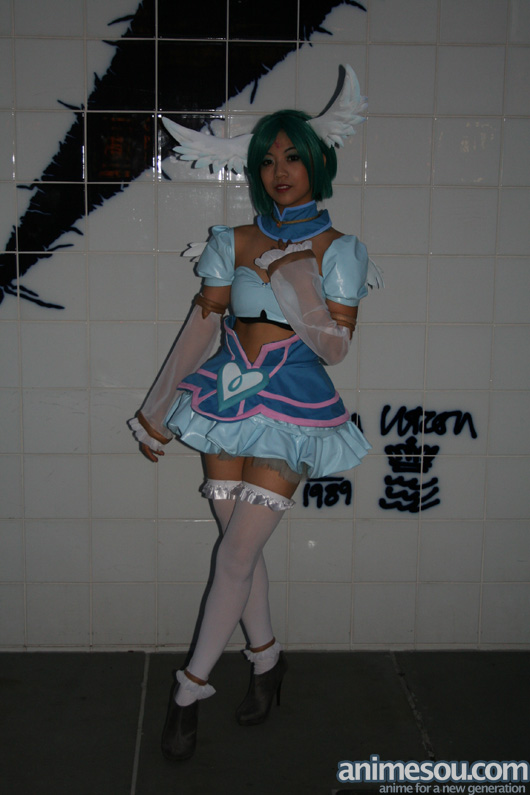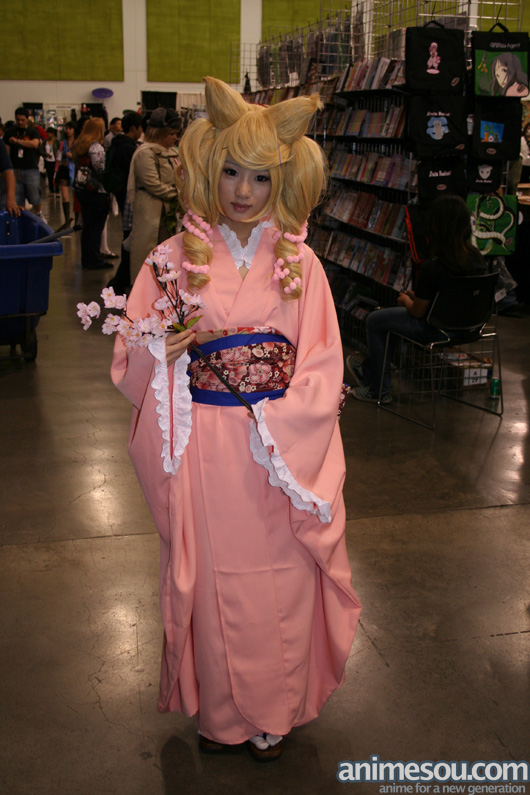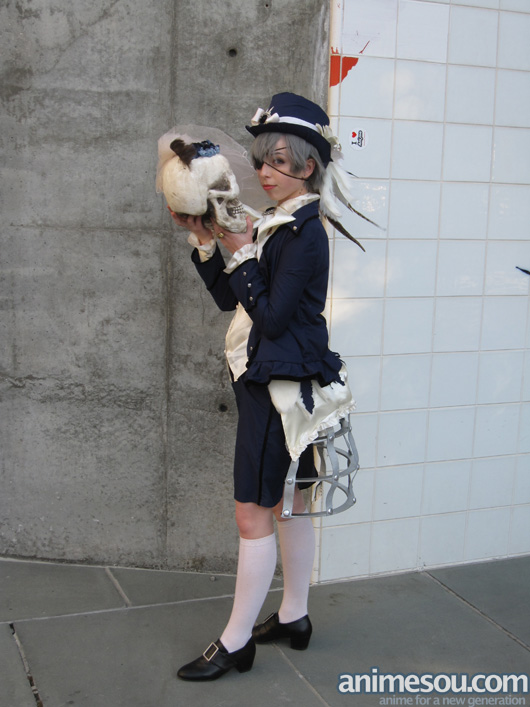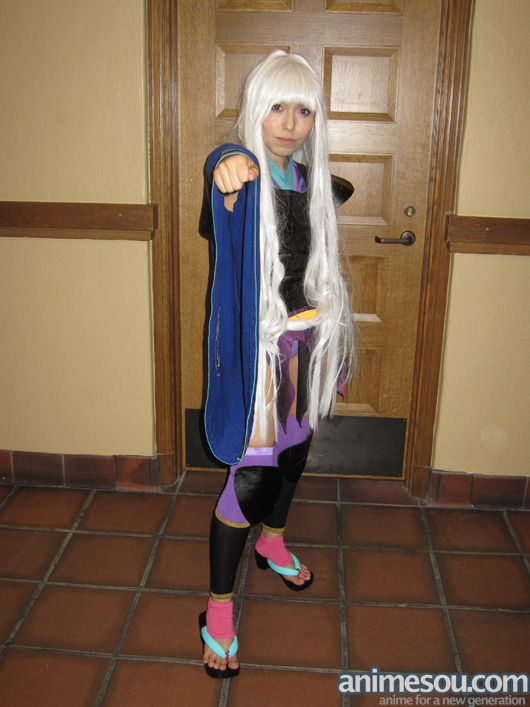 Reflections and Afterthoughts
This year FanimeCon brought over many talents new and old. Our friend Momoi made her return for a third year in a row performing on Stage Zero with the maids from the Fanimaid Cafe as well as in her own concert. Tohru Furuya, the legendary seiyuu from famous series, such as, Sailor Moon and Gundam, was also summoned over as his-trulys littered his panel and autograph session. FLOW made their return for a second year as well, giving fans the opportunity to see them due to conflicting timeline from the previous year. Also for the first time Yuya Matsushita made his debut in MusicFest, singing and dancing with style. And as always there were the amazing Swap Meet days, Artist Alley, Dealer's Room and with a massive list of other things as well. There are however a few concerns I want to address.
The biggest problem this year at FanimeCon was a lack of a printed schedule. Fans were forced to go off the electronic schedule via the net in order to know what was happening. For me, it wasn't a problem since I haphazardly wander into stuff most of the time anyways aside from the major events. But regardless, fans weren't pleased. Going as far as that, the reason for it's absence has been untold so far but it wasn't a printing error as mentioned by Tony, FanimeCon's convention chair. I guess we'll have to forgive FanimeCon this year and move on to the next. Talk also has been made regarding mini-pocket schedules. According to Tony once again, the staff responsible for making those in the previous years didn't participate with the convention this year. I'm hoping next year either that person returns, teaches someone how he makes them or someone who knows how to make them, make them.
The final area I want to touch up on rather than it being a concern are Rovers this year. There has been some grievances shared by fans with the behaviors of some of the Rovers. On the contrary after speaking and discussing this with one of the Rovers' department head, apparently fan behavior was amazingly difficult to deal with especially at night. Based on what I saw while walking around, no one was screaming, running or acting like a complete idiot. Initially my thinking was that fan behavior really kicked up a notch. Then after being told essentially the "behind the curtain" stuff by some Rovers, it made me think twice. So here is the million dollar question: what came first, the chicken or the egg? In this scenario were the Rovers doing their best job of their lives or did some attendees turn and acted like proper human for once? With all honesty, it doesn't really matter as the end result yielded properly behaved attendees from what I saw. If the Rovers were responsible, you have my respect and support and I look forward to that dedication in serving and being the protector of FanimeCon. If fans, WOW…. please keep staying normal next year. If it was on both ends, kudos to both then.
With all being said and done, another year of FanimeCon has concluded with new friends, memories, knowledge and experience gained. What the short weekend of FanimeCon was is now only a strong yet fleeting and distant memory of the once crowded and packed floors. I look back now remembering the mixed feeling I had the day that I arrived after a long trip across country just to be there. As funny as it is to say, FanimeCon has watched me grow just as much as I have with FanimeCon in the passing years. While a lot are returning FanimeCon attendees like myself with feelings that are mutual, a good amount are new to this convention. To those I say keep up your dedication as an anime fan and continue to be a part of this subculture so long as the passion is there. Until next year, see you all at FanimeCon 2012~!
*Special thanks to Brian Lee for his contributions in this convention report.